Royal Greenwich

National Maritime Museum
Romney Rad, SE10 9NF. Tel: 020 8858 4422.
Royal Observatory
Greenwich Park, SE10 9NF. Tel: 020 8858 4422.
Old Royal Naval College
King William Walk, SE10 9NN. Tel: 020 8269 4747.
Access: FREE. Daily, 10am-5pm. (Last admission 4.30pm) . Closed 24-26 Dec.
Cutty Sark
King William Walk, SE10 9NN. Tel: 020 8858 2698.
Access: Closed for rebuilding following fire.
Greenwich Market
Access: FREE. Thursday/Friday, 7.30am-5.30pm; Antiques, Collectibles,Vintage Fashion. Saturday/Sunday, 9.30am-5.30pm; Arts and Crafts.
London Transport: Regular riverboat services from Westminster, Embankment and Tower Piers to Greenwich.
Road: From the M25 via the A2 or M11/A12 Blackwall Tunnel. Car parking Park Row and Cutty Sark Garden.

Top Tips for Enjoying your Visit

1. Give yourself at least a whole day to fully enjoy all that Greenwich has to offer.

2. Visit the Royal Observatory in the morning, when it is less crowded, saving the Museum and Queen's House for the afternoon.

3. Take lunch at the riverside Trafalgar Tavern . You will need a pause in what could be a long day on your feet.

4. Check the NMM website before your visit for special events that may interest you, and temporary closures.

5. If you overnight, choose a weekday to avoid the crowds, or a weekend if you wish to add a visit to the colourful Greenwich Market.

6. The uniquely interesting Fan Museum is well worth a visit.

7. Driving and parking in central London is expensive. The simplest, hassle-free way to see London is with an all inclusive guided tour . There are many to choose from.

8. Consider buying a London Pass. It is a passport to London! It gives you FREE entry to over 60 favorite London attractions as well as London Transport on buses, tubes and trains. Starting from USD $50 per person. Details

9. Comfortable and sturdy walking shoes, a shoulder bag and a collapsible umbrella are essential accessories. The bag will hold your umbrella, camera, a snack and all the literature and souvenirs you collect during the day.

London's Royal Palaces & Attractions
with Burlington Bertie .



Royal Greenwich


Situated by the Thames in south-east London, Royal Greenwich is steeped in a millennium of Royal Naval and maritime history, with interesting attractions that make it a worthwhile venue for a very full and enjoyable day out for all the family.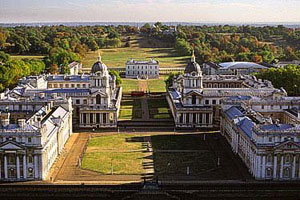 Royal Greenwich

Your Greenwich visit highlight will be Sir Christopher Wren's Royal Naval Hospital, (1696-1702); a large scale counterpart to his Chelsea Royal Hospital for Army pensioners. Wren's powerfully dramatic masterpiece of Baroque palace architecture with its sweeping waterfront expanse of coupled colonnades is perhaps as great an architectural achievement as his St. Paul's Cathedral, (completed 1711).

Wren intended the splendid presence of this Baroque palace to be admired from the river. Approach it therefore from the Thames and savour its unrivalled and breathtaking visual grandeur of unfolding vistas as did his patron William III, for whom it was built.

There is in fact no better way to reach Greenwich than by water, travelling as did the liveried Royal barges that ferried Tudor, Stuart and Hanoverian Kings and Queens through four centuries. Take a morning boat from the Westminster Millennium Pier and enjoy the spectacular one-hour journey down the Thames to Greenwich past Shakespeare's Globe Theatre, the grim Tower of London, Tower Bridge, the wharfs of once busy dockland; typically with a witty running commentary from your cockney boatman. Your trip culminates at Greenwich with the imposing vista of Wren's masterpiece, and the spars and rigging of Cutty Sark, dry-docked behind the quay.

The Royal Naval Hospital stands on the foundations of Placentia, the old Tudor palace of Henry VII, (1485-1509); London's principal Royal residence until his son Henry VIII transferred his affections, ladies and court upstream to Hampton Court Palace. Both Henry VIII and his two daughters Mary and Elizabeth were born there, and it remained in use through successive reigns until falling into disrepair during the Puritan interregnum of Oliver Cromwell's Commonwealth. Upon the Restoration of the monarchy in 1660, Charles II demolished Tudor Placentia and embarked upon the erection of a new palace there in the newly fashionable classical Renaissance style. It was this uncompleted Greenwich palace that Wren enlarged, extended and transformed for William III, from chaste Renaissance lines into the imposing Baroque vista of the king's Royal Naval Hospital, (1696-1702). In the visual centre of the entire complex he left the restrained Renaissance Queen's House, designed earlier, (1616-35), by Inigo Jones for the Queen Consorts of his grandfather, James I, and father, Charles I.

The hospital housed 3,000 naval pensioners in its post-Napoleonic Wars heyday before becoming the Royal Naval College in 1873. It now houses the National Maritime Museum, opened by George VI in 1937.

While visiting, be sure to see the remarkable Painted Hall, decorated by Sir James Thornhill between 1708 and 1727. Nelson lay in state here before his funeral and interment in St. Paul's Cathedral. See also the Chapel, used as a location in Four weddings and a Funeral.

In the surrounding Royal Park, formerly the grounds of Placentia Palace, is Wren's charming Royal Observatory, commissioned by Charles II to determine longitude. It is built on the foundations of Henry VIII's hunting lodge and castle folly. The Old Royal Observatory, within the observatory, is a camera obscura that offers a fine reflected image of London's landmarks.

Burlington Bertie's Verdict:

A visit to Greenwich is an essential part of the Royal London Experience and an illuminating insight into Britain's maritime heritage and illustrious naval history dating back to Alfred the Great. Given the amount to be seen both within the Royal Park and historic Greenwich Village itself, visitors with time to view and explore should consider an overnight stop there. Make a point of seeing St. Alfege's Church, (Nicholas Hawksmoor, 1714); Sir John Vanbrugh's castle folly modelled by him on the infamous French Bastille where he was imprisoned as a spy in 1690-92; the world's only Fan Museum, and the richly colourful Antiques, Collectibles and Vintage Fashions Market.

While in Greenwich, pause and soak up the Victorian atmosphere at the riverfront Trafalgar Tavern, a grand old pub with sweeping views over the Thames. Built in 1837 on the site of a yet older watermen's hostelry, the pub still serves its renowned, crisply fried Whitebait, (once caught here in the tidal reaches of the Thames but now imported); a speciality enjoyed there by literary giants Charles Dickens, (who immortalised it in Our Mutual Friend), William Makepeace Thackeray and Wilkie Collins, and Victoria's Liberal Prime Minister William Gladstone.

The National Maritime Museum buildings including the Queen's house are available for hire as venue for weddings, civil commitment ceremonies, receptions and corporate events.

© 2016 offtolondon.com All rights reserved. Contact Us