OUT & ABOUT HOME
| London's Royal Palaces & Attractions.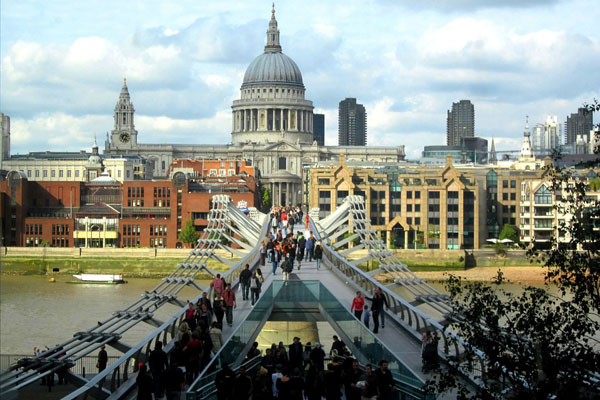 St. Paul's Cathedral

with Burlington Bertie .



Venue: Ludgate Hill, EC4.
Access: Open to sightseeing visitors 8.30am-4pm, (last entry), daily except Sundays. Entry free for all services Inc. Sundays. Closed for special events, check website for details.
Tickets: Book online , (tickets valid for 6 months from date of purchase), or pay at the door. Multimedia and audio guides free with ticket. Attendance for worship, (four services daily plus Sunday schedule), is free. Saturday Evensong is sung by guest choirs. See website for Cathedral program of musical events, lunchtime concerts, organ recitals, special services, etc.
Getting There: Nearest Tube. St. Paul's, (Central Line); Mansion House, (Circle and District Lines)

Top Tips to Enhance your Visit

Read about St. Paul's in a good guide book to orientate yourself before your visit. The time spent will provide dividends.

Time budget two hours for your visit.

Consider the option of a guided or audio tour, (see the Cathedral website for details). If London's royal, cultural and architectural history and heritage interests you, the extra cost will be well worth the money.

There is a cafe and souvenir shop in the crypt, where you can relax after your visit.

If you have the opportunity, attend one of the free traditional July Sunday choral/orchestral services, Christmas Carol services, or Easter music. See the Cathedral website for full details.

This is a good opportunity to explore other parts of the City while you are in the area. The nearby London Museum is particularly worth a two hour visit. Within walking distance are nine Christopher Wren City of London Churches built in the 1670s; Wren's Monument to the Great Fire, (1671-76); Mansion House, (1739-52); and the Roman Temple of Mithras, (late 3rd Century CE).

If pressed for time, book a 1 hour guided tour.

Private Tour: London City Tour in a Vintage Car with Optional Champagne . Gaze out of the window, taking in top attractions such as Buckingham Palace, Trafalgar Square, Westminster Abbey, the Houses of Parliament, Big Ben and the London Eye. Continue on to 10 Downing Street, home to Britain's Prime Minister, and see the royal sights of the Pall Mall, St James' Palace and the Horse Guards Parade. Then, find yourself on the bustling shopping strips of Regent Street, South Morton Street and Jermyn Street. After roughly an hour, your tour finishes near your original start point.

Have more time?

London in One Day Sightseeing Tour Including Tower of London, Changing of the Guard with Optional London Eye Upgrade. Led by a guide, you will hear the history of top London attractions like Westminster Abbey and Big Ben, and receive fast-track entry and a guided tour of St Paul's Cathedral. After the sightseeing tour, watch the Changing of the Guard Ceremony at Buckingham Palace and tour the Tower of London. As a bonus, this experience also includes a one-way River Thames sightseeing cruise, which can be used on the day or another time. Upgrade to include a flexible London Eye ticket to be used on any day you wish.

The magnificent dome of Sir Christopher Wren's St. Paul's Cathedral still dominates London's skyline, despite sharing it now with the skyscraper office


Sir Christopher Wren

blocks of modern mammon which have dwarfed Wren's 24 surviving City churches of lesser stature. Approach St. Paul's from the east, walking up St. Paul's Churchyard from Cannon Street, in order to admire the dynamic splendour of Wren's exterior. It is best seen in its grandeur from here; a masterful compromise of Italian Renaissance with restrained hints of the Baroque that were to flower to the full in Wren's treatment of the Greenwich Royal Naval Hospital . His original design had been too radical, (the model can still be seen in the Cathedral Library), for the re-established clergy of the Restoration, who hankered after a traditional Gothic design to replace that which burnt down in the Great fire of 1666.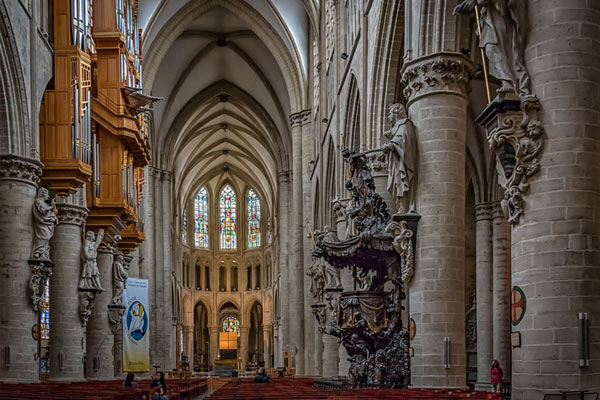 The cool interior is thankfully less cluttered by statues, monuments and visitors than Westminster Abbey, though there is plenty of historic interest to occupy you in the transepts and down in the crypt, (where you can relax and enjoy a coffee). As without so it is within; the dome dominates and uplifts you, its huge space drawing the eye to its expanse from the moment you enter.

Admire the beauty of the Grinling Gibbons choir stalls before descending to the splendid white vaulted crypt to see Nelson's tomb and Wellington's sarcophagus. Wren is also interred here. The spot is marked by a simple tablet with the Latin epitaph: "Lector, si monumentum requiris, circumspice", which might be translated as:

"Reader, if you seek his monument, look around you."





Burlington Bertie's Verdict:

St. Paul's remains a symbol of British freedom since 29 December 1940, when the Nazis firebombed and laid waste the city around the Cathedral in their attempt to destroy it. On that unforgettable night and in months following, St. Paul's stood scarred but inviolate amid the flames and smoke. Londoners have remembered those smoke-blackened weeks with a poignant bronze memorial by sculptor John Mills to the many firefighters who lost their lives in those strife-torn months. It stands across the road from St. Paul's south transept. A note attached to a fading posy laid at its foot brought tears to my eyes on a recent visit. It was to a young firefighter killed during the blitz from an old lady who remembers - was she his young cockney bride perhaps? Haltingly written in purple indelible pencil, it said: "I can't come no more after this time my darling. My legs are too bad. But I shall be with you again very soon. Maude."

I recommend a visit, if not to witness the grandeur of a historic venue for Royal Weddings, State Funerals, National Remembrance and Royal Thanksgiving, then for the beauty of the dome which, though a reminder of Michelangelo's Dome of St. Peter in Rome, is very different in its visual impact, imparted by the stone lantern that soars triumphantly above it - as it did through the dark days of 1940.

© offtolondon.com All rights reserved.