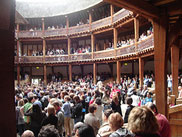 Shakespeare's Globe Theatre, once a colourful part of Elizabethan life on the south side of the Thames opposite the City of London, lives again to delight theatregoers and visitors. We must thank American actor Sam Wanamaker for his inspiration and tenacity in bringing this historic theatre back to life four centuries after the Bard's death.
In 1949, when Southwark and the Southbank were rundown scenes of post war dilapidation and neglect, Wanamaker spotted the dusty plaque marking the original site of Shakespeare's in-the-round riverside Globe playhouse.
Wanamaker's vision of a rebuilt replica of the 16th Century original was to take nearly 50 years to come to fruition and he did not live to see Her Majesty Queen Elizabeth II open the new Globe in 1999. By then the Globe complex was already an established centre for education and set to attract tourists by the millions.
Artistic Director Dominic Dromgoole has put together an exciting summer season of Shakespearean and modern drama for 2008, (including King Lear, A Midsummer Night's Dream, Timon of Athens and The Merry Wives of Windsor) .
A fascinating exhibition exploring Shakespeare's life, the London of his times and the theatre for which he wrote, complements the Globe's theatre productions. Interactive displays and live demonstrations featuring costume and clothing, Elizabethan music and musical instruments, printing and publishing, vividly bring Elizabethan Tudor and early Stuart times of Shakespeare and his London to life.
Nearby is the Bankside's first theatre: the Rose, for which Christopher Marlowe and Ben Jonson wrote their greatest plays and in which Shakespeare learned his trade as England greatest playwright. This is the only Elizabethan playhouse to have been excavated on a large scale by archaeologists. A short film introducing the colourful history of the Rose, Southwark's Bankside area and the ongoing discoveries made at the site can be seen at Shakespeare's Globe Exhibition.