Bear Gardens

Bear Gardens, SE1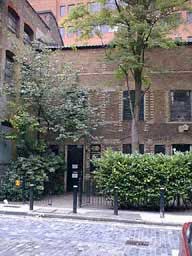 A single red brick house set among warehouses and offices down this narrow side street marks the site of the last bear baiting ring on Bankside. An unimposing building screened by trees, it now sits in a quiet backwater. Three centuries ago, this place echoed to the shouts of traders and the shrieks of whores as rich and poor alike came to sample the pleasures of Southwark's notorious 'stewes'.

Located just a few paces from both the Globe and the Rose Theatres, Bear Gardens was at the centre of the entertainment industry. Bear and bull baiting were major spectator sports and there were several purpose-built arenas in this area. They were all great crowd pullers and a source of stiff competition for the playmakers.

Bear and bull baiting were immensely popular in Tudor times and even monarchs were pleased to spend an afternoon watching the gristly set-piece fights. Both Henry VIII and Elizabeth I visited a baiting ring that stood just north of this site, the Queen apparently thinking it such an excellent amusement that she took the French and Spanish ambassadors along!

The bear garden that occupied this plot of land was built some time later, in 1662 and although this was after the Restoration, other bear and bull baiting rings managed to survive the Puritan backlash while all the theatres were closed down. This seems a rather surprising choice, considering the strict moral code of the day.

So bear baiting went on all through the reign of Charles II and from its site in Bear Gardens, the Davies amphitheatre, as it was known, did a roaring trade. The attraction continued to appeal to all levels of society and both the diarist Pepys and his contemporary Evelyn came here to watch shows.

The tide of public opinion must have been beginning to change around then, though, for while Pepys notes that he and his wife 'saw some good sport of the bull's tossing the dogs - one into the very boxes' on the evening of August 14, 1666, he adds: 'But it is a very rude and nasty pleasure.'

The house on Bear Gardens is now the Globe Education Centre, part of the new Shakespeare's Globe complex. The Centre, which in keeping with its historic background features a large and fearsome-looking stuffed black bear in the foyer, specialises in organising workshops for student groups from schools and universities. These usually include the chance to work on stage at the Globe. It also hosts staged readings, lectures and seminar groups




Bear Gardens can be viewed from the street. The Globe Education Centre is not open to the general public but teachers, students and others interested in joining the many educational programmes on offer should write for further information to: Julia Law, Globe Education, Bear Gardens, London SE1 or telephone: 0207-928-6342.



Mansion House, Cannon Street (District and Circle lines) or London Bridge (Northern Line).

Copyright © Jan Collie 2002
Published by permission of the author.
All rights reserved. No reproduction, copy or transmission of this publication may be made without written permission.