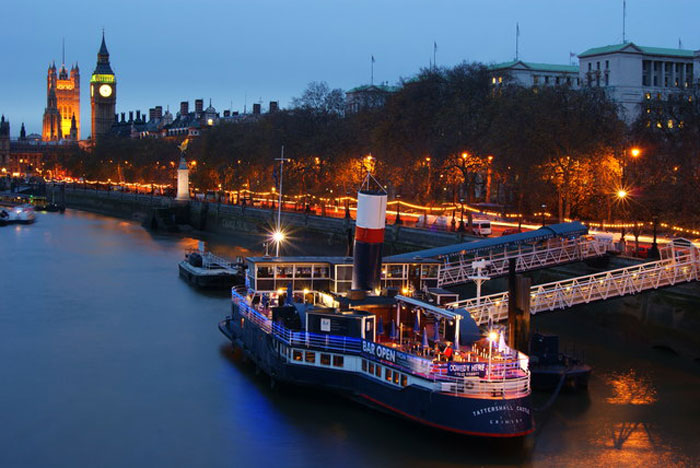 London's Thameside Pubs

by Burlington Bertie

I have long promised myself a visit to a well known restaurant ship moored on the Victoria Embankment and since we are discussing Thameside dining, this is a good moment to make a small diversion from my pub crawl up the river from Greenwich to Richmond.

I had spent Saturday morning at the National Gallery in Trafalgar Square visiting the Sunley Room to see Titian's 'The Flight into Egypt', (until 19 August, 2012, entry FREE). Northumberland Avenue leads directly from the southern end of Trafalgar Square to the Victoria Embankment and the good ship Hispaniola moored there. This ship has been most successfully converted into a restaurant and has recently embarked on a weekend Brunch programme. Gaining an appetite from my walk to the Embankment, I enjoyed a glass of sherry on the sunny upper deck terrace before retiring to the main deck restaurant for eggs benedict, a chicken caesar salad and a selection of french artisan cheeses.

During the week the Hispaniola serves an excellent set menu lunch from 18.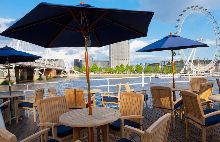 A new American style brunch served Saturdays and Sundays from 11am - 5pm is proving a popular addition for weekend London visitors.
An upper deck bar and sun terrace provides stunning views of the River Thames from St. Paul's Cathedral round to Big Ben. This is the perfect venue from which to dine and watch the Mayor's Festival fireworks finale on 9 September, (10.30pm) or celebrate the New Year fireworks spectacular.
The Victoria Embankment's proximity to London's theatreland, makes this a popular venue for pre-theatre dining, with a three course set menu offered.

Venue: Victoria Embankment, WC2. Permanently moored. Tel: 020 7839 3011
Food served: 11am 10pm weekdays, 9pm Sundays. Book a table Online or call 020 7839 3011
Price Guide: Weekdayset menu lunch: 18 - 21.
London Transport: Nearest tube. Embankment
Wheelchair Accessibility: Yes. Toilets: Yes.

Nearby downriver is Tom's Terrace at Somerset House's Courtauld Gallery, off the Strand. Tom's Kitchen offers Michelin starred gourmet dining while the Terrace provides a superb watering hole and pit stop for Somerset House visitors. The Terrace overlooks the Thames and Southbank and offers light meals, bar snacks and an extensive range of cocktails. Open daily from midday until late.

Click to Greenwich Pubs

If you have a question, contact us and we will do our best to provide answers.

© 2012 offtolondon.com All rights reserved.