London's Thameside Pubs

by Burlington Bertie

London pubs are at their most inviting in the summer, and none more so than those lining the Thames. There are most attractive waterside pubs on both banks of the river at Greenwich, Southbank and Docklands, upstream at Wandsworth, Putney, Hammersmith and Chiswick, and further upstream at Richmond, Kingston and Walton on Thames. They offer delightful vistas of London and its historic waterway, once known as the King's Highway, while you relax over a drink or tuck into reasonably priced pub grub on a waterside terrace or in the friendly old world atmosphere of the pub's often centuries-old interior.

Travel further upstream and you will find a number of waterside gastro-pubs and restaurants lining the upper reaches of the Thames as it winds its leisurely way though Windsor, Eton, Henley and Marlow. These are well worth the day's outing by car, but you must expect to pay handsomely for the view.

Greenwich

A cluster of waterside pubs are located along the picturesque Thames Path at Greenwich with its stunning views of Canary Wharf skyscrapers across the river in what used to be London's Docklands, and Sir Christopher Wren's stately Greenwich Palace buildings on the south bank. Take the riverboat from Westminster to Greenwich Pier, a fascinating journey past St. Paul's, Tower of London and Tower Bridge and enjoy a day seeing the Cutty Sark, the Maritime Museum, Queen Anne's House, the Fan Museum and Greenwich Park with its herd of deer. Pause to dine in one of a number of historic Greenwich waterside pubs. Two of my favourites are the Trafalgar and the Cutty Sark Taverns.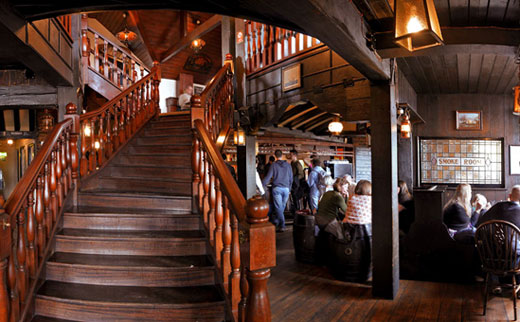 4 - 6 Ballast Quay, Greenwich, SE10 9PD. Tel: 020 8858 3146.
This old wood paneled quayside pub has records dating back to at least 1743, when it was known as the Green Man. 'Recently' rebuilt and renamed the Union Tavern in 1810, (to mark the 1801 political union of England and Ireland), it changed its name yet again in the 1950s when the famous tea clipper Cutty Sark was dry-docked nearby and converted into a museum. The pub boasts a good selection of cask beers and lagers, wines and of course Cutty Sark Scotch whisky, with pub grub in the restaurant upstairs. Sit outside on the water's edge terrace on a sunny day and enjoy a pint of St. Austell's Tribute or Fuller's London Pride Ale. The Cutty Sark gets very busy at weekends, so booking is advisable if you are dining. The 'Sunday Roast' is a popular special.

Food served: Midday - 9pm.
Price Guide: Fish and chips: 10.95.
London Transport: Nearest tube, Cutty Sark. Riverboat from Westminster, London Eye or Tower of London Piers to Greenwich Pier just a few minutes away.
Wheelchair Accessibility: Yes. Toilets: Yes.

Park Row, Greenwich, SE10.7NW. Tel 020 88282909.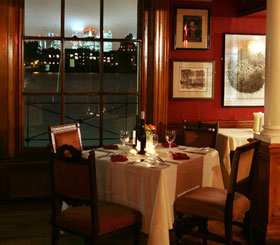 This historic Greenwich riverside tavern with 19th century literary and political connections has been renowned for its whitebait since the days of Dickens, (who regularly ate here).

Fish is your best bet in the most attractive Collingwood restaurant (right) overlooking the river, with whitebait the historic speciality as a first course. Sadly, it is no longer netted locally in the Thames as it used to be for Charles Dickens and his literary and political peers who would be rowed down the river from the Houses of Parliament to dine there.

Food here is a cut above pub grub, with an excellent meat and fowl menu as well as a variety of fish dishes. A window-side table gives you an unrivalled view of the Thames which washes right up to the tavern's walls at high tide. This is a deservedly popular evening dining venue as well as a delightful tavern and I strongly recommend pre-booking your table. Online reservations

The Tavern Bar with its interesting collection of old London prints adorning the walls is next to the dining room and also overlooks the river. It offers a good snack menu. The Trafalgar is a firm riverside favourite of mine, both for a midday pint bar and a plate of whitebait in the Tavern Bar, or for an evening meal.

Food served: Mon-Sats, Midday-10pm; Suns, Midday-4pm.
Price Guide: Whitebait: 7.00. Traditional fish and chips 10.95, (bar); 13.95, (restaurant).
London Transport: Riverboat from Westminster, London Eye or Tower of London Piers to Greenwich Pier just a few minutes away.
Nearby car parking.

Here's mud in your eye!
Burlington Bertie



contact us and we will do our best to provide answers.

© 2012 offtolondon.com All rights reserved.