Yakitori

by Burlington Bertie

Yakitori? Think Spanish Tapas, skewered and then charcoal-grilled and sauced Japanese style and served to your table with ice-cold beer or sake.

Japanese flame cooking is relatively unknown in London where most diners think of Japanese food as sushi, sushi and... yet more sushi. In Japan however yakitori is eaten everywhere, while sushi is reserved for perhaps more formal occasions.

If you want to from sushi to Yakitori, make for Bincho in Soho's Old Compton Street any lunchtime or evening up to midnight and gorge yourself.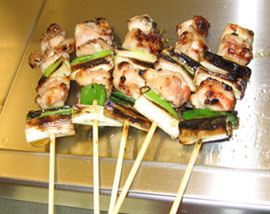 Yakitori. Wikipedia photo.

The word yakitori exactly describes the simple, skewered food you'll eat at Bincho; yaki meaning "grilled" and tori meaning "bird" or "chicken", though the Japanese do not restrict themselves to chicken. Morsels of freshly slaughtered meat are threaded onto bamboo skewers and grilled over a narrow charcoal-fired grill. Bincho's chef will glaze the meat during flaming with his own specially prepared sauce to produce a set of sticky caramelized finger-licking, lip-smacking skewers on your plate.

There are many combinations of different meats, fish and vegetables other than chicken you can order at Bincho, not to mention some animal tiddly bits you probably don't want to know about unless you have an adventurous palate. And there are a number of different sauces and garnishes that will be used to complement particular dishes.

This is barbecue eating at its most sublime!

Bincho has no set menu of starters, main course and dessert; just a list of skewered meats and vegetables to choose from at remarkably reasonable prices - and of course ice cold beer or sake.Sake lovers and novices will find Bincho's special Tasting offers of three different grades of premium sake an interesting learning experience while they enjoy their food.

Book a table to ensure a place at this popular restaurant or sit at the counter bar and watch the chefs at work. Before you dine, try a rare Whisky from London's largest range of Japanese whiskies, or a Japanese whisky cocktail in Mizuwan, Bincho's basement dive bar. Enjoy!

Bincho Soho
Address: 16 Old Compton Street, W1D 4TL. Tel: 020 7287 9111.
Open: Daily except Monday lunch.
Cost: From $4.50 per double skewer.
Nearest Tube: Leicester Square; Tottenham Court Road.
Wheelchair Accessibility: Yes.

© offtolondon.com All rights reserved. Contact Us