London's Royal Palaces & Attractions
with Burlington Bertie .



Banqueting House

Palace of Whitehall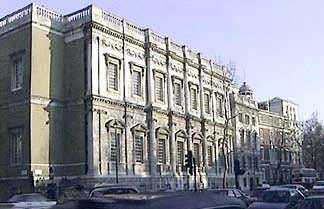 Venue: Whitehall, SW1A 2ER. (+44 (0)870 751 5178)
Access: Monday - Saturday: 10.00-17.00. Closed Good Friday, 24 Dec - 2 Jan. and for government functions. Check before visiting.
Tickets: Adults ?4.50., (Concessions).
Getting There: Nearest Tube: Westminster, (Circle and district Lines); Embankment, (Northern and Bakerloo Lines).

Inigo Jones, (1573 - 1652), who was almost solely responsible for introducing Italian Renaissance architectural concepts to England, built this for his Royal patron the Stuart monarch James I in 1619-22. It was part of the then extant Whitehall Palace. All but this building was destroyed by fire in 1698. It is one of only four out of 21 important buildings that he built for James I in London, in what later became known as the Palladian style, that have survived the depredations of time. Others, such as his splendid Corinthian portico at St. Paul's Cathedral did not survive the 1668 Fire of London. Still extant however are his Queen's Chapel in St. James's Palace, (1623-27); the Queen's House, Greenwich, (completed 1635); and the much loved Tuscan columned portico of the Church of St. Paul, Covent Garden, (1631-33).

Banqueting House is notable, not only for its imposing architectural lines without, but for the remarkable richly painted ceiling of the Hall within. This masterpiece by Peter Paul Rubens was a joyous artistic after-thought commissioned by Charles I in 1636, providing a pictorial allegory of his father's flawed political concept of the 'Divine Right of Kings' which was to lead to the armed conflict between King and Parliament and execution of Charles I by victor Oliver Cromwell. It is perhaps ironic that it was from this very Hall that the deposed King stepped out to be beheaded. We are fortunate that the ceiling survived the iconoclastic puritan era that immediately followed.

The Whitehall frontage and facade, (carefully restored by Sir John Soane, 1829), is rich and elegant; a perfect example of the Italian Renaissance architectural style introduced into England by Inigo Jones following his visit to Palladio country in northern Italy as tutor to the young Earl of Arundel on the boy's 'Grand Tour' in 1614. The huge hall designed for State receptions, investitures, banquets and lavishly costumed allegorical masques, (which Jones had often designed and produced for his Royal patron), rises above a low ground floor, designed originally as a grotto where James I held private parties. It has since been remodelled as a simple vaulted area for exhibitions.

Burlington Bertie's Verdict:

Banqueting House should be seen for the Rubens ceiling, a masterpiece in a surprising state of colourful preservation. A number of concerts and theatrical events are staged or performed here during the year and attendance at such an event is perhaps the best and most appropriate way to see this Hall and its ceiling as it was originally used by royal patrons.

If you do not venture inside, admire at least the rich elegance of the outside frontage facing onto Whitehall with its mixture of Ionic columns and pilasters on the lower floor and Corinthian above. Take time also to admire the stately equestrian bronze depicting Charles I in typically grandiose Roman imperial style popular with absolute European monarchs of the period by Hubert le Sueur, (1633). It looks down Whitehall toward the spot outside Banqueting house where he was ignominiously executed.

Access is not suitable for wheelchair users.
Top Tips

Give yourself at least one hour to see Banqueting House and its environs.

Join Historic Royal Palaces for ?35, (Concessions). Your membership gains you unlimited free entrance to Banqueting House, Kensington Palace, Tower of London, Hampton Court Palace, Kew Palace, and for one year. Buy a London Travelcard for 1, 3 or 7 days. .

Driving and parking in central London is expensive. The simplest, hassle-free way to see London is The Original London Sightseeing Tour. It's a hop-on, hop-off bus tour and you can buy a 24 hour pass and see as much of London as you desire. The Original Tour has become established as THE essential introduction to London. There is a full commentary in English and a choice of six other languages on selected routes.

If you choose to tour independently, buy a London Travelcard for 1, 3 or 7 days. It's cheaper than paying cash for each individual journey. The Central London Transport system is inexpensive, easy and safe.

Before you leave, visit the Historic Royal Palaces gift shop with its excellent selection of exclusive, Palace inspired, British made, quality gifts and souvenirs.

Comfortable and sturdy walking shoes, a shoulder bag and a collapsible umbrella are essential accessories. The bag will hold your umbrella, camera, a snack and all literature and souvenirs you collect during the day.