Westminster Abbey

Westminster Abbey
Venue: Parliament Square, SW1P. Tel: 020 7222 5152.
Access: Daily 9.30am-3.30pm. Closed on Sundays and significant Church Calendar dates and for Royal Weddings, Coronations and Funerals, special national and Royal commemorative events.
Tickets: £15. (Concessions). Entry to normal religious services is free.
Tickets: £15. (Concessions). Entry to normal religious services is free.
Getting There:Nearest Tube: Westminster.

Top Tips

Read about the Abbey in a good guide book to orientate yourself before your visit. The time spent will provide dividends. Make use of the audioguide, available in a number of languages.

Time budget two hours for the main Abbey building! Add an extra hour if you wish to see the Old monastery Chapter House, Pyx Chamber and museum, College Garden, Dean's Yard, neighboring St. Margaret's Church, (no extra charge for these).

Consider the option of a guided tour, (see the Abbey website for details). If Britain's Royal, cultural and architectural history is of particular interest to you, the extra cost will be well worth the money.

This is a good opportunity to see the Palace of Westminster, (the Houses of Parliament and Westminster Hall), explore Parliament Square and along the Thames Embankment, noting the many monuments along the way; bronzes commemorating Queen Boudicca, Richard Lionheart, Oliver Cromwell, Winston Churchill, General Smuts, Nelson Mandela, and many more.

Comfortable and sturdy walking shoes, a shoulder bag and a collapsible umbrella are essential accessories. The bag will hold your umbrella, camera, a snack and all the pamphlets and guide literature and souvenirs you collect during the day.

If pressed for time, book Knownworld Travel's popular 3 1/2 hour guided London Morning Tour Including Changing of the Guard Ceremony . As well as Westminster Abbey, you will also see Big Ben, the Houses of Parliament, Whitehall and Downing Street - the London residence of the Prime Minister - Trafalgar Square, and the Changing of the Guard at Buckingham Palace, Mayfair and Piccadilly Circus, the heart of London's West End.

Knownworld Travel's extended London in One Day Sightseeing Tour which includes Hotel pickup, Guided Tour of St Paul's Cathedral, Changing of the Guard at Buckingham Palace, Thames River Cruise, Tower of London tickets and Yeoman Warder 'Beefeater' Tour, free time to explore on your own at the Tower of London, a Blue Badge guide, and transport by air-conditioned coach. Lunch in a London pub is an additional cost .

London's Royal Palaces & Attractions
with Burlington Bertie .



Westminster Abbey


Built in the Norman style over an original Benedictine monastery by Saxon King Edward "The Confessor" (right), and consecrated in 1065 just days before his death, the Abbey has been rebuilt, enriched and enlarged by succeeding monarchs over 900 years to become both a living museum to Britain's spiritual, cultural and patriotic heritage and the Sovereign's House of God. All but two monarchs, (Edward V, and Edward VIII who abdicated before his coronation to marry divorcee, Wallis Warfield Simpson), have been crowned here since Edward the Confessor's legitimate Anglo-Saxon successor Harold II, and William of Normandy, the victor, who defeated and killed him at the Battle of Hastings, set the precedent in 1066. Many monarchs are buried here with their consorts.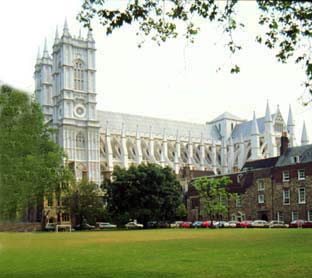 Westminster Abbey. Britannia.com photo.


Little remains of Edward the Confessor's original edifice. Other than the famous West towers, added by Nicholas Hawksmoor in 1740, the Abbey belongs to the 14th century - the inspired work of mason Henry Yevele. As "Disposer of the King's Works" at Westminster and the Tower of London for both Edward III and his successor Richard II, he was commissioned to complete the rebuilding of the Abbey, commenced over a century earlier. He demolished the original Norman nave in 1375 to give us the lofty nave in Early Perpendicular Gothic style that we know today. He also designed the magnificent tomb chests of both his royal patrons, which can be seen at the side of the chancel near that of the Abbey's founder Edward the Confessor, canonized in 1161. The saint's 13th century altar shrine and his remains uniquely survived the church's sanctimonious grave robbers and the iconoclastic fervour of the 16th century Reformation, sans the original gold feretory covering the coffin, his body jewellery and his burial garments. They had been removed from corpse, cut up and incorporated into latter day Episcopal vestments; in the pious hope of imparting an aura of sanctity to the wearer.

Yevele was also commissioned by King Richard to reconstruct nearby Westminster Hall in the fashionable gothic design and was doubtless paid for his work by poet Geoffrey Chaucer, author of Canterbury Tales, who was appointed King's Clerk of Works in 1389. The Hall's remarkable hammer-beamed roof is one of the few extant architectural wonders of mediaeval London to survive the Great Fire of 1666 and the blitz of 1941, though pierced by a bomb in the raid of 10 May that year when the debating chamber of the House of Commons next door was destroyed.

Centuries of acid smoke played havoc with the external fabric of the Abbey and much needed restoration work was carried out in the 1920s and 1950s, paid for by public subscription.

There is much to see in Westminster Abbey and its immediate environs. The Abbey, which, as a 'Royal Peculiar' is directly controlled by the monarch, is a treasure house of paintings, stained glass, pavements, textiles and other artefacts dating back to the 11th century. It is also the burial place and commemorative venue for some of the most significant people in the nation's cultural and martial history; a repository of tombs and memorials comprising the most outstanding collection of monumental sculpture and brasses in the United Kingdom. Attention should be given to the small historic side chapels containing the decorated tomb chests of England's mediaeval and Tudor Kings and Queens; the Coronation Chair; Edward the Confessor's tomb, (an object of pilgrimage until the reformation of Henry VIII); Hugh Easton's haunting "Battle of Britain" Window, a modern masterpiece of the ancient art of stained glass; Poet's Corner and, enclosing it all in vaulting splendour, Yevele's magnificent gothic nave.

When the Abbey is full, as it frequently becomes, it is the job of the Ushers to marshal the sometimes pushing throng of tourists and chivvy them along through bottlenecks like the side chapels; a possibly disturbing experience in a House of God. It is therefore wise to arrive as early in the day as possible if you wish to study the interior and its small historic side chapels and Poet's Corner in relative peace.

© 2016 offtolondon.com All rights reserved. Contact Us