Spotlight 15 July 2011


Pop In to the Pop Up Vintage Fair

by Burlington Bertie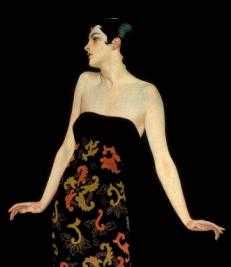 The regular Frock Me Fairs for retro-fashion clothes, accessories & jewellery that liven up your Sunday each month at Chelsea Town Hall and Brighton, are over now for the summer while the organisers take a well earned rest and vendors scour the country to replenish their stocks.
If Frock Me's summer furlough leaves you with acute withdrawal symptoms, you can get your retro-fashion fix in Hampstead on Sunday 24 July at the Pop Up Vintage Fair which takes over the decommissioned and now beautifully restored Victorian Gothic church of St. Stephens.
Some 40 vendors will be showing what you yearn for, as well as offering homeware, vintage vinyl, film posters, antiques and collectibles.
Pause over a cup of tea after purchasing that 1960s or 70s dress and enjoy the stunning interior of this onetime church. It is a masterpiece of 'muscular' neo-gothic Victoriana by Samuel Sanders Teulon, a contemporary of Sir Gilbert Scott who designed the Albert Memorial in Hyde Park. It is undoubtedly one of the finest examples of Victorian Gothic ecclesiastical architecture in London.
Closed for worship in 1977, it remained derelict for decades, its artefacts, ironwork and fine wooden pews sold off to provide that iconic Dickensian look to pubs in UK and USA. But for the fervour of local residents who managed to get St. Stephen's a Grade A listing, it would have been demolished to make way for a car park.
The church interior has now been fully restored with English Heritage money to its original grandeur for community use, less the aforementioned pews, and the wrought iron and wood altar rail, (which ended up decorating the balcony of a country house on Bodmin Moor). A theatre production of Dicken's A Christmas Carol was performed there at Christmas; a fitting venue for a Victorian tale.
Getting there
Pop Up Vintage Fair
Venue: St Stephen's Rosslyn Hill, Pond Street, Hampstead NW3 2PP.Tel: 07716 295998
Access: 11am-4pm, Sunday 24th July, 2011
Tickets £3 per adult. £2 NUS at door.
London Transport: Nearest Tube. Belsize Park.
Paddington Festival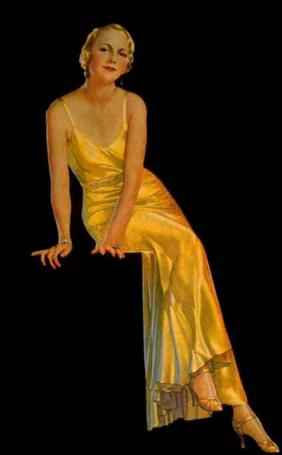 The following Sunday, 31 July, our old friend Cabbages and Frocks Market is moving from its weekly Saturday spot in the grounds of Marylebone Parish Church to Paddington's leafy Norfolk Square for the day, to take part in the 2011 Paddington Festival celebrations.
The weekly market is the brainchild of the organisers of the London Fashion Designer Sales and you can expect to find a good mix of stalls selling everything from foodie oils and balsamic vinegars to hand made jewellery. If you are lucky you will find some genuine designer gear at bargain prices hanging in there with the vintage and retro-fashion dresses.
The adventurous will find an exploratory walk of Paddington, its picturesque mews streets and its regenerated 'Little Venice' canal waterway most rewarding. It is difficult now to imagine the rural village that was Paddington before Isambard Kingdom Brunel opened Paddington Station as his London gateway to Devon and Cornwall 175 years ago for his Great Western Railway.
Paddington's south eastern boundary was marked by the infamous Tyburn gallows, scene of regular public hangings of London criminals, which were weekend entertainment attracting thousands of Londoners and immortalised by Hogarth in his print "The Idle Prentice Executed at Tyburn". Following the Restoration of Charles II to the throne in 1660, Oliver Cromwell was posthumously dug up and his body hanged in chains there, while ten of the surviving regicides involved in the trial and execution of Charles I were hanged, drawn and quartered as a public spectacle there.
A number of famous highwayman, Catholic martyrs, rebels and nobles provided grisly terminal entertainment at Tyburn over 5 _ centuries and interesting Paddington slang has come down to us from Hogarth's time. "Paddington Fair Day" refers to a public hanging day at the Tyburn Gallows. A "Paddington Fair" meant a public execution, and "Dancing the Paddington frisk" was a euphemism for being hanged.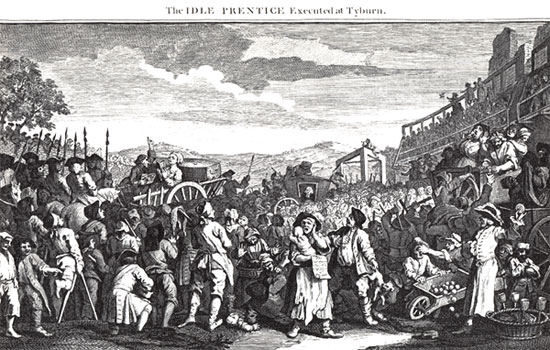 The Paddington landscape has changed dramatically since Hogarth's print of 1747 and 1947 when I lived there. Paddington today is a vibrant business and leisure centre with a plethora of pubs, ethnic restaurants, boutiques, 'desirable bijou residences', (real estate-speak for tarted up artisan cottages), and a cluster of small 3 star hotels in and around Norfolk Square. This is not Mayfair and prices are reasonable.
Excellent and reasonably priced pub grub and a Roast on Sundays, can be found at the Monkey Puzzle, at 30 Southwick Street, (Tel: 0872 148 3289), my favourite Paddington pub. Gary is an ebulliently friendly pub landlord and pulls a good pint of Real Ale which you can enjoy outside in the spacious beer garden on a sunny day.
A pub with history is the Fountains Abbey at 109 Praed Street, (tel: 0207 7232364), just a few minutes walk from Paddington Station and next door to the Peking Seoul Chinese/Korean restaurant. Opened in 1824, the pub retains its traditional Victorian atmosphere and offers good traditional pub grub and a Sunday Roast.
Getting there
Cabbages and Frocks Market
Venue: Norfolk Square, Paddington,
Access: 11am-4pm, Sunday 31 July, 2011
Tickets FREE.
London Transport: Nearest Tube. Paddington.