OUT & ABOUT HOME
| London's Royal Palaces & Attractions.

St. James's Palace

with Burlington Bertie .



St. James's Palace

Venue: Pall Mall and Marlborough Road, St. James's, SW1A 1BS
Access: By Royal Command. Otherwise restricted.
London Transport: Nearest Tube: Green Park, (Piccadilly and Victoria Lines).

As St. James's Palace is both a private residence and working offices of the Royal court, it is not open to the public. The Palace's history and outlook make it worthy of a brief visit however. The Chapel Royal, (built by Henry VIII, decorated by Holbein, refurbished by Victoria), and the Queen's Chapel, (Inigo jones, 1623-27), are open to the public for some sung services, and parts of Clarence House , (John Nash 1826), are accessible at certain times.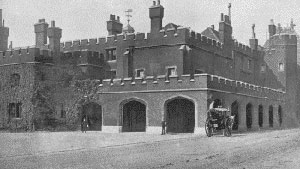 St. James's Palace, 1896.
Henry VIII built the Palace as a hunting lodge between 1532 and 1540 on the site of the St. James's leper hospital. In Stuart times it was enlarged by Sir Christopher Wren and added to by Nicholas Hawksmoor, remaining an important Royal Palace until Queen Victoria moved to Buckingham Palace, prefering its roomier space to the cramped living quarters at St. James's. The Prince of Wales has his offices here and it was also his London residence until he moved into the Regency comfort of Clarence House after the death of his grandmother Queen Elizabeth, The Queen Mother in 2002.
Today the Palace is still the official London home of the Sovereign and residence of a number of minor working Royals. By tradition, the accession of each new Sovereign is proclaimed by tabarded Royal Herald and Trumpeters from the balcony of the Palace's Friary Court. The Marshall of the Diplomatic Corps and the Central Chancery of the Orders of Knighthood have their offices there. The Palace is frequently used by the Duke of Edinburgh, the Prince of Wales and the Princess Royal as an alternative venue for receptions, though the following description by Charles Dickens Jnr in his Dictionary of London, 1879, illuminates its shortcomings, which have changed little since then:
St. James's Palace is the oldest of the royal establishments in London, but has long since ceased to be used by royalty for any but ceremonial purposes. Of late years its cramped and inconvenient rooms have been found highly impracticable for the more important of those functions, and Her Majesty's drawing-rooms have been removed to Buckingham Palace, where the fight for priority of admission to the royal presence is not embittered by quite such close packing, and Her Majesty's lieges are enabled to preserve their toilettes in comparatively sound condition even to the exit. Levees, however, still continue to be held at St. James's, and this is the only use to which the palace as such is now put, though custom still recognises it as the head-quarters of English royalty, and the English court is always diplomatically referred to as the court of St. James's. A considerable portion of the palace is now appropriated to the use of various persons to whom Her Majesty has been pleased to assign accommodation.
Burlington Bertie's Verdict:

Although this Palace complex is not open to the public, you should endeavour to attend a service at the magnificent Chapel Royal, where Queen Victoria married Prince Albert. Do stroll round the outskirts of the complex and admire the architecture, and feel free to photograph the Changing of the Guard outside the Tudor clock tower entrance, (1532). Note also Sir Alfred Gilbert's most beautiful bronze memorial, (1932), to the much loved but now largely forgotten Queen Alexandra, Queen Consort of King Edward VII. This is set into the wall of Marlborough Road facing the Palace's east front.

Pay a brief visit to St. James's Palace as part of your visit to the Buckingham Palace complex, (Buckingham Palace, the Mall, St. James's Park, Horse Guards Parade, Clarence House), or when following the designated Diana Memorial Walk. See also Spencer House and Lancaster House nearby. The palace is best viewed by walking down the elegant St. James's Street from Piccadilly, passing the Palladian frontages of such famous gentlemen's clubs as Brookes, Boodles and Whites on the way.

Call in to Lock & Co, the Royal Warrant Hatters at No. 6, to be fitted for your bespoke silk top hat for Royal Ascot or Royal Garden Party, (from £495), equestrian headgear for Dressage or the Hunt, or a raffishly bohemian Fedora, (from £125). At No. 9, where Lord Bryon once lived, John Lobb Ltd., (Royal Warranted boot and shoe makers for over a century), will tailor gleaming riding boots and walking shoes to your foot.

Related Links
St. James's Palace Official site for the Royal Palace of St. James.
Clarence House Background and visiting arrangements
Lock & Co . Est. 1676. Gentlemen's headwear and smoking caps, and Ladies' couture millinary by Sylvia Fletcher for royal and special occasions.
John Lobb Ltd. . Gentlemen's and Ladies' bespoke boot and shoe makers. Fitting appointments in USA, Japan, etc., as well as in London.

© offtolondon.com All rights reserved.

Top Tips to enhance your visit

1. Pay a brief visit to St. James's Palace as part of your visit to the Buckingham Palace complex, (Buckingham Palace, the Mall, St. James's Park, Horse Guards Parade, Clarence House), or when following the designated Diana Memorial Walk. See also Spencer House and Lancaster House nearby.

2. Be aware of the lack of public amenities and act accordingly. Nearest public lavatories are 15 minutes walk away, ( Green Park Tube Station or St. James's Park).

3. Comfortable and sturdy walking shoes, a shoulder bag and a collapsible umbrella are essential accessories for touring London. The bag will hold your umbrella, camera, a snack/bottled water and all the literature and souvenirs you collect during the day.

4. If very pressed for time, book OfftoLondon's popular 3 1/2 hour guided Essential London Tour. As well as Westminster Abbey, you will also see Big Ben, the Houses of Parliament, Whitehall and Downing Street - the London residence of the Prime Minister - Trafalgar Square, and the Changing of the Guard at Buckingham Palace, Mayfair and Piccadilly Circus, the heart of London's West End.

5. OfftoLondon's extended full day Discovering London Tour offers much more, includings lunch in a London pub, a river trip on the Thames and a visit to the Tower of London and St. Paul's Cathedral.