SPOTLIGHT: 3 August, 2007

The Nag's Head & Pickled Walnuts

with Burlington Bertie & Shophound Alexia.


innerton Street is a picturesque mews leading from Knightsbridge to Belgravia, that exclusive residential area of London bordered by Sloane Street to the west, Hyde Park in the north, Buckingham Palace to the east, and Victoria to the south. Belgravia's leafy squares, each a miniature private park with private key to enter, are oases of tranquility bordered by stately, cream stuccoed Regency houses with classic porticoes. They were built early in the 19th century after the area was gentrified and rid of its highwaymen and footpads. The ladies and gentlemen of Victorian Society who occupied these houses with their retinue of liveried servants are history; their residences now broken up into luxury apartments or rented by embassies, consulates and international corporations seeking a prestigious London address.

The Nag's Head

53 Kinnerton Street, SW1X 8ED. Tel: 020 7235 1135
Opening Times: 11am-11pm, Mons-Fris. 11am-midnight Sats. 12-10.30pm, Suns.
Food Pub snacks, Salad Bar.
Nearest tube: Knightsbridge

Burlington Bertie's Accommodation Choice: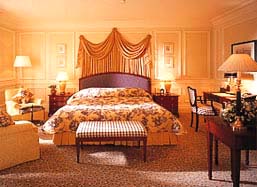 Wilton Place SW1X 7RL
An elegant 5star retreat into extravagance for the Knightsbridge shopper. Enjoy the use of the hotel's wonderful rooftop pool with its superb views and detox spa service after a tiring day out looking at museums, art galleries and boutiques. Two of London's top restaurants, the Petrús and Boxwood Café, offer Michelin star cuisine.

Find Another Hotel
Want to receive our new Out & About Newsletter by email? Just type your email address below and click the submit button.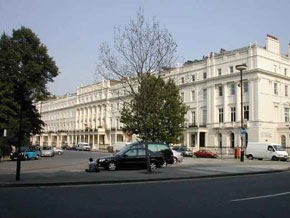 The narrow mews streets behind these houses once housed the ostlers, horses and carriages attendant upon the residents of the big houses. Like the beau monde they served in another age, the stables with their horses and grooms are long gone. They are converted now into expensive urban cottages, picturesque as a Kinkade painting and occupied by equally picturesque interior decorators, designers, photographers, today's glitterati of Show Business and Fashion, and well-manicured ladies parading well-manicured dogs.
The simple mews pubs that once served the coachmen and ostlers a pint of rather warm beer and a home made pickled egg, pickled onion or a little bit of cucumber when they were off-duty, are now trendy hostelries. Like the neighboring cottages, they are decorated with colourful window boxes and hanging baskets of fuchsia, petunia and geranium. Iced Chardonney or Pimms are more likely to be ordered now by the expensively dressed patrons, who are more at home with a chargrilled lobster tail than a pickled onion.
The Nag's Head, hidden away in Kinnerton Street is a welcome exception. Tiny, friendly, and as old as the quietly secluded street itself, it remains resolutely unchanged, though the elegant broughams of yesteryear have made way for Messrs Jaguar and Mercedes.
Back in the days of yore, we regulars always referred to the Nag's Head as "Len's" after the then proprietor. Old Len was a cockney, vast of girth, bleary of eye and surly of demeanour. But beneath his unprepossessingly gruff exterior beat a heart of gold. Towards the end of the month when money was low, he would become our banker, loaning cash from a bulging back pocket bankroll against our post-dated checks.
Old Len quenches the thirsts of Angels now. His landlord's mantle is worn by Kevin, a retired film stuntman, who has stamped his own personality on the place and pulls as fine a pint of beer as did old Len.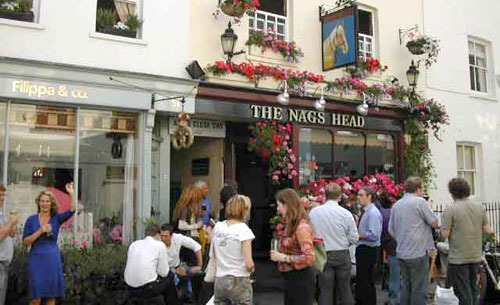 It was at the Nag's Head that I acquired an enduring taste for the traditional pub fare of pickled walnuts, pickled eggs, and pickled onions. Len dispensed these with slices of Melton Mowbray Pork Pie or tangy cheddar cheese and crusty bread garnished with chutney; what we call a 'Ploughman's Lunch'.

You can still order a Ploughman's at the Nag's Head but this is definitely not a trendy gastro pub run by a prima donna chef or managed by some corporate hospitality group. The landlord is beholden to no brewery or restaurant chain and like old Len before him, he treasures his local patrons. Give the pub a visit when you are next shopping in Knightsbridge at Harvey Nichols or Harrods or Belgravia's Halkin Arcade. The pub has changed little since it was built and remains a tiny piece of historic London that was already old when Harry Champion was singing this ditty in London's Edwardian Music Halls nearly a century ago.
"I like pickled onions,
I like piccalilli.
Pickled cabbage is alright
With a bit of cold meat on Sunday night.
I can go termartoes,
But what I do prefer,
Is a little bit of cu-cum-cu-cum-cu-cum,
Little bit of cucumber."

1914 Music Hall ditty. Harry Champion
Old Fashioned Pub Pickles

by Shophound Alexia

Eggs and onions are quick and easy to pickle, and can be prepared at any time of the year. Walnuts take longer. You must pick and prepare them when they are still soft and green - late May or early June in Northern Europe, which means that if you miss that 'window' for picking you will miss out on the most scrumptious of all home-made pickles which are normally only available in the shops during the Winter Holiday season.

I like to have a jar of each at home at all times. This is not a problem with eggs and onions. The walnuts however do not long survive our predatory attacks which means a trip to the nearest delicatessen to replenish stocks because they are an essential accompaniment to the cold leftovers of poultry or roast lamb.

Alexia's Spiced Vinegar
I prepare a simple spiced vinegar for all three Pub Pickles. Here is my recipe:


4 pints white vinegar.
10 cloves.
2 tablespoons coriander seeds.
1 tablespoon mustard seeds.
5 dried red chillies, (optional but recommended).
2 teaspoons whole black peppercorns.
1 cinnamon stick.
1 tablespoon brown sugar.
Mix all the ingredients in a saucepan, cover and simmer gently for 15 minutes. Allow to cool. Strain and bottle for later use.

Pickled Walnuts.
Pick 2lb soft green walnuts and prick them all over with a strong carpet needle. Wear rubber gloves to do this to save your hands from staining. Place in a ceramic bowl. Dissolve 5 oz. of salt in 1 pint water. Pour over the nuts and leave for 5 days, stirring twice daily. Drain and repeat the process twice. Drain and spread out in a single layer on a flat dish, and dry in the sun until they are black. Pack into sterilized wide-necked jars until three quarters full, and pour in the spiced vinegar, ensuring that no air bubbles are trapped in the jar. Seal and keep in a cool place for at least 8 weeks before consuming. Keep at least one jar to go with your cold Thanksgiving or Christmas Turkey leftovers. While you are about it, make an extra batch for gift giving. You will be very popular!

Pickled Onions.
Peel 3lb. pickling onions or, preferably, shallots. Place in a bowl, sprinkle with salt, (about 2 oz.), cover and leave overnight. Rinse and pat the onions dry and pack down into sterilized wide-necked jars. Pour in spiced vinegar, making sure that no air bubbles are trapped. Seal and store in a cool place for at least two weeks before eating. They will last about six months, but you will have scoffed the lot well before that!

Pickled Eggs.
Take six small or medium sized eggs, (or jumbo-sized goose eggs in the laying season), hardboil and peel them. If you are lucky enough to obtain goose eggs, they need a good 20 minutes boiling. Place in a sterilized wide-necked jar, and pour in the spiced vinegar, covering the eggs completely. Seal and store in a cool place for one week before eating, (or three weeks for goose eggs). Eat within three months.





© 2007 offtolondon.com All rights reserved. Contact Us