SPOTLIGHT: 12 September, 2007

Maritime Rites for Great Tom

by Burlington Bertie.




he musical life of London hits a new low this week. Paradoxically that low will be a highlight for me in what promises to be an exciting musical experience. Great Tom, the massively sonorous bell of St. Pauls, will, we hope, peal out its deep A flat as part of a carillon of bells composed for the finale of of Alvin Curran's Maritime Rites which premieres Friday in London on a Thames-moored barge below the Millenium Bridge, dominated by St. Paul's on the north bank and Tate Modern to the south.

Maritime Rite

Millenium Bridge & River Thames, London E1
Access: FREE.
London Transport: Nearest Tube. Blackfriars, Mansion House. Riverboat: Bankside Pier.

Burlington Bertie's Accommodation Choice: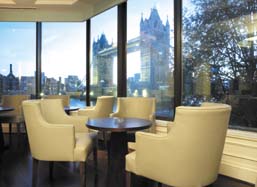 St. Catherine's Way, E1W 1LD
Located on the north bank of the River Thames next to the famous Tower Bridge and the Tower of London, the Tower Hotel, (a partner of the Cumberland hotel, Marble Arch), offers stunning Thames-side views and modern comfort just a short walk from the Millenium Bridge, Tate Modern, St. Paul's Cathedral and the City. Two restaurants, lounge, coffee bar and bar serve a wide variety of drinks, light refreshments and meals as an alternative to the many colourful ethnic restaurants and bars in the area.

Find Another Hotel
Want to receive our new Out & About Newsletter by email? Just type your email address below and click the submit button.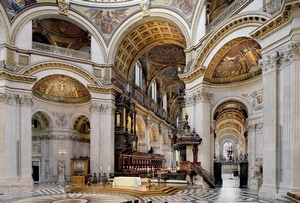 Note the location. It evokes shades of an equally auspicious performance one summer's evening 290 years ago, when Handel performed his Water Music for King George I from a barge on the Thames.
Note also the introduction of the bells of St. Paul's, evoking memories of Vaughan Williams Symphony No.2, which premiered nearly a century ago in 1914. Described as "A London Symphony" by the composer, and known as this ever since by the public, it melodizes a wealth of sounds and scenes of Edwardian London, including the chimes of Westminster Abbey.
Curran's appropriately 21st century take on such illustrious musically descriptive progenitors contains a wide variety of sounds he has captured from rivers, ports, lighthouses, foghorns, claxtons and boat signals; sounds he has re-used and transformed on keyboard/synthesizer.
On his barge, Curran will be joined by a cadre of improvising musicians including Evan Parker on the Saxophone and Melvyn Poore on the Tuba, while the London Symphony Orchestra Brass, positioned safely on land outside the Tate Modern, will be playing Curran's re-composition of music historically associated with the Thames written specifically for this UK premiere.
In addition the recently formed UBS Orchestra, (a partnership between UBS and the London symphony Orchestra), will perform from the Millenium Bridge itself, leading volunteers with their instruments.
This remarkable event starts at 5pm and lasts 75 minutes, concluding, I hope, with that low note from Great Tom. If so, this historic bell, which weighs in at 5 tons 4 hundredweights, surely goes straight into the Guinness Book of Records as the world's heaviest musical instrument played in concert! Or will that accolade go to Great Paul, which hangs immediately below Great Tom? This even heavier, deeper toned, bourdon is the largest and heaviest bell in Britain, sounding a growling resonant E flat. It is rung on very very special occasions only. Shall we hear it's note from the South West Tower of St. Paul's at the conclusion of Alvin Curran's Maritime rites?

Related Links
The Bells of St. Paul's Cathedral



© 2007 offtolondon.com All rights reserved. Contact Us