SPOTLIGHT:

Hampton Court Palace and Tudor Banquets

by Burlington Bertie.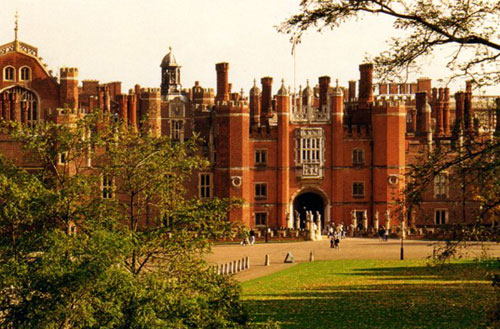 PhotoCredit: Historic Royal Palaces.

Royal preoccupation with Italian Renaissance classicism and baroque during the 17th and 18th centuries ennobled London. We are the beneficiaries. Sadly however the fabled Tudor palaces at Bridewell, Whitehall, Greenwich, Richmond and Nonsuch were torn down, together with their fabled banqueting halls during the great Stuart building spree as mediaeval old Gothic made way for Renaissance new classic, with considerable help from the 1666 Great Fire of London.

East Molesey, Surrey, KT8 9AU. Tel: 0870 752 7777.
Access: 30 March - 26 Oct: Daily 10.am-6pm, (last admission 5pm). 27 Oct - 31 Dec: 10am - 4.30pm, (last admission 3.30pm). Closed 24 - 26 Dec. The Wilderness, Tiltyard and Rose Garden are open throughout the year, 7am to dusk.
Tickets: Palace and Gardens £13. inc audio and costumed guides, (Concessions); Gardens only £4.50; Maze only £3.50. (Concessions). Online or by phone, or at gate. Carpark: 50p per hour.
Accessibility: Wheelchair accessible, with elevator to upper floor State Apartments. Palace ticket holders can make use of free manual wheelchairs within the palace and battery-powered chairs in the gardens. Collect at West Gate main entrance. There are disabled toilet facilities both in and outside the palace.
London Transport: Nearest Tube. Richmond. Bus connection from station. Rail from London/Waterloo to Hampton Court, (32 mins). River Boat from Westminster Pier, (3 1/2 hrs).

Top Tips to enhance your visit.

1. Join Historic Royal Palaces. Membership gains you unlimited free entrance to Hampton Court Palace, Kensington Palace, Tower of London, Kew Palace, (NEW), and Whitehall Palace Banqueting Hall for one year. Alternatively buy Offtolondon's Three Palace Royal Pass for Hampton Court and Kensington Palaces and Tower of London.

2. Buy a London Travelcard for 1, 3 or 7 days, (from £6.30 Adult and £2 child per day). while your Travelcard is valid 24 hours on the central London Transport system. The system is cheap, easy and safe. Consider buying a top-uppable London Transport Oyster Card. It saves you money and cuts out the hassle of queuing.

3. Give yourself a full day to properly enjoy Hampton Court. You need at least two, and preferably three, hours to see the Palace before enjoying the extensive gardens.

4. If you can, travel to Hampton Court the historic way - on the river. Take 10am River Boat from Westminster Pier, (check sailings). You will enjoy the most picturesque 3 1/2 hour ride past historic and picturesque Chiswick Village, the Royal Botanical Gardens at Kew, Royal Richmond, Ham House and lots more.

5. Take a picnic and lunch on your journey upriver. When you disembark you will have 4 hours to explore Hampton Court Palace and the gardens, or 3 hours if returning by the 5pm riverboat.

6. If you don't have time for 3 1/2 hours on a riverboat, take the 32 minute rail journey London/Waterloo - Hampton Court Station. Alternatively, travel one way by boat and one way by train.

7. Use the free audio tour available in a number of languages or join one of the free costumed guided tours of the Royal apartments to fully enjoy the Palace experience. They start every 15 minutes.

8. Do not ignore the magnificent Palace grounds and Tudor Gardens. See these in the sedate comfort of a horse drawn carriage.

9. Read about the Palace and its history before your visit and check out the online illustrated map. You will enjoy your visit more and save yourself valuable time getting orientated.

10. Comfortable and sturdy walking shoes, a shoulder bag and a collapsible umbrella are essential accessories. The bag will hold your umbrella, camera, a snack and all literature and souvenirs you collect during the day.

For up-to-date visitor information about London's Royal Palaces and monthly diary of events, see Out and About in London

Hampton Court is London's sole surviving Tudor palace, bar parts of St. James's Palace and Eltham. It is a true Tudor gem with Henry VIII's magnificent hammer-beam roofed Great Hall, Chapel Royal and apartments, and the vast warren of kitchens designed to cope with the 30 course banquets served to King and courtiers, sometimes numbering over 1,200 mouths to feed.

A visit to these kitchens will open your eyes to the gluttonous feasting habits of the Tudor monarch and his household. We already have a clear picture of life in the royal kitchens from the Eltham Statutes; a series of ordinances drawn up in 1526 by Cardinal Wolsey, Henry VIII's Lord Chancellor, for the better running of the King's household. As a preamble, the Statutes laid down a ruling that master cooks be paid to clothe the scullions. They had hitherto run about naked, (and slept), in the appalling heat of the open fire kitchens, or wore particularly vile and soiled garments. Wolsey's own household at his newly completed palatial Hampton Court residence had amounted to 1,000 persons in support of his lavish lifestyle and entertaining as England's prelate. Two years after compiling the Eltham Statutes, Wolsey tactfully handed Henry VII the keys to Hampton Court Palace in an unsuccessful effort to stave off political oblivion and disgrace following his debacle over the King's divorce from the hapless Catherine of Aragon. Not to be outdone by his former advisor, Henry VIII enlarged Wolsey's original kitchen plan to 50 rooms; a vast 36,000 square feet of food-preparation capacity.

We see from Wolsey's Eltham ordinances that two courses should be served at the table of "the King's Majesty and the Queen's Grace" for dinner. For a first remove, the kitchens served up 15 dishes from a choice of bread and soup, beef, venison, red deer, mutton, swan (alternating with goose or stork), capon, cony, (rabbit), and carp. The remove was completed with a custard or fritters. This was followed by the second remove of nine dishes. These were composed of jelly, spiced wine and almond cream, followed by a selection from practically every bird in the sky - pheasants, herons, bitterns, shovelards, partridges, quails, cocks, plovers, gulls, pigeons, larks, pullets, and chickens. To this, was added lamb, kid, rabbit, venison, and tarts. Supper was a variation on dinner, with the addition of a blancmange pudding, butter, eggs and perhaps quinces or pippins in season.

During Lent, on Fridays and on meatless days, a 'lighter' fare was set before the King. His first course of a meagre 15 dishes was taken from bread and soup, ling, eels or lampreys, pike, salmon (which ran up the River Thames in Tudor times), whiting, haddock, mullet or bass, sea-bream or sole, conger, carp, trout, crabs, lobster, porpoise or seal, (which counted as fish in those days), custard, tart, fritters and seasonal fruit. The second course comprised nine dishes from a menu of another soup, sturgeon, bream, tench, perch, eels, lampreys, salmon roes, crayfish, shrimps, tart, fritters, fruit, baked pippins, oranges, butter and eggs. The saltwater fish was brought up the Thames to the palace in seaweed packed barrels.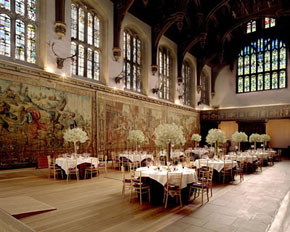 The King might order anything or everything from these menus. His entourage fared scarcely less expansively. His Lord Chamberlain was entitled to two courses of ten and six dishes for dinner, and seven and four dishes for supper. And so the list of dish allowances carries on down to the end of the line where the maids, servants, porters and children had to exist on two meat dishes for dinner, (beef and mutton), and two for supper (beef and veal). Leftovers found their way, by royal custom of centuries, dating back to the banquets of William the Conqueror in his Great Hall at Westminster, to the poor at the gate.
These royal menus enshrined in the Eltham Statutes are notable for their high-protein content and lack of green vegetables, prompting some medical historians to wonder whether Henry VIII suffered from scurvy, (among other ailments), in his later years. Needless to say, such gargantuan royal meals served up in the Great Hall required prodigious quantities of home-brewed beer, ale, and wine imported from Burgundy and the Rhineland, to wash down these vast quantities of food. Accounts show that 600 barrels of alcohol were consumed each year at Hampton Court.
Historic Royal Palaces, Hampton Court's managing authority, offer courses in Tudor cooking each year in the Palace kitchens to budding Clarissa Dickson-Wrights who wish to create such arcane delights as the 'Peacock Royal' or stuffed Boar's Head, as carved at Henry VIII's table on the 1542 Midsummer's Day Feast of St. John the Baptist. By then, in fact, the 50-year-old King was past such gourmandizing pleasures. He was obese, gout-ridden, jaundiced, ulcerated, paranoid and single, having beheaded his fifth wife, the 20-year-old Catherine Howard, four months previously. His youthful Merry England of joyful jousting, feasting and libidinous dalliance, when he was described as "the handsomest prince in Europe", were but a royal memory.
The Tudor age of sumptuous royal feasting in Hampton Court's Great Hall flared briefly to final brilliance in 1546, when the then chronically ill King feted the French ambassador and 1,500 retainers for a week, but was not to survive his death the following year. Courtiers' feudal rights stemming from the custom begun by William the Conqueror and later enshrined in the Eltham Statutes were retained however. It was not until the Restoration of Charles II in 1660, that servants and officers of the Royal Household finally lost their daily right to the King's meat. From then on, they were paid a wage in lieu of meat at the royal table, and the royal kitchens and the Great Halls they supplied went into consequent terminal decline. Menus for today's royal banquets given by The Queen at Buckingham Palace and Windsor Castle to visiting Heads of State are a pale shade of the gargantuan feasts of yesteryear.
Selected Offtolondon Links
Hampton Court Palace
RHS Hampton Court Flower Show and Picnics.
Outside Links
Tudor Cookery at Hampton Court