London's Royal Palaces & Attractions
with Burlington Bertie .



Spencer House

Venue: 27 St. James's Place, London, SW1A 1NR
Tel: 020 7499 8620.
Access: Sundays only, 10.30am - 5.45pm, (last admission 4.45pm). Closed January and August.
Tickets: Adults £9.00, (Concessions). Timed tickets for guided group tour, (1 hour), available at door on first-come, first-served basis only . No children under 10. yrs. Tickets on sale at door from 10.30am. No advance or online booking for individuals. Groups arranged by telephone.
London Transport: Nearest Tube. Green Park.

Burlington Bertie's Accommodation Choice: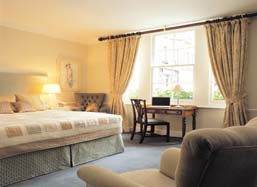 Buckingham Palace Road, London, SW1W 0QT, England
Described by the NYTimes as "the ultimate Country House hotel", this member of the 'Small Luxury Hotels of the World' consortium is situated in the heart of St.James's, London's most exclusive quarter, just around the corner from St. James's Palace and Clarence House. It hides 5-Star, award-winning and elegantly sumptuous comfort in quietly understated luxury behind its discreet exterior. Special summer offers are worth pursuing, as are the famed dry martinis mixed by Tony in the hotel's relaxed Dukes Bar.



Find Another Hotel


pencer House was built in 1756-66 for John, first Earl Spencer, an ancestor of Diana, Princess of Wales, (1961-1997). Then at the height of his political power, the Earl aspired with success to outshine all others in his architectural ambitions for an aristocratic town house that provided a suitably grandiose backdrop to his lavish entertainments, receptions and banquets. The result was perhaps the grandest Palladian mansion in London. Situated in the heart of St. James's, within walking distance of St. James's Palace, the house remained a centre of London Society until the Spencers ceased living there in 1896.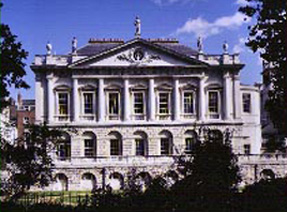 Spencer House, West Facade

The exquisitely proportioned Palladian facade we see from Queen's Walk and the design of the ground floor rooms are by architect William Kent's pupil John Vardy, (d. 1765). The palace was completed by James 'Athenian' Stuart whose application of accurate Greek detail to interior decoration, made Spencer House one of the prime examples of Neo-Classical decor in the capital. Some interior additions were made in 1783 by the Prince Regent's architect Henry Holland, the Neo-Classicist partner of landscape architect Capability Brown. He was also responsible for laying out the superb garden in 1798, noted at the time for its size and planting. Yet further alterations to the interior and decor were made by the noted Victorian architect Philip Hardwick, (1792-1870), to reflect the changing styles of the period.

The eight state rooms are available for hire and provide a supberly n elegant backdrop for civil weddings, and commitment ceremonies, receptions, musical evenings, lectures and press presentations. Receptions can be held for up to 450 guests, 500 if using the terrace, while seated lunches and dinners can be accommodated for any number from 2-138. Theatre style meetings can also be held, up to a maximum of 100 guests.

Burlington Bertie's Verdict:

Now completely and meticulously restored to the grandeur envisaged by the first Earl, the State Rooms now open to the public reflect the glory of Neo-Classical decor, while the restored gardens provide an interesting insight into Regency garden layout and planting. The magnificent Great Room that extends the length of the garden frontage is a superb example of James Athenian Stuart's inspired work and one can imagine this as the setting for the many lavish balls and receptions given beneath its decorated domed ceiling.

Spencer House is, sadly, the only great eighteenth-century private palace in central London to survive intact. As such it is well worth visiting. It is essentual viewing for all admirers of James 'Athenian' Stuart, whose work can also be seen in the Victoria and Albert Museum. It is unfortunate that due to other commitments the house is only open on Sundays. If you are unable to visit on a Sunday, ensure that you find time, at least, to admire the memorable beauty of Spencer House's elegant facade from Queen's Walk.