London Pub Guide

Food and Drink in London Pubs

by Burlington Bertie



Pub Grub

The cost of eating out in London varies as widely in London as it does in every major city. There are however attractive pubs in every part of London offering reasonably priced and hearty portions of traditional English pub fare. A traditional 'pub grub' menu will include the iconic Fish and Chips, a homemade steak or chicken pie perhaps, 'Sausages and Mash', and a cold 'Ploughman's Lunch' of piquant cheddar cheese, pickled onions and crispy bread rolls. On Sundays, pub grub will very often include a special fixed price two or three course menu featuring a 'Sunday Roast' of Beef with 'yorkshire pudding', roast potatoes and green vegetables.

Prices are always clearly displayed on a printed menu, with any special 'Dish of the day' chalked up on a blackboard behind the bar or advertised outside the entrance. Serving times for food normally differ from the pub's opening times, (circa 10am - 11pm or midnight), with hot food usually available from midday - 9pm or 10pm weekdays, and earlier closing on Sundays. Expect to pay around £4 to £6 for starters and from £8 to £10 for main course, unless the establishment advertises itself as a 'Gastro-Pub' in which case the price may be enhanced by the notoriety of the Chef, (who probably owns the joint), the number of culinary accolades he has acquired for his cuisine which he would certainly not describe as mere 'pub grub'. Also if the menu is presented as 'Ye Olde Pubbe Fayre', expect to pay for the fancy spelling.

As a Pub price guide, the cost of Fish and Chips (French fries), is a good marker and I use this where possible whenever reviewing 'Pub Grub'. The dish is invariably a Cod steak, deep fried in a beer batter and served with tartar sauce and slice of lemon, chips, garden or mushy peas and a salad garnish. The English often swamp their food with tomato sauce and/or malt vinegar and you can expect these to be on your pub table with the pepper and salt.

Tipping

Unlike in a restaurant, where tipping is not only expected but is calculated as an essential part of a waiter's wages, pub bar staff do not expect a tip. As bar staff are usually on minimum wages however, a tip for good and friendly service will always be appreciated and is likely to be favourably remembered if you make a return visit. The size of tip should be roughly the cost of a drink. Always check your change when you receive it, particularly if you have paid with a large denomination note. You will have no recourse once you have left the bar if you have been wrong-changed.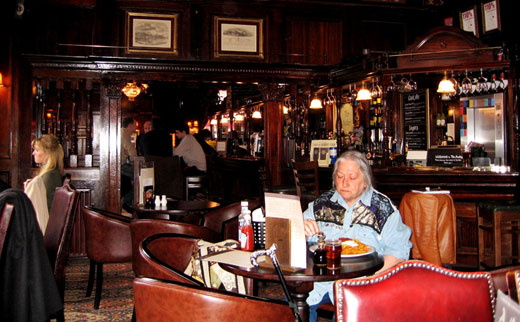 When eating at a pub offering full waitered table service in a separate dining room, expect to give a 10% tip. If however you have to order your food at the bar, a token tip is adequate and you will be expected to pay for your food and drinks when ordering. Your bill is always inclusive of tax and you should check to see whether a service charge has already been added. If paying by credit card, (check first that the pub accepts plastic), leave a cash tip to ensure that it is the staff who benefit from your largesse, not the management.

Some pubs will allow you to run up a tab for food and drink ordered at the bar if you are paying with plastic, but will expect you to leave your card with the barkeeper as surety.

Drink Measures

Alcoholic drink measurements in pubs are strictly controlled and spirits must be dispensed from an optic, usually 25ml. Wine by the glass is dispensed from a stainless steel 175ml or 250ml measure. Draught beers are sold in UK 1 pint (568ml/20 fl.oz) glasses or, if specified when ordering, ½ pint glasses. Bottles usually contain 330ml.

The amount of head (froth) you will see on the top of beer is not generally considered as part of the pint measure. Most English draught beers will have a small head, but if it looks excessive, as may happen when a new barrel is broached, the bar server will normally let it settle and then give it a top-up.

If you have a question, contact us and we will do our best to provide answers.

© 2012 offtolondon.com All rights reserved.