From Dino Poo to Moonwalk
London's museums have it all for kids this summer.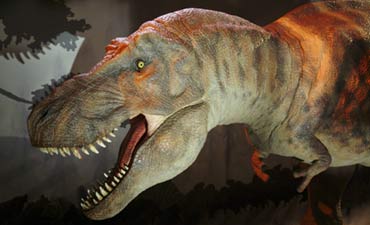 A visit to the Natural History and Science Museums are likely to feature prominently on every kid's wish lift this summer. Both have a programme of exhibits and hands-on activities that will delight kids from 8 to 80 on a rainy day. Museum entry and most kid friendly activities are free, but be prepared to budget for some extras that young Archie or Emma will want to see. Both museums have excellent catering facilities for young stomachs.
The Natural History Museum's fabulous Dinosaur Gallery reopens after refurbishment at the end of July, (Archie will insist on seeing the fossilised Dino poo), and you can celebrate the reopening by visiting the Museum's special ticketed interactive family show, (until 4 September, 2011), where you can cuddle up to life-size, animatronic dinosaurs and experience the smells and sounds of their prehistoric habitats. This immersive, family blockbuster also includes stunning imagery, amazing specimens and interactives. Buy tickets online.
I liked the museum's online Parent's survival Guide. It contains some useful hints for museum visiting with young children.
Getting there
Natural History Museum
Venue: Cromwell Road, SW7 5BD. Tel: 020 7942 5000.
Access: Open daily 10.00 to 5.550, except 24-26 December Use Exhibition Rd entrance for Dinosaurs, Creepy Crawlies and Blue Wale. Use Exhibition Road entrance for Volcanoes, Earthquakes and the giant Earth model.
Age of the Dinosaur Tickets: From £6. Family £25.Book online
Map: Area map with transport links
London's Science Museum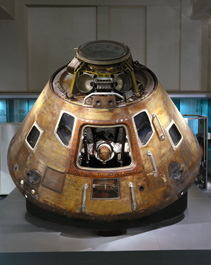 Next door at the Science Museum you can pick up a free 'Space Trail' passport on entry to follow the new space trail on a voyage of discovery through the museum's galleries. Kids can pick up codes on their space journey to collect a special souvenir at the end.
The Space Trail takes you through a number of galleries where you can see rockets and satellites as well as a full-sized replica of the Apollo 11 Lunar Lander that took astronauts Neil Armstrong and Buzz Aldrin to the Moon back in 1969. You will see the original Apollo 10 Command Module used for the dress rehearsal to the Moon before the Moon landings and then become a space tourist and decide if you would actually like to spend a summer holiday in outer space! It won't happen in your lifetime perhaps but young Archie may live to book an extra-terrestrial experience if Sir Richard Branson's vision of space travel takes off and Virgin Atlantic Holidays go Virgin Galactic.
After learning about the history of astronomy from Galileo to Hubble in the Cosmos & Culture Gallery you can discover the laws of gravity in motion and Archie can try his hand on some of the hands-on exhibits.
A visit to the IMAX 3D cinema is probably a must after doing the Space Trail. immerse yourself in the incredible mission to service the Hubble space telescope in the film Hubble 3D, or witness the building of the International Space Station in another film - Space Station 3D. For more entertainment, enjoy Legend of Apollo 3D at the Force Field 4D effects theatre - feel the impact of a Saturn V launch, take a ride in a lunar rover over the Moon's surface and discover the smell of space.
You can book IMAX tickets online.
Getting there
Science Museum
Venue: Exhibition Road, SW7 2DD. Tel: 0870 870 4868.
Access: Open daily 10.00 to 18.00, except 24-26 December .
IMAX Tickets: From £4. Family from £12.Book online
London Transport: Nearest tube. South Kensington
Map: Area map with transport links