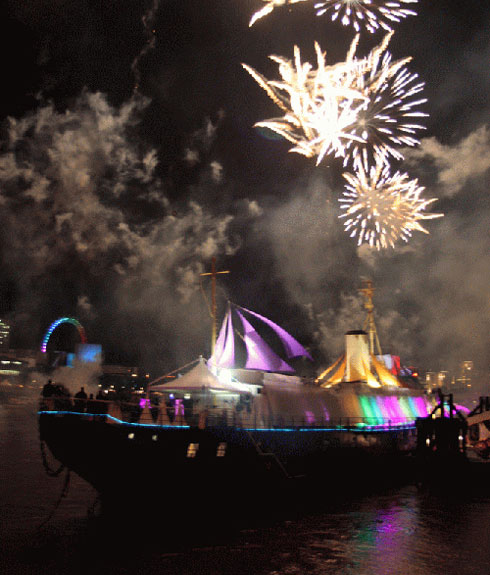 HMS President courtesy of HMSPresident.com

The Mayor's Thames Festival

by Shophound Alexia & Burlington Bertie


ondon's largest free outdoor festival in September (11th-12th) celebrates the river Thames and its historic 2000 year long relationship with London as the city's artery since Roman times. The South Bank and the river itself between Westminster Bridge and Tower Bridge overlooking the Tower of London, are taken over for the weekend by a vibrantly colourful mixture of street arts, performance, art installations, river races, circus, music and dance, food market and feasting.

With support from London's ebullient Mayor Boris Johnson, who loves to party, the Thames Festival will be bigger and more spectacular than ever this year. It will end with a colourful evening parade that dances its way along both river banks with all the bezzazz of Rio Carnival - though, given the difference in weather in our northern clime, participants and spectators will probably be exposing less of their bezzazz! The day culminates in a spectacular riverside firework display, (best seen from the Victoria Embankment between Waterloo and Blackfriars Bridges).

Together with the famed 'Last Night of the Proms' at the Royal Albert Hall and in Hyde Park, (ticketed events; see Burlington Bertie's September Diary), the weekend effectively marks the end of London's summer season of festivities for 2010.

If you and 49 or more of your chums wish to make a night of it, hire HMS President, and step aboard this historic Royal Navy corvette built in 1918. Now in retirement, she is permanently moored at the Victoria Embankment at Blackfriars and sumptuously fitted out as a venue for private and corporate entertaining, as well as occasional public events such as New Year's Eve, about which more later.

78 per head will bring you perfect viewing of the firework display from HMS President's open deck while sipping a complimentary Pimms or glass of wine, followed by delicious buffet with free wine or beer.