Spotlight: 25 January, 2013


40,000 Years of Artistic Endeavour
- from Ice Age to Manet

by Burlington Bertie



The much-heralded exhibition Manet: Portraying Life opens 26 January at the Royal Academy.

One of the art exhibition highlights of the year, thisis the first ever retrospective devoted to the portraiture of Edouard Manet. For the first time the artist's engagement with portraiture has been explored in exhibition form, despite it constituting around half his artistic output. Spanning Manet's entire career, this stunning exhibition brings together more than 50 of his works from collections in Europe, Asia and the USA.

Manet was an enigmatic and controversial artist, ruffling the feathers of the artistic establishment by turning his back on the stilted classical shibboleths of portraiture that prevailed in his time. He painted his family and friends, together with the literary, artistic and political figures of his day, in passing scenes of everyday Parisian life in a style that presaged the Impressionists who followed him, and the modern approach to portraiture that we take for granted today.

Manet: Portraying Life is at the Royal Academy, Burlington House, Piccadilly.
Entry: 15, (Concessions), 26 January - 14 April, 2013.
Advance booking strongly recommended.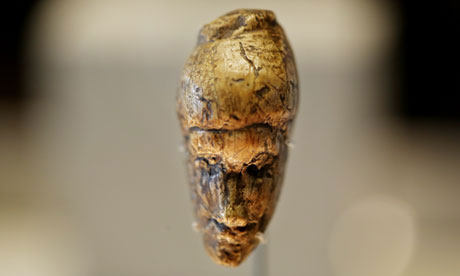 If Manet was the 'father of modern art, the superbly mounted exhibition of Ice Age Art: Arrival of the Modern Mind, which opens at the British Museum on 7 February, shows us the very foundations of Art itself.
European masterpieces of sculpture, drawing and primitive portraiture that were created between 40,000 and 10,000 years ago by primitive peoples from the last Ice Age are presented alongside modern works by Henry Moore, Mondrian and Matisse, illustrating the fundamental human desire to communicate and make art.
Pieces carved from mammoth ivory and reindeer antler show skilful artists experimenting with perspectives, scale, volumes, light and movement, as well as seeking and imparting knowledge through imagination, abstraction and illusion.
One of pieces in the exhibition is a 23,000-year-old sculpture of an abstract figure from Lespugue, France which influenced Picasso in his 1930s sculptural works. Another, an exquisite miniature mammoth ivory portrait of a woman's head, immediately brings to mind the work of Modigliani .
The profound need for objects that have no practical function, but are created by accomplished artists purely to delight, to entrance, or to inspire awe or reverence, appears to be as old as man himself.
Ice Age Art: Arrival of the Modern Mind
British Museum, Room 35, British Museum
Great Russell Street, WC1B 3DG.
Entry: 10, (Concessions), 7 February - 26 May, 2013.
Other parts of the museum are FREE.
Useful Links
British Museum, Ice Age Art
Royal Academy, Manet
If you have a question, contact us and we will do our best to provide answers.

© 2013 offtolondon.com All rights reserved.