Valentines, Roses & Perfumed Lingerie

Chocolate Gifts for Valentine's Day, Mother's Day and Easter
by Shophound Alexia a.k.a. Annie Johnson Updated 02.02.13

Brussels has for long been the undisputed chocolate capital of Europe, with more chocolatiers per square mile than anywhere else in the world! But London and Paris cannot now be far behind.

 My recent Three City Willy Wonka Eurostar quest in search of the perfect Champagne Truffle 'Chocograil' proved to me that while Belgium has the most chocolate factories and the French blithely assume that they are the best chocolate makers simply because they are French, London now has unbeatable, award winning, chocolatiers.

 This is the busiest time of year for London's specialist chocolate makers. Britain consumes more chocolate per head than any other country and our chocolatiers will probably sell more delectable chocolate truffles, pralines and eggs between now and Easter Sunday than the rest of the year put together. They will be hard put to satisfy the demands of the ever more chocsavvy London clientele who will be gifting loved ones on Valentine's Day, (14 February); Mother's Day, (10 March); and Easter Sunday, (31 March).

 Here are my favorite London chocolate specialists together with their seasonal offerings that caught my fancy. Unless otherwise stated, all sell online, but you may have to collect at their shop. A number also sell at Harrods, Harvey Nichols, Fortnum and Mason, Liberty, Selfridge's and Westfields, the East End shopping mall. However, a personal visit to their shop, where you can sample the goodies and perhaps talk with the chocolatier, is infinitely more rewarding!

Mayfair

Charbonnel et Walker The Royal Arcade, 20 Old Bond Street, Mayfair, W1S 4BT. Tel: 020 7491 0939. Nearest Tube: Green Park. Concessions at Harrods, (Knightsbridge); Selfridges, (Oxford Street) The Queen's Royal Warrant.
The sweet-toothed King Edward VII is responsible for this chocolatier's presence in London. While on one of his libidinous incognito jaunts to Paris in the 1870s, when still Prince of Wales, his roving eye lighted upon the winsome charms of Madame Charbonnel while sampling her toothsome truffles. Not wishing to forgo such sweetness, he persuaded her to relocate to London where he set her up in partnership with a Mrs Walker, (were her wares also winsome?), in Bond Street, just a short walk from his Marlborough House residence in St. James's. The business has gone from strength to strength ever since.

Their Valentine selection of dark and milk chocolates packed in attractive red heart-shaped boxes is offered in four different sizes from £25. The specialty English Rose and Violet Creams are elegantly packed from £11.95, while their decadence hamper of indulgence comes with champagne and a price tag of £120.. But you can worm your way into my heart for just £11.95 with a box of their Bucks Fizz Truffles with their Marc de Champagne and Orange centers!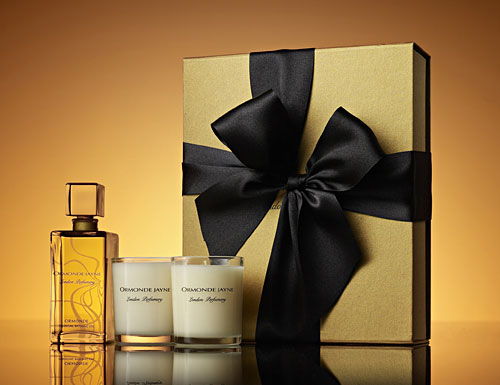 Bond Street's Royal Arcade is a favorite haunt of mine. As well as Charbonnel et Walker on the corner at No.1, it is also home to perfumer Linda Pilkington of Ormonde Jayne at No.12. Her new Ormonde Man is an exciting addition to her popular Zizan and Isfarkand colognes and will make a superb Valentine's or birthday present for that special man in your life.

For myself,, her heady Orris Noir, the black Iris of the Orient is my pot of gold at the end of the rainbow! This sensational perfume is for wearing after dark for the full incandescent effect on the décolletage, shoulders and wrists, to shimmer beneath the candlelight as you slink your way into someone's heart! Be really wicked, (this perfume is not for 'shrinking violets'), and send your suitor an online hint about pressing all your buttons with a gift of this sultry fragrance.

Prestat 14 Prince's Arcade, St. James's, SW1Y 6DS. Nearest Tube: Piccadilly Circus; Green Park. Royal Warrants from The Queen and the late Queen Mother.
This historic family-run firm dates back to 1902 when Antoine brought his chocolate truffle-making skills from France to London's West End, to the delight of King Edward VII's Marlborough House set and a long list of theatre illuminati such as the great Sara Bernhardt. Their pink heart-shaped boxes of assortments are good value at £13.50 and £27.50. However, their Romantic Gesture offer will surely be the top favorite with ardent swains and their inamoratas. This is a package of twelve hand-tied red roses in a glass vase together with a heart-shaped presentation box of delicious choc assortment and a bottle of vintage Champagne; surely the perfect way to a lady's heart such as mine, and an elegantly romantic expression of love and affection on any special occasion. Check out this offer, (from £54.99 - £99.99) on Prestat's website or, better still, call into the shop and discuss your floral requirements with the staff. Limited ranges of Prestat chocolates are also available in the food halls of Harrods, Liberty, Selfridges, Whole Foods Market, John Lewis and Waitrose.

Knightsbridge & Chelsea

Rococo 5 Motcomb Street, Belgravia, SW1X 8JU; Tel: 020 7245 0993. Nearest Tube: Knightsbridge. Also at 321 King's Road, Chelsea, SW3 5EP. Tel: 020 7352 5857 Nearest Tube: Sloane Square.
This is the lovechild of chocoholic Chantal Coady, gold medallist artisan chocolatier and author of many books on the joys of chocolate. Chantal, a staunch campaigner for 'Real Chocolate' and one of the original founders of the Chocolate Society in 1981, moved on to open her first shop selling her own artisan chocolates in 1983. She treats chocolate as a sultry, sexy specialty, bringing a touch of decadent sensuality to our taste buds.

Try Chantal's Heart boxes of mixed ganaches, from £17.50 or for that very special occasion, one of her Celebration Hampers, Caspar, Melchior, Balthazar, or Nebuchadnezzar from £37.

I now regularly visit Rococo's shop in Belgravia, off Sloane Street, to buy her award-winning organic drinking chocolate. I like to mix it with freshly ground coffee and powdered ginger, adding a slice of orange peel, and honey to sweeten. Delicious!

Agent Provocateur16 Pont Street, Knightsbridge, SW!X 9EN. Tel: 020 72350229. Nearest Tube: Knightsbridge. Also at 1-3 Grosvenor Street, W1K 4PT; Tel: 020 7499 5093. Nearest tube: Bond Street.
I expect the Agent Provocateur Valentine lingerie suggestions will bring a sparkle to every male eye, as will their Valentine's Day video. If you have the svelte figure to match their glamorous collection, the love of your life will enjoy shopping here or at their Harrods concession. While other lingerie firms have gone to the wall, Agent Provocateur have gone from strength to strength, opening outlets across the world. As well as luxury lingerie, Agent Provocateur offer some most attractively packaged beauty products and fragrances.

L'Artisan du Chocolat 89 Lower Sloane Street, Pimlico, SW1W 8DA. Tel: 020 7824 8365. Nearest Tube: Sloane Square.
I can always find an excuse to pop into Brussels trained chocolatier Gerard Coleman's delicious shop and sample his creations when visiting the nearby Saturday morning Pimlico Farmer's Market. I have become addicted to his signature liquid salted passion fruit caramels @ £13.50 a box.. His monogrammed boxes of Valentine chocolates make a personal special for his. From £27.50.

Demarquette 285 Fulham Road, Chelsea, SW10 9PZ. Tel: 020 7351 5467. Nearest Tube: South Kensington.
Award-winning British chocolatier Marc Demarquette learned his art in Paris before setting up shop in London. His £48 Valentine box of champagne truffles with Dom Perignon would be a very welcome addition to my drawing room coffee table. I was also intrigued by his special limited Imperial China Collection, obviously made with Chinese New Year in mind.

City

Paul A Young Fine Chocolates 20 Royal Exchange, Threadneedle Street, EC3V 3LP Nearest Tube: Bank.
Paul Young, award winning artisan chocolatier TV chef, has now spread out from the City and opened additional shop in Wardour Street, Soho and Camden Passage, Islington. His Marmalade and Bergamot Brownie with its delicate floral and sticky fruity orange top and his Sichuan flower pepper, stem ginger and chilli brownie are also available exclusively in Fortnum and Mason, Piccadilly.

Useful Links
Charbonnel et Walker Valentines Gifts
Rococo Chocotes for Valentine's Day
Agent Provocateur Lingerie
Ormonde Jayne Ormonde Man
Prestat Luxury Giftsand Flowers
L'Artisan du Chocolat Monogrammed Boxes
Demarquette Imperial China Collection
Paul Young City Shop

If you have a question, contact us and we will do our best to provide answers.

© 2013 offtolondon.com All rights reserved.