Lancaster House


London's Royal Palaces & Attractions
with Burlington Bertie .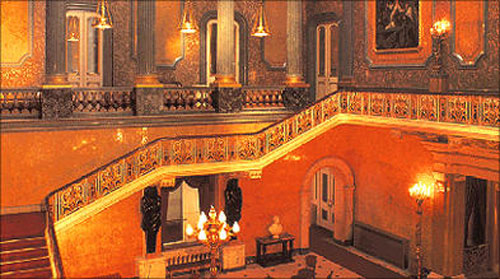 Lancaster House

Stable Yard, St James's, London, SW1A 1BB
Tel: 020 7008 8504
Access: Invitation only, except on rare Open Days. To book a function call 020 7008 8094.
Getting There: Nearest Tube. Green Park

"I have come from my House to your Palace", Queen Victoria is said to have commented to the Duchess of Sutherland, chatelaine of Lancaster House. A bon mot perhaps, given its ornately decorative grandeur and the dramatic sweep of the great staircase echoing a Versailles vista on entrance into the Grand Hall. Queen Victoria had entered one of London's finest town houses. More than a century later, its stately grandeur remains undimmed and the interior is similarly admired by all who visit it as privileged guests of the British Government, or see it on the rare occasions it is opened to the public.

The Neo-Classical exterior in Bath stone, which is all that most visitors will see, was designed and built for the Duke of York, brother of George III, by Benjamin Wyatt, (1775-1850), a self-taught architect whose Apsley House exterior, (Hyde Park Corner, 1828-29), the former Crockfords/Devonshire Club, (50 St. James's Street, 1827), and Duke of York Column, (Waterloo Place, The Mall, 1831-34), are much better known, thanks to their accessibility. Wyatt's simple classical block relieved by advancing accents and porticos, was to be the last of London's great Georgian mansions. While the interior retains some of his rooms and the eye-catching staircase, the core was re-built in 1843 by Sir Charles Barry for his patron the Marquess of Stafford, (later Duke of Sutherland), who acquired the house when the Duke of York died.

The house was a cultural and political centre attracting many distinguished guests throughout the Victorian era, and its Louis XIV decor was to prove a stunning backdrop that influenced London's decorative fashion for nearly a century. The house retains both the decor and much of the Sutherland collection of art and artifacts.

Lancaster House is used by the British Foreign and Commonwealth Office for important summits and conferences where the grandeur of design and splendour of decor are doubtless appreciated as an appropriately impressive backdrop to the weighty negotiations on international issues by heads of state and senior politicians. We mere mortals may sometimes gain access by invitation to a glitzy reception promoting something British, (this proved a popular venue during London Fashion Week).

The FCO's website describes the interior in detail, with tantalising pictures.

Burlington Bertie's Verdict

It is unfortunate that the British Government do not open this treasure to the public, at least during the summer months, when the Foreign Office mandarins are resting from their arduous diplomatic labours.

Should you have the opportunity to attend a function at Lancaster House, or visit on one of the rare Open Days, drop every other engagement and go! Or make use of the facilities of this magnificent mansion to host your own function. The interior is one of London's hidden gems of Victorian taste. Meanwhile, when viewing historic attractions in and around St. James's and the Mall, pause to admire the elegant exterior of Lancaster House and compare it with Wyatt's 50 St. James's Street frontage, (originally Crockfords, the famous 19th Century gambling den).