Kenwood House

with Burlington Bertie .





Venue: Hampstead, NW3 7JR. Tel: 020 8348 1286
Access: Open Daily 11:30AM-4:00PM. Closed Christmas Eve, Christmas Day, Boxing Day, New Year's Day.
Tickets: FREE.
London Transport: Nearest Tube: Archway and Golders Green, then the 210 bus, or Highgate 1 mile.



Kenwood House is one of the glories of architectural and interior design by Robert Adam, (1728-92) that have survived the depredations of time, changing style and war. We are fortunate that when Guinness brewing magnate Lord Iveagh donated the house to the nation in 1928, a superb collection came with it. The stunning Adam interiors are complemented by the paintings of Rembrandt, Vermeer, Turner, Reynolds and Gainsborough and Constable. To this has been added a magnificent portrait collection of Elizabethan and Stuart notables by William Larkin, Van Dyck and Lely.

Visitors will enjoy the parkland walks surrounding the house, the curved treetops reflected among the waterlily leaves on the lake before the house, together with the noble view of the City of London from these Hampstead heights.

English Heritage, which manages this beautiful mansion, have applied to the London Borough of Camden for a licence to resume the Kenwood House series of eight summer picnic concerts and fireworks displays in 2008 after a one year hiatus. If the licence is granted, performance details will be published on the Kenwood House website and spotlighted by Offtolondon.com

Burlington Bertie's Verdict:

Architect Robert Adam's Classical influence on British and colonial architecture and domestic interiors from 1760 to his death in 1792 is immense and the Adam style remains a popular inspiration today. Not all of the 100 or so commissions undertaken by him have survived but Kenwood House, (1764-79), is intact as he remodelled it, as are Osterley Park and Syon House, the Duke of Northumberland's mansion. All three are worth visiting.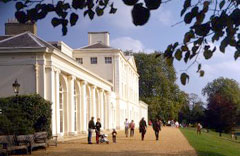 Kenwood House. Photo: English Heritage.

The contribution of Adam to the European Neo-Classical movement can be seen in all its breathtaking glory at Kenwood House, now managed by English Heritage. The exterior's central facade and side pavilions of stucco and "Roman cement" are pure Adam, while the architectural detailing and colour scheme of the library, (now called the Adam Room), provide us with the ultimate example of Adam styling, wherein the precise Classical rules espoused by the Palladian architects were flexibly adapted by him to such dramatic, yet charming, effect.

Unlike Osterley Park and Syon House, entry to Kenwood House and its priceless collection is FREE.