OUT & ABOUT HOME
| London's Royal Palaces & Attractions.

Kensington Palace

with Burlington Bertie .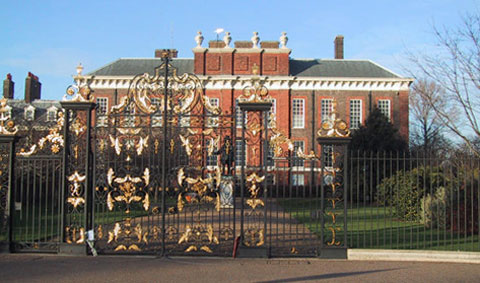 Kensington Palace.
Venue: Kensington Palace State Apartments, Kensington Gardens, London, W8 4PX
Access: State Apartments, Palace Shop and Orangery. Daily: 10am-5pm, last admission 6pm).
Tickets: 12.50, (Concessions). Book online, telephone or pay at gate. Membership of Historic Royal Palaces entitles you to free entry.
Getting There: Nearest Tube: High St. Kensington, (Circle and District Lines), Queensway, Notting Hill Gate, Lancaster Gate,(Central Line). Bus: 70, 94, 148, 390 to Bayswater Road or 9, 10, 49, 52 and 70 to Kensington High Street. No parking.

Burlington Bertie's Accommodation Choice: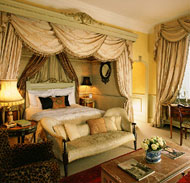 190 Queen's Gate, SW7 5EX
This hotel, set near the Albert Hall in a tree-lined avenue between Kensington Palace and Harrods, is one of London's gems. It has managed to supply modern comfort while preserving its delightfully eccentric ambience of a bygone Edwardian Age, with mahogany paneling, oriental rugs and the odd touch of stained glass.
Treat yourself and your partner in style and book the hotel's sumptuous 'Feature Bedroom', the Dame Nellie; named after the great Australian soprano who took London by storm in the 1890s, having first wowed audiences in cities across the United States as diverse as New York and Virginia City. The room, as the management are proud to aver, is "devishly romantic", while the meticulous service and old fashioned comfort you will enjoy are no less than the great diva would have expected as her due in those days of opulent luxury. Superb dining in the informal atmosphere of Bistro One Ninety Special "Summer nights" and weekend rates.
OfftoLondon Hotel Directory & Reservations

An excellent 4-star alternative overlooking the northern end of Kensington Gardens is the Thistle Kensington Gardens. The designer shops, boutiques and antiques dealers of Kensington High Street, Church Street and Portobello Road, together with trendy Notting Hill, famous in film and for its annual carnival is on the doorstep.





Find Another Hotel

Kensington Palace is currently undergoing a multi million refurbishment, due to be completed 2012. During this time the fine selection of fine art and artefacts from the Royal Collection, together with the exhibition of gowns and uniforms from the Royal Ceremonial Dress Collection covering the evolving fashions of formal court dress over two centuries are not on display. The State Rooms commissioned by George I remain open however, and are the venue for interesting modern art installations and fashion.

This is a working palace as well as a museum and there are a number of 'grace and favour' apartments at the Palace provided by the Queen to working members of the Royal Family and courtiers. Queen Victoria lived here from her birth until the day in 1937 when she was informed that she had become Queen.. She promptly moved to Buckingham Palace, never to return. This was the first home for Prince Charles and his young bride Diana, (a 25 room apartment, including four reception rooms, a dining room, three bedrooms, and a nursery), and Diana's home after her divorce until her death in 1997. Prince William is reported to be considering moving here with his bride Kate Middleton after their wedding at Westminster Abbey.

As you walk through the formal gardens towards the entrance, reflect that it was asthmatic William III's (reigned 1689-1702), dislike of the rat infested dampness of the Palace of Whitehall by the Thames that led him to purchase Nottingham House and commission Sir Christopher Wren, architect of St. Paul's Cathedral, to enlarge and convert it into a residence fit for a Monarch. The charming red brick edifice manifestly reflects his Dutch tastes.

George I, (reigned 1714-27), had the State Rooms remodelled in the more opulent style of his era by Vanbrugh and William Kent, whose magnificent tromp d'oeil ceiling in the Cupola Room should not be missed. The King and architect Vanbrugh had grandiose ideas for a complete rebuilding of the residence but were constrained by lack of money.

You will enter at the back from Kensington Gardens, once the private Palace gardens. The Palace's informal architecture in brick has intimate warmth from this aspect, a striking contrast to the 1850 East Front of Buckingham Palace conceived in later, grandiose times of Imperial splendour.

Originally extensively laid out in formal Italianate style popular during the Stuart era, the gardens were opened to the public in 1790 when the Hanoverian Court moved to Kew. They are now a treasured public amenity, safe from the highwaymen and footpads who once roamed Hyde Park and the Gardens during the 18th century, mugging even George II on one occasion.

Diana's memory lives on at Kensington Palace and in its gardens. Visit the imposing black and gold wrought iron gates on the south side on 27 August, anniversary of her death. They are a poignant place of pilgrimage and a repository for the floral tributes from her countless admirers who pay their respects here each August on the anniversary of her death and funeral.

Pause on your way to contemplate the Palace's quietly serene Sunken Garden and lily pond laid out by Edward VII in 1907; a haunt of shimmering dragonflies on a summer's day. Turn left then to visit the Diana Memorial Playground, opened in 2000. On a sunny day this imaginative adventure playground is packed with children and you can hear the squeals of delight from youngsters in the Peter Pan-themed play area long before you reach it.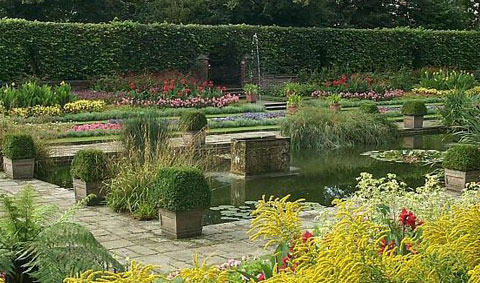 Kensington Palace sunken gardens.
If you intend to visit other Royal residences as well as Kensington Palace, consider joining Historic Royal Palaces as a member for 41, (Concessions). Your membership gains you unlimited free entrance to Kensington Palace, Tower of London, Hampton Court Palace, Kew Palace and Banqueting Hall for one year.
Give yourself time to visit the gift shop after your tour of the Palace. Exit into Kensington Gardens and pause to admire the Sunken Garden before taking a light lunch or sampling from a range of 10 teas offered for English Afternoon Tea in the Orangery, (designed by Nicholas Hawksmoor in 1702 for Queen Anne who liked to take tea there).
If you have time and energy, walk north from the Orangery to the Diana Memorial Children's Playground; a part of the Nation's Memorial to Diana, Princess of Wales. It is built on the original playground donated by Peter Pan author J.M. Barrie. Pause here to remember Diana and her love of children. Enjoy watching them playing in Captain Hook's pirate ship, the Wigwam village, the Tree House, and around the Mermaid Fountain.
Continue northward to Black Lion Gate, (exit for Queensway Underground Station, Notting Hill Gate and Bayswater Road). Turn right and walk 15 minutes beside the Kensington Garden flowerbeds to the Marlborough Gate, (exit for Lancaster Gate Underground Station, Royal Lancaster Hotel and Bayswater Road). Here is the beautiful Italian Garden with its marble Fountains and neo-classical temple overlooking the Long Water. Commissioned by Queen Victoria, this has been a star location for a number of films, notably Bridget Jones. From here you can see the famous Peter Pan statue on the edge of the lake. There are many who come to this fountain garden oasis of peace each day on their way to or from work to enjoy a moment of tranquillity and chill out amid the bustle of a great city.
© offtolondon.com All rights reserved.

Top Tips to enhance your visit

Book a Three Palace Royal Pass for entry to Kensington Palace, Tower of London and Hampton Court Palace and save time and hassle. Alternatively, if time is no object, join Historic Royal Palaces and gain free entrance to Kensington Palace, Tower of London, Hampton Court Palace, Kew Palace, and Whitehall Banqueting Hall for one year. .

There is no parking at the Palace so take the Tube to High Street Kensington. This is on the Circle & District Line and all other Lines connect with this so there will not be more than one simple change of train. The Palace is a short walk from ther station. Buy a London Travelcard and Oyster Card for 1, 3 or 7 days. It's cheaper than paying cash for each individual journey and saves you the hassle of queuing. The Central London Transport system is inexpensive, easy and safe.

At Kensington Palace, take the free Audio tour, (available in a number of languages), to properly appreciate the State Apartments, the Court Dress Collection and any current special exhibition.

Take the optional additional guided tour of Apartment 1A, the former residence of the late Princess Margaret, The Queen's younger sister.

Give yourself time to visit the newly refurbished Palace gift shop with its excellent selection of exclusive jewelry, china and crystal, conserves and souvenirs.

Exit the Palace into Kensington Gardens, pausing to admire Edward VII's beautiful Sunken Garden before taking a light lunch or Afternoon Tea in the Orangery, (Nicholas Hawksmoor 1702), where Queen Anne, last of the Stuart monarchs, liked to take tea with her friends.

Walk from the Orangery to the nearby Diana Memorial Children's Playground, built on the original playground donated by Peter Pan author J.M. Barrie. Remember Diana and her love of children as you watch them playing in Captain Hook's pirate ship and the Wigwam village.

Continue north to Black Lion Gate exit for Queensway, Notting Hill Gate and Bayswater Road.

Alternatively turn right at this exit and walk past the Kensington Garden flowerbeds to Queen Victoria's peaceful marble-fountained Italian Garden with its neo-Classical temple overlooking Long Water. This is a star film location, (notably Bridget Jones). From here you can see the famous Peter Pan statue. Exit here at the Marlborough Gate for Lancaster Gate Tube, Royal Lancaster Hotel, Bayswater Road.

Comfortable and sturdy walking shoes, a shoulder bag and a collapsible umbrella are essential accessories. The bag will hold your umbrella, camera, a snack and all the literature and souvenirs you collect during the day.