London Highlights for June, 2010

What's on in London during June, 2010. Highlights from London's ticketed events; Heritage & Pageantry, Performing Arts, Fairs and Fine Art Exhibitions.

Royal Heritage & Pageantry


Tower of London
Venue: London, EC3N 4AB. Tel: 0870 756 6060.
Date: thru 31 Oct; Tues-Sat: 9am-5.30pm. Sun/Mon 10am-5.30m
Tickets: £16.50, (concessions and online discount). Prices may change.
London Transport: Nearest Tube: Tower Hill. DLR: Tower Gateway. Bus routes: RV1 from Covent Garden, 15, 42,78,100. All sightseeing buses. Riverboat: Regular service from Westminster, Charing Cross, Greenwich Piers.
Description: London's top tourist attraction, and the custodians of the Tower are as expert at putting on a family show today as they were at chopping off heads in earlier days of gore. The most famous attractions are the Crown Jewels, the 'Beefeater' yeomen in their ceremonial Tudor dress, and the celebrated ravens.

Hampton Court Palace
Venue: Hampton Court Palace, East Molesey, KT8, 9AU. Tel: + 44 (0)844 482 7799.
Date: Daily, 10am-4.30pm.
Tickets: £14, (concessions and online discount £13). Prices subject change.
London Transport: Nearest Tube: Richmond.
Description: Must see sights include Henry VIII's Great Hall and Tudor kitchens, the Maze and the celebrated Gardens. In depth description
Wheelchair Accessibility: Yes. The ground floor of the Palace is wheelchair accessible and there are limited facilities for viewing the upper floors with the use of an elevator. Adapted Toilets: Yes. See Palace Disabled Access for full details and help.

Buckingham Palace State Rooms
Venue: Buckingham Palace, Westminster, SW1A 1AA.
Access: Public opening 27 July-1 October, 2010.
Tickets: £17.
London Transport: Nearest Tube: Victoria Rail Terminal; Hyde Park Corner; Green Park.
Description: The State Rooms form the heart of The Queen's working palace and have been lavishly decorated by succeeding monarchs since George IV and furnished with some of the greatest treasures from the Royal Collection - paintings by Rembrandt, Rubens, Poussin and Canaletto; sculpture by Canova; exquisite examples of Sèvres porcelain; and some of the finest English and French furniture; a feast of Fine Art, artifacts and historical royal heritage that should not be missed.
The Queen's Year, this year's special exhibition in the State Ballroom, will provide a lively insight into the principal national and ceremonial events in the royal year. See displays of ceremonial robes, gifts, uniforms, dresses and jewellery, as well as archive photography and film that evoke the many and varied aspects of the sovereign's work. The exhibition will illustrate the pageantry, tradition and ceremony of the State Opening of Parliament, the historic Garter Day ceremony at Windsor Castle and Trooping the Colour, as well as investitures, garden parties and State Visits.
Garden lovers should give themselves time to enjoy the Palace Gardens and famous lake; home to thirty different species of bird and more than 350 different wild flowers, some extremely rare. Visitors end their tour with a walk along the south side of the garden, with splendid views of Nash's west front of the Palace.
The special exclusive Royal Collection souvenir shop in the garden is well worth a visit on your way out. Give yourself up to four hours to do full justice to the Palace, gardens and souvenir shop.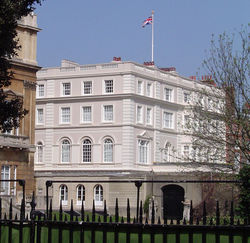 Clarence House
Venue: St. James's Palace, SW1A 1BS, (entry from the Mall). Tel: 020 7766 7303.
Access: Summer opening. 10am-3pm, 31 July - 1 September 2010
Tickets: £8, (concessions), Take advantage of special online discounts and advance booking.
London Transport: Nearest Tube: Green Park.
Description: Built by John Nash for the Duke of Clarence who became King William IV from 1830 until 1837 and used it as his palace, it was later the home of The Queen, then Princess Elizabeth and The Duke of Edinburgh following their marriage in 1947, and thereafter the London home of Queen Elizabeth The Queen Mother from 1953 until 2002. It is now the official London residence of Charles Prince of Wales and The Duchess of Cornwall.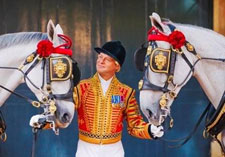 Royal Mews, © Royal Collection.

The Royal Mews
Venue: Buckingham Palace, Westminster, SW1A 1AA, London. Entrance in Buckingham Palace Road.
Access: Summer opening. 11am-4pm, 20 March - 31 October.
Tickets: £7.50, (concessions), Take advantage of special online discounts and advance booking.
London Transport: Nearest Tube: Victoria Station.
Description: The Mews houses the Queen's horses in what are undoubtedly one of the finest working stables in existence. Also on view are the Monarch's State Coach and other official vehicles

Kensington Palace
Venue: Kensington Gardens, W8 4PX. Tel: 0870 751 5170.
Date: Daily, 10am-6pm, (summer opening times).
Tickets: £12.50, (concessions and online discount). Book online
London Transport: Nearest Tube: High Street, Kensington.
Description: As well as the fascinating exhibition of Court Ceremonial dress which gives us a good idea of the splendour of the British Court, (compare this with the V&A Museum Exhibition The Magnificence of the Tsars), there is a great deal worth seeing, from the Cupola Room, where Queen Victoria was baptised, to the exquisite trompe d'oeuil ceiling executed by Palladian architect William Kent for George II, (1722). While the original State Rooms have been turned into a museum, this is still a working palace and Royal Residence, housing working members of the Royal Family. Princess Diana lived here after her divorce. Enjoy visiting the Palace, Orangery for tea, and the delightful sunken garden.
Kensington Palace is being transformed. As the walls of the palace are being shaken by a £12 million renovation project the rubble and the dust is unleashing powerful and secret stories about the lives of Kensington's princesses. At the heart of the Enchanted Palace journey is a quest for the seven princesses who once lived here. Their lives have been re-imagined as installations offering a fascinating interpretation of the palace's hidden stories. Bringing the Enchanted Palace to life are the palace guardians, our expert front of house team and professional actors, who provide a personal insight into the strange world of the palace. See the blog Peter the Wild Boy
Enchanted Evenings.
Experience the dazzling spectacle of the Enchanted Palace exhibition after hours, when the palace doors would normally be locked. Book this online
Wheelchair Accessibility : Yes.

Kew Palace
Venue: Kew Gardens.
Access: Daily 10am-5pm.(Mons 11am). 2010.
Tickets: £5, (concessions). Children free.
London Transport: Nearest Tube: Kew Gardens.
Description: The country palace of George III, (d.1820) and his Queen Charlotte, Kew Palace has recently been meticulously refurbished under Royal patronage and is a masterpiece of Georgian taste, decor and furnishings.
Special Sunday evening tours: 20, 27June; 18,25 July; 15,22 August; 12,19 September. Included are wine and nibbles, an expert to guide you around the Palace and into areas not normally open to the public. Finish your evening in the Tudor undercroft. Tour tickets £22 per person. Booking essential. Call 0844 482 7777.

Palace of Westminster
Access: Open to overseas visitors during the Parliamentary summer recess in August and September. Exact dates to be announced. Guided tours daily, Monday to Saturday inclusive.
Venue: Westminster, London SW1A 1AA.
Tickets: Online only.
London Transport: Nearest Tube: Westminster.
Description: This is an unrivalled opportunity to see the Victorian Neo-Gothic magnificence of the Palace of Westminster with its debating Chambers of the 'House of Commons' and 'House of Lords'. Fascinating guided tour.

Theatre, Dance and Music


Royal Opera House: May 2010
Date: June 2010 Events
Venue: Royal Opera House, Covent Garden, WC2. Tel: 020 7304 4000
Tickets: Prices vary according to choice of events for May 2010.Book online.
London Transport: Nearest Tube: Covent Garden.
What's On: Le Nozze di Figaro, (until 3 July,2010). Carmen, (until 26 June, 2010).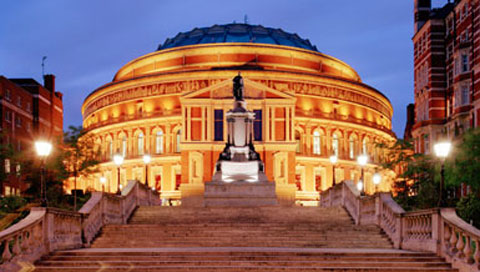 Royal Albert Hall
Venue: Royal Albert Hall, Kensington Gore, SW7 2A
Date: June, 2010. Check Website for details.
Tickets: Varied ticket prices for performances: Check website for details and online booking. Limited parking offered. See venue website for details.
London Transport: Nearest Tube: Knightsbridge, Kensington High Street.
Description: A varied choice of Jazz, Flamenco, Ballet in the round - and the great, indestructible Tony Bennett celebrating his 60th year in Show Biz, (30 June, 1 July); a night of nostalgia!
Wheelchair accessibility: Yes. Adapted Toilets: Yes.

Sadlers Wells: Kabuki
Date: 4-15 June 2010
Venue: Rosebury Avenue, EC1R.
Tickets: £12-£52. Online booking, in person at Box Office, or Tel: +44 (0)844 412 4300.
London Transport: Nearest Tubes: Holborn; Temple.
Description: Ebizo - together with over 40 distinguished actors and musicians - gives a virtuosic display of Kabuki stagecraft, performing the dazzling sequence of stage tricks that has made this production of Yoshitsune and the Thousand Cherry Trees one of the most popular works in all of Kabuki. Dating from the early 17th century, Kabuki is a highly stylized performing art that employs flamboyant costumes, elaborate make-up and exaggerated body movements to create a sense of the spectacular. Combining acting, dancing and live traditional music, Kabuki is as rich as its heritage. See video clip
Wheelchair accessibility : Yes. Adapted Toilets: Yes.

Regents Park Open Air Theatre
Date: June-11 September, 2010.
Venue:Regents Park.
Tickets: £12-£52. Online booking.
London Transport: Nearest Tube: Baker Street.
Description: A full summer season of theatre, music, comedy, and film in the Park. Productions include Miller's The Crucible, Shakespeare's MacBeth, The Comedy of Errors, Walt Disney's Alice in Wonderland.

Festivals and Fairs


London International Fine Art Fair Venue: Grand Hall, Olympia, Hammersmith Road, W14 8UX
Date: 3-13 June,2010.
Tickets: Telephone Box Office 0871 230 55921 or pay at door. Description: An enhanced Summer Olympia Art and Antiques Fair in new format. London's oldest and largest summer international fine art and antiques fair offers unparalleled scope of art, jewelry and antiques for sale. All objects are carefully vetted by experts.
With the demise of the prestigious 75 year old Grosvenor House Antiques Fair in Park Lane, this and the monthly Adams Antiques Fair at the Horticultural Hall, Victoria, (13 June), are now London's most important summer Antiques Fairs.
Wheelchair accessibility: Yes. Adapted Toilets: Yes.

Great Exhibitions


Victoria and Albert: Art of Love
Venue: Queen's Gallery, Buckingham Palace, Westminster, SW1A 1AA, London. Entrance in Buckingham Palace Road.
Date: Ends 31 October.10am-5.30pm daily.
Tickets: £5 and concessions. Book Online, or at door..
London Transport: Nearest Tubes. Green Park, Hyde Park Corner (Piccadilly Line), Victoria Rail Terminal, (Victoria, Circle and District Lines).
Description This major exhibition is the first ever to focus on Queen Victoria and Prince Albert's shared enthusiasm for art. Bringing together over 400 items from the Royal Collection, it celebrates the royal couple's mutual delight in collecting and displaying works of art, from the time of their engagement in 1839 to the Prince's untimely death in 1861. The exhibition also challenges the popular image of Victoria - the melancholy widow of 40 years - and reveals her as a passionate and open-minded young woman.
Wheelchair accessibility: Yes. Adapted Toilets: Yes.

Royal Academy Summer Exhibition
Venue: Royal Academy, Burlington House, Piccadilly, W.1.
Date: 14 June-22 August, 2010.
Tickets: £8 at door (Concessions). Book Online £9.50, (Concessions).
London transport: Nearest Tube: Piccadilly, Green Park.
Description:. The world's largest open submission contemporary art exhibition! Now in its 242nd year, the exhibition continues the tradition of showcasing work by both emerging and established artists in all media including painting, sculpture, photography, printmaking, architecture and film. This year's coordinators, Royal Academicians Stephen Chambers and David Chipperfield, will select works for the exhibition around the theme of 'Raw', (whatever that may conjure up in their fertile minds). This year attracted over 11,000 entries for the judging committee to choose from. The majority of selected works will be on sale, offering visitors an unrivalled opportunity to purchase original artwork by high profile and up-and-coming artists.
Wheelchair accessibility: Yes. Adapted Toilets: Yes.

Victoria & Albert Museum: Horace Walpole and Strawberry Hill
Venue Victoria & Albert Museum, Cromwell Road, SW7 2RL. Tel: 020 7942 2000
Date: Ends 4 July, 2010.
Tickets: £6, (Concessions).
London Transport: Nearest Tube. South Kensington.
Description: The first major exhibition on Horace Walpole, the most important English 18th-century collector, bringing together many of his most remarkable objects. Amongst other achievements, Walpole was the first to systematically assemble the visual evidence of English history. This exhibition recreates Walpole's pioneering collection in the context of the rooms at Strawberry Hill, where visitors experienced a journey through ancient and modern British history and European art.
Wheelchair Accessibility: Yes. Adapted Toilets: Yes.

Victoria & Albert Museum: Quilts 1700-2010
Venue Victoria & Albert Museum, Cromwell Road, SW7 2RL. Tel: 020 7942 2000
Date: Ends 4 July, 2010.
Tickets £10, (Concessions).
London Transport Nearest Tube. South Kensington.
Description: The V&A's first ever exhibition of British quilts, with 65 examples dating from 1700 to the present day - a unique opportunity to view the V&A's unseen quilt collection as well as key national loans. Earliest examples include a sumptuous silk and velvet bedcover, with an oral narrative that links it to King Charles II's visit to an Exeter manor house in the late 17th century. Recent examples include works by leading artists such as Grayson Perry and Tracey Emin and commissions for the exhibition by a number of contemporary artists including Sue Stockwell and Caren Garfen.
Wheelchair Accessibility: Yes. Adapted Toilets: Yes.

Sherlock Holmes Museum
Venue 221b Baker Street, NW1 6XE. Tel: 020 7935 8866.
Tickets Adult £6, Child £4. Daily 9:30a.m. - 6:00p.m. Discount Group admissions for 10 + persons. Advance booking telephone: 020 7738 1269, Online or email: info@sherlock-holmes.co.uk
London Transport Nearest Tube. Baker Street. Nos 13 and 139 buses run between Baker Street and Trafalgar Square. The trams and horse drawn hansom cabs of Holmes's day are regrettably a thing of the past.
Description Permanent Exhibition. Sherlock Holmes and Doctor Watson lived at 221b Baker Street, (built 1815), between 1881-1904, according to Holmes's biographer Sir Arthur Conan Doyle. The famous 1st floor study, where the world's most illustrious detective played the violin while pondering and solving those mystifying cases before the use of fingerprints or DNA made detection so much easier, is still faithfully maintained as it was kept in those late Victorian and Edwardian days of gaslight, horse drawn Hansom cabs and London fogs. Nothing has changed. The rooms are exactly as described by Conan Doyle. Sherlock Holmes's possessions are in their usual places: his deerstalker, magnifying glass, calabash pipe, violin, chemistry equipment, notebook, Persian slippers and disguises, soda water gazogene on the sideboard. Dr Watson's hand-written notes made at the time of the famous case of the Hounds of the Baskervilles may be perused and visitors will be interested to admire a waxwork in the likeness of the infamous Moriarty. Strongly recommended to all admirers of Holmes.
Wheelchair Accessibility: No.

Leighton House Museum and Art Gallery
Venue: 12 Holland Park Road, W14 8LZ.
Date: Now reopened. Daily 10am - 5:30pm. Closed Tuesdays, Christmas Day, Boxing Day and New Years Day.
Tickets: £5 (Concessions). Pay at door.
London Transport: Nearest Tube: Kensington; High Street, Kensington. Carparking: Olympia Hylton NCP.
Description: Permanent Exhibition. Victorian opulence in art and architecture shown at its best and most spectacular, (or worst and most decadent if you are a modern minimalist). The former studio-house of the great Victorian artist Frederic, Lord Leighton (1830-1896), who designed and decorated it between 1864 and 1879, the house is one of the most extraordinary buildings of the nineteenth century. Filled with golden mosaics, gilded walls, elaborate paintwork, domed ceilings, trickling fountains, cool marble and peacock blue tiles. Leighton House also became home to the owner's extensive collection of Victorian paintings, 81 of which are exhibited here together with a fine collection of ceramics and lustreware. Over 1000 Islamic tiles adorn the Arab Hall, reflecting the influence the East had on Lord Leighton following his travels. It forms the centrepiece and focal point of the house. The Arab Hall, Dining Hall or Studio are available to hire for receptions and functions.
The house reopens with a special exhibition of Leighton's own collection of paintings, which have been brought together for the reopening including important loans from the National Gallery and Tate. The collection included works by many of his contemporaries such as Burne-Jones, Millais, Watts and Costa. Many of the paintings will be hanging in their original positions for the first time since the collection was dispersed in 1896.

Artists' Houses Weekend
Date : 19/20 June, 2010.
Tickets : £8.Book Online
Description: A weekend of special tours around the unique group of artists' studio-houses in Melbury Road and Holland Park Road built in the 19th century together with special curator's tour of Leighton House. Discover the artists who made up the 'Holland Park Circle' and their houses, commissioned from leading architects of the day. For this weekend only, tours include access to some private gardens not normally open to the public, providing an exclusive perspective on these remarkable buildings.
Wheelchair accessibility : No.

British Museum: Kingdom of Ife
Date: Until 4 July, 2010. 10am-5pm daily.
Venue: British Museum, Great Russell Street, WC1B 3DG. Tel: 020 7323 8299.
Tickets: £8 (Concessions). Buy online, (strongly recommended); Box Office 020 7323 8181, or queue at the door.
London transport: Nearest Tube. Tottenham Court Road; Russell Square.
Description:This major exhibition presents exquisite examples of brass, copper, stone and terra cotta sculpture from West Africa. See also Fra. Angelo to Leonardo - Renaissance Drawings.
Wheelchair Accessibility: Yes. Adapted Toilets: Yes.
See also Shophound Alexia's FREE London.

Trenches
Venue: Imperial War Museum, Lambeth Road, SE1 6HZ. Tel: 0207 416 5320.
Date: Until 31 Oct. 2010. Open daily from 10am - 6pm. Check website for more information
London Transport: Nearest Tube: Lambeth North; Elephant and Castle; Waterloo, (wheelchair accessible); Southwark, (wheelchair accessible). Carparks: Union Carparks/53 Southwark Street.
Tickets: £4.95 (Concessions). Book online. The rest of the museum is FREE.
Description: Temporary Exhibition. Find out about life in the terrible trenches during WWI in this unmissable family exhibition. Kids of all ages can test their survival skills in an interactive gallery which explores the dire details of life in the blood and mud of the Western Front. Find out how soldiers coped with foul food, legions of lice, gruesome gas, sickness and sores. Peer into no man's land with a periscope, experience the terrible toilets, smell the stenches and splat the rats. Will you survive the Terrible Trenches?
Wheelchair Accessibility: Yes. Adapted Toilets: Yes, on all floors bar the 3rd and 4th. Accessible cafe on ground floor. The Museum has a number of manual, folding frame wheelchairs that can be borrowed for the duration of your visit. Check for full details.

London Walks & London Eye


Jack the Ripper Walk
Venue: Aldgate, Whitechapel, Spitalfields. EC. Tel: 020 8530 8443
Date: Daily. 7pm-9pm. Check website for 2010 date confirmation.
Tickets: £6.50. Online Booking
London Transport: Aldgate East, (District, Hammersmith and City Lines).
Description: Guided Exploration of the Whitechapel and Spitalfields alleys and pubs where serial killer Jack the Ripper murdered at least five and possibly many more prostitutes in a reign of terror during 1888. Richard Jones, author of the much acclaimed DVD Jack the Ripper will lead you on the bloody trail of London's most infamous murderer.

London Guided Walks


London Ghost Walks
Venue: Departs from Bank or Blackfriars Underground station. EC. Tel: 020 8530 8443
Date: Tues/Fri/Sats. 7pm-9pm. Check website for 2010 date confirmation.
Tickets: £7. Online Booking
London Transport: Aldgate East, (District, Hammersmith and City Lines).
Description: Alleyways and Shadows; Ghosts, Ghouls and Graveyards; the titles of these walks, painstakingly researched by author and historian Richard Jones, perfectly conjure the haunting atmosphere of these deliciously spooky tours that venture beyond the busy main roads and twist their eerie way through forgotten medieval and Victorian London. Let Richard Jones lead you to places where the disembodied voices from London's eerie past may just whisper in your ear, as their icy fingers lightly stroke the back of your neck.

The Shakespeare City Walk
Venue: Starts from Blackfriars Tube Station, Exit 8. (Circle and District Line).
Date: Mondays and Fridays, 11am. Ends 7 December, 2010. Tel: 020 7625 5155 before date for confirmation. Recommences 3 January, 2011.
Tickets: £6.(Concessions). Book online or pay guide at start.
London Transport: Nearest Tube. Blackfriars.
Description: Thespian Declan McHugh leads you on a 90 minute walk through the City of London, uncovering often little-known monuments and locations with connections to Shakespeare's life, his friends, his loves and his work, while declaiming the Bard's poetry and prose in true Woolfitt style.

Jack The Ripper's Sinister London
Venue: Selected departure points by coach.
Date: Fridays, Sundays. from 6.40pm
Tickets: From $50.13 per person. Pay online.
Description:Tread in the footsteps of the infamous Jack The Ripper down the dark, narrow, gas-lit alleyways immortalized in such films as "From Hell". Led by one of the renowned London Blue Badge Guides, you will visit four murder sights. Your "Ripperologist" will run through some of the suspects who sparked a Victorian Whodunit that will leave you as gripped as its victims. Approx. 4 hours.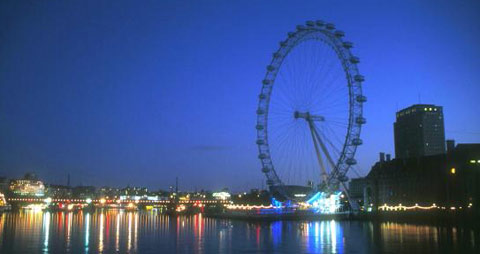 London Eye. Millenium Wheel
Date: Daily.
Venue: Westminster Bridge Road, (Riverside Building County Hall), SE1 7PB. Tel: 0870 990 8883
Tickets: £15. (Concessions). Book online.
London Transport: Nearest Tube: Westminster.
Description: Opened at the beginning of 2000 to celebrate the Millennium, this huge 450-foot British Airways Ferris wheel on the South Bank of the Thames overlooking Westminster gives a fabulous bird's eye view of Royal and Civic London, with spectacular views stretching for 25 miles on a clear day to include views of Windsor Castle. Up to 25 people can fit in each of the wheel's "capsules." The wheel turns surprisingly slowly, taking 30 minutes to go round, so you will have plenty of time to spot landmarks, take photos, propose to your beloved, get married and celebrate the occasion with champagne! Combine your London Eye experience with a Thames River cruise. Online booking discount, (champagne supplied)!


Permanent collections in many galleries and museums are entry free. Some individually mounted temporary exhibitions within specified rooms may carry a ticket charge however, (bookable online or at the door). Check Shophound Alexia's comprehensive June Free London Diary for details.

Choose your Hotel OfftoLondon provides expert advice and secure booking facilities for your overnight, 'City Break' or long term London accommodation requirements; from de-luxe 5-star hotels to comfortable backpacker's hostels.

Highlights Memo
Book online NOW for Matthew Bourne's dazzlingCinderella, 30 November, 2010-3 January 2011. Read all about it and see video clip.
Top Tips

London has never been better value for Dollar holders! Make the most of your visit with a "Weekender" trip to Paris and Rome.

Day rail trips via Eurostar from London St. Pancras to Paris for a morning's shopping, afternoon visit to the Louvre and evening meal on the Seine are now a popular excursion option. Offtolondon's associated companies, travel specialists Offtoparis and Offtorome will take care of all your travel and accommodation requirements and show you the sites.

A Night 'On the town'
While in Festive London, treat your partner to a great evening out 'On The Town' with OfftoLondon's superbly priced theatre and dinner packages.

Spare a day of your stay in London to take advantage of Offtolondon's discounted whole day visit by luxury coach to Windsor Castle, Stonehenge and Regency Bath for just $92.

Choose your Hotel
Use OfftoLondon's hassle-free and secure booking facilities to obtain the best internet prices for your overnight, 'City Break', or longer term accommodation requirements; from de-luxe 5-star hotels to comfortable hostels.

Book your tickets online
Book all your tickets and London Travel Passes with Offtolondon.com to ensure best seats and best prices at the events, exhibitions and shows of your choice without the hassle of price bargaining and queuing on the day.

London Transport Oyster Card
The Central London congestion charge zone for visitors driving in London now covers all main areas of attraction. It makes sense to travel by the safe London Transport bus or Tube. Buy a multi-journey Oyster Card before you arrive, (you can top this up at will), and you will save money, time and hassle.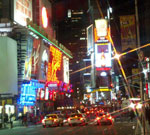 New York City Breaks
Christmas shopping in the Big Apple is an exciting option. Soak up style on Fifth Avenue at Bergdorf Goodman or Sachs Fifth Avenue. Buy your digital cameras and gadgetry for fabulous prices at specialist Adorama on West 18th Street. Take in a Broadway Show, dine superbly and see all the landmark sites.
New York! New York! Its a Wonderful Town!
Check it all out at A Traveller's Guide to New York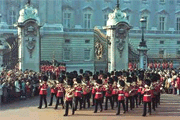 London in One Day Sightseeing Tour
8.5 - 9 hours - Drive to Westminster, past Downing Street, home of the Prime Minister, and on to the Houses of Parliament and Big Ben. Stop for a visit inside Westminster Abbey, site of many royal coronations. Visit Poets' Corner and the tombs of many well-known scientists and monarchs. Also see the Chapel of Henry VII.
Stop near Buckingham Palace to see the colourful ceremony of the Changing of the Guard before driving through busy streets and past peaceful parks to Piccadilly, home of London's Theatreland. Pass Trafalgar Square with its impressive Nelson's Column and fountains, before reaching a traditional London pub for lunch.
The afternoon starts with a cruise on the River Thames, during which a Thames Waterman will point out the places of interest along the way. Disembark to visit the Tower of London where you will meet the Beefeaters clad in Tudor uniforms, hear the legend of the ravens and some spine chilling tales from the Tower's 900 year history. You will also see the Crown Jewels, magnificently displayed in the new Jewel House.
Click for more information