London in Three Days

A Pre-Tested Itinerary

First off, let's set some ground rules. This itinerary is not for the weak of heart or the slim of wallet. Put it this way. If you are short of cash, London is not the place you want to visit even though there are London deals to be had. Yes, you can stay in a hostel and go to free attractions and eat on the cheap and say you were in London and it would be true, but is that really the London you want to experience.

If you are short on cash click to our London Hostels page and find a bed. Then click to the homepage of Out & About in London and pick any Free London edition to get a listing of the free museums, walks, etc. You can also click to our Museum page where you will find all free museums listed in red with links to each web site. We highly recommend the British Museum and the National Gallery. That said, we are now going to address tourists with more resources at their disposal.

Where to Stay


We have a Where to Stay page that gives you quick information about London's neighborhoods but for a three day visit you should stay in the center of London.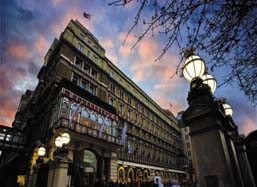 We recommend Amba Hotel Charing Cross . We stayed there in March, 2011. The hotel is built right over the Charing Cross station and is one block from Trafalgar Square and the National Gallery. Walk outside and there are cabs lined up and waiting. There are bus stops out front and Barclay Bikes less than 50 yards away. The Embankment Tube station is one block away as is the dock for the Thames Shuttle boats. Covent Garden and West End theatres are 3 blocks away. Not to mention the hotel was designed by Edward Middleton Barry who also designed the Theatre Royal in Covent Garden at about the same time.

Amba Hotel Charing Cross is a 4 star hotel with 239 luxury rooms and suites. Each is unique and offers every modern convenience... en-suite bathroom, air-conditioning, TV, Wi-Fi internet and mini bar in every room. One note though, the Wi-Fi is not free. It is provided via BT and you have to buy a voucher at the front desk or pay online. This is disappointing especially to US visitors who get Wi-Fi free at McDonalds and Starbucks. BTW, it's not free at the Starbucks directly across The Strand from the hotel.

That said, the rooms are clean, the hot water plentiful, the breakfast that was included with our room - proper English- and the service top notch. The concierge was helpful and friendly.
If you don't want to stay at the Amba Hotel Charing Cross, we still suggest that you stay at London's center not just to see and hear the heartbeat of London, but to be close to everything you want to see and experience during your stay. Click to Covent Garden & Strand Hotels to see more hotels in the immediate area.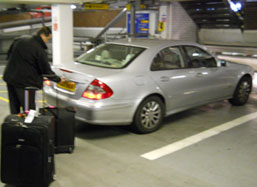 You can relax on the way into London with your own driver and private car.

Arriving at the Airport
and Getting Into London


Getting into London from the airport we suggest a private car ( Executive Arrival Transfer). After you land, take the long walk to collect your bags and clear immigration your driver will be waiting for you holding a little sign with your name on it. You will feel important, but better than that, you can relax as he takes your luggage, loads it into his E Class Mercedes or similar car and heads off to your hotel. Is this more expensive than the Heathrow Express? Yes, a little, but it's worth it. Don't forget to get some British pounds from the ATMs at the airport. Don't use the currency exchange booths. Use the ATMs.

Stow Your Bags and Get Going!


Chances are if you arrive in the AM your room will not be ready. Arriving in the PM it probably will be. Either way, stow your bags and if the time change hasn't kicked hell out of you, get started seeing the sights of London. If you have taken my advice you should be close to Trafalgar Square, always a good bet for fun people watching, street theatre and there is the National Gallery (Open daily╩10am-6pm, Fridays 10am-9pm) and the National Portrait Gallery (Open daily 10AM-6PM. Til 9PM Thursday & Friday). Don't try to do both in the same day. Way to much paint on canvas for most people to deal with in one afternoon. I recommend the National Gallery for two reasons. They have more variety of subject matter and their Café is a nice place to get something to eat and drink and to chat about what you have seen from their amazing collection. Enjoy the show outside in Trafalgar Square, walk down to see Big Ben, return to your hotel to get cleaned up a bit and decide where you want to have dinner. Ask the hotel for suggestions or go online and do a search.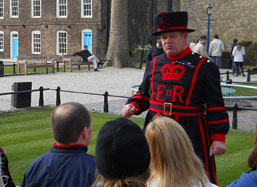 The yeoman's tour of the Tower of London is an experience not to be missed.

Day One: Tower of London, Thames Cruise, Tate Modern/Shakespeare's Globe, Pub Lunch, Dinner & the Theatre


A must for any first time visitor to London is a visit to the Tower of London in the shadow of Tower Bridge. You can take a package tour like the Gems of London Tour which takes 6 hours and includes a tour of the City of London, the Tower, entry to St. Paul's Cathedral and a Thames River Cruise. We recommend you buy a One Day River Roamer pass on the Thames Clipper and Skip the Line Tickets to Tower of London separately. You can buy them both online in advance and print out vouchers. The combo gives you a more flexibility and you can cruise up and down the Thames at your own speed and see London from the water. You can catch a Thames Clipper at Embankment pier, one block from Charing Cross Hotel/Station. The catamarans depart every 20 minutes from Embankment, London Bridge, Tower, Greenwich, Waterloo, Canary Wharf and The O2 (formerly Millenium Dome), now London's premier concert venue. You will cruise right by the London Eye, Shakespeare's Globe, Tate Modern, HMS Belfast, Tower Bridge and the Tower of London, etc.

Cruise to the Tower, take the free tour given by the Beefeater Yeoman guides who are all comedians full of facts and wise cracks. When they finish you can go on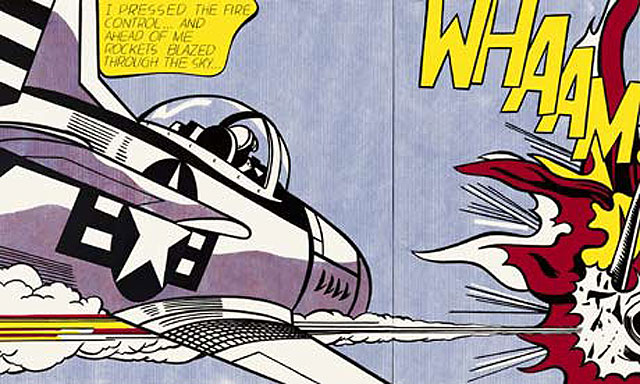 Photography is allowed at the Tate Modern, a cavernous former power station converted to art showplace and stage for happenings.

your own to see the crown jewels in the Jewel Tower and the collection of armor and weapons in the White Tower. All this in about 3 hours or so. Take a Thames Clipper back to the Globe or Tate Modern. You can enjoy lunch on the South bank of the Thames at a pub. We recommend the Swan right next door to Shakespeare's Globe. It is very civilized, the service is good and the food excellent.

After lunch vist the Tate Modern or Shakespeare's Globe. You can then walk across the Millenium foot bridge to St. Paul's Cathedral or cruise back on the Clipper to Enbankment and return to your hotel for a short break. Dinner is on you. There are any number of restaurants offering theatre menus within walking distance of Trafalgar Square. After dinner enjoy a show. The concierge at your hotel can get your theatre tickets for you or you can buy them ahead of time online by clicking here. You can also get them at a discount in Leicester Square or in Covent Garden at any of their discount ticket booths. To tired for a show, save it for tomorrow. Take a walk down by the Thames to see the London Eye light up at night and the lights of London.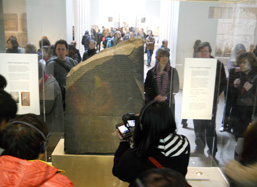 The Rosetta Stone at the British Museum.

Day Two: The British Museum, Covent Garden/Hampton Court Palace, Dinner & the Theatre


Now that you have the feel of the place you can take your time in the morning. Enjoy a proper English breakfast, read the paper. Afterwards, if it's a nice clear day, why not take a short flight on the London Eye and get a birds eye view of the city. Great photo opportunity. Late morning head over to the British Museum for some quality time with artifacts from around the world. See the Rosetta Stone, stone sculpture from Egypt, finds from Roman Britain and so much more. They have a Cafe where you can get a bite to eat and a drink which will save you time finding a restaurant or pub.

After the British Museum, take a cab to Covent Garden and enjoy the street theatre, shops and atmosphere. The market has vendors offering cheap street food like paella cooked in large flat pans outside and other treats and there are pleny of other options if you are hungry or just want to sit and watch the world go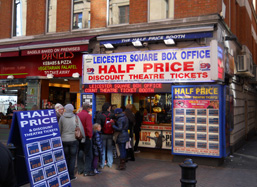 Ticket booth in Covent Garden area

by for a bit. You can spend hours here and not be bored in the slightest. You can get theatre tickets at one of the booths here and when you've had quite enough, head back to home base and get cleaned up for an early dinner and a show.

Another option for the afternoon is a visit to Hampton Court Palace where King Henry VIII wooed his many wives. You can get a day pass online and visit at your convenience. The Palace is open 10:00am to 4:30pm, with last admission at 3:30pm. You can get to Hampton Court by taxi or train. South West Trains run services direct from London Waterloo station to Hampton Court a 35 minute ride. The╩palace is a╩200 metre╩walk across the bridge from the station. Allow about 3 hours for the trip and your visit. Plan your visit here.╩

Day Three: The Portrait Gallery,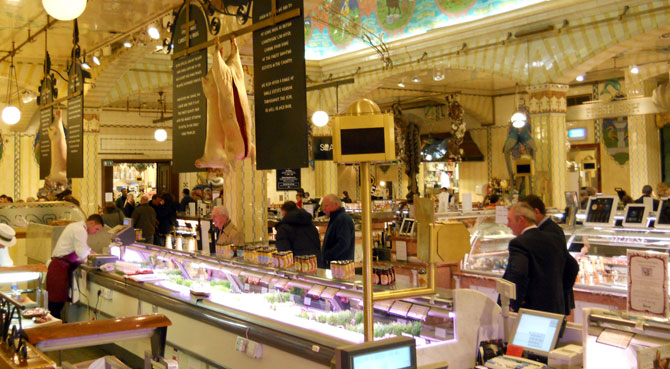 One of Harrod's Food Courts. You must experience them all.

Harrods, High Tea and Dinner on the South Bank.

The Portrait Gallery is facinating for anyone interested in famous UK personalities and/or British history. It is located right next to the National Gallery, but is an entirely different type of experience. It is also free. Not interested in portraits... pick another museum, there are plenty to choose from including Madame Tussaud's, the Imperial War Museum and the Tate Britain.

We recommend doing the terribly British thing of taking High Tea in the afternoon after a visit to Harrods. You must see this icon of high end shopping, and don't miss the Food Courts where you will find everything that suits your fancy from Spanish ham served with eggs and gold plated forks to scrumpous desserts and pastries to sandwiches and what's for dinner. Harrod's also has all kinds of souveniers and every price point so you can take something back for friends and family with Harrod's logo on it or with LONDON emblazoned on it. You will also find just about every international luxury brand represented in Harrods with prices in Neiman Marcus territory. Go ahead and buy something just for the experience and to remember your visit. Everyone does it. When you have had enough shopping it will probably be time for tea.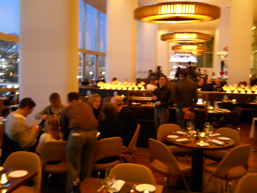 Skylon, early evening.

We suggest experiencing High Tea at Brown's Hotel voted The Tea Guild's 'Top London Afternoon Tea 2009, Langtry's at The Cadogan or the stunningly beautiful Claridge's Mayfair. Can't decide? There are other venues for this time tested afternoon tradition. See the top 10 on the Bon Vivant Blog. No matter where, you should relax and enjoy and spend the time deciding where to eat dinner. The number and types of restaurants in London is mind boggling. Once the butt of foodie jokes, London is now a restaurant mecca and you can find any type of food you like from pizza to Mexican, Indian and Thai. For a spectacular view at night we can recommend Skylon on the South Bank located in Royal Festival Hall. Time Out says "A sophisticated Modern European menu is served in the restaurant, while the grill has more brasserie-like food and is also home to a lively bar area." True, the food is definitely palatable, but it is the night view of London that sets this restaurant apart.

Another restaurant we can recommend is Le Caprice in St James's where we had a truely memorable Sunday Brunch. They also serve pre and post theatre dinner in their intimate restaurant and bar. This is a small place with impeccable service and, on the day we went, an extremely well dressed doorman in a bowler hat. You will need a reservation and you can make them online.