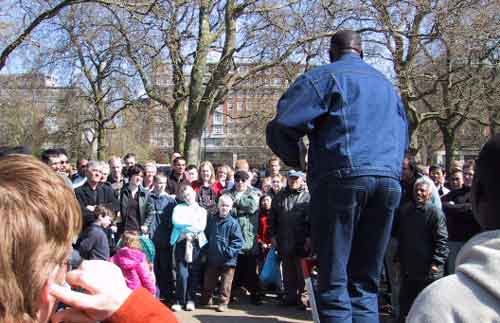 Hyde & Speak

A visit to Speaker's Corner

Story & Photo by Dean Ramsay

Nearest Tube Station - Marble Arch (Central Line).
For over 150 years, Speaker's Corner has been one of London's most unique and eccentric attractions. On any given Sunday morning, anyone who has an opinion to air and anyone who will listen will gather at the point where Oxford Street and Hyde Park meet, in the shadows of Marble Arch and carry on an oral tradition that is becoming somewhat lost to a modern culture of email and online chat rooms.

A visit to Speaker's Corner will offer you a glimpse of London's real past, where Londoners engage in earnest, open conversations that can quickly become loud and contentious debates. There's no parliamentary procedure here, it's freewheeling verbal contact and if you have a mind to, you're free to take part. Tourists can often be seen entering into heated discussion with locals and other visitors alike. Speakers require no qualification or invitation. It is as open a forum as you are likely to see anywhere in the world, a classless forum where one can really see grassroots democracy at work.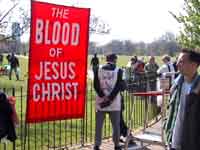 Topics for debate are in no way preordained, but they will tend towards the more provocative subjects of politics, religion, morality and current events, which in turn attracts some of London's more colourful and flamboyant figures.

On a typical spring morning, walking around from huddle to huddle, you will hear discussions on everything from the state of declining moral standards in the world to football. As on any Sunday, a Christian contingent will be well represented among the speakers. Some of the more extremist denominations cause obvious discord among the crowds and can make for some of the more memorable sights at the corner as they verbally battle the hecklers.

At first glance, some of the orators may appear to be more a congregation of the mentally unhinged rather than a meeting of the minds. But don't be fooled. Some of the most revered political and literary minds of the last century have regarded Speaker's Corner as a window on the ebb and flow of popular opinion, a microcosm of the populous.

Among the noted patrons are Karl Marx, Vladimir Lenin, George Orwell, William Morris and countless politicians to date. Indeed the tradition is echoed even today in the 'soapbox' method of canvassing in modern political campaigns. This is a tradition that has now become truly global, as similar events are now organised all over the world. This is still however, one of the most authentic and accessible experiences that any visitor to London could hope for. So, if the weather is fine, the speakers are on form and you can loose your inhibitions, Speaker's Corner holds hours of irresistible captivation.



© 2016 offtolondon.com All rights reserved. Contact Us