SPOTLIGHT:

Hampton Court Flower Show and Champagne Picnics

by Burlington Bertie.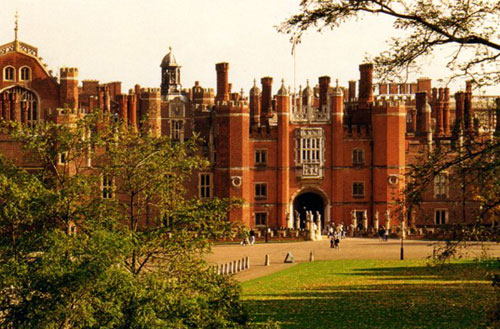 PhotoCredit: Historic Royal Palaces.


he RHS Hampton Court Flower Show is with us once again! It's time to enjoy the largest annual largest floral extravaganza in the world covering 30 acres and packing in 40 show gardens, nine marquees, 700 exhibitors and 180,000 garden enthusiasts who will brave this week's heatwave to buy plants, seeds, garden equipment and furniture, admire green fingered garden designs, floral displays and the breathtakingly perfumed Festival of roses: from the less common lavender to the classic red and white roses, a profusion of colors †for the pleasure of the eye too

East Molesey, Surrey, KT8 9AU. Tel: 0870 752 7777.
Access: 30 March - 26 Oct: Daily 10.am-6pm, (last admission 5pm). 27 Oct - 31 Dec: 10am - 4.30pm, (last admission 3.30pm). Closed 24 - 26 Dec. The Wilderness, Tiltyard and Rose Garden are open throughout the year, 7am to dusk.
Tickets: Palace and Gardens £13. inc audio and costumed guides, (Concessions); Gardens only £4.50; Maze only £3.50. (Concessions). Online or by phone, or at gate. Carpark: 50p per hour.
Accessibility: Wheelchair accessible, with elevator to upper floor State Apartments. Palace ticket holders can make use of free manual wheelchairs within the palace and battery-powered chairs in the gardens. Collect at West Gate main entrance. There are disabled toilet facilities both in and outside the palace.
London Transport: Nearest Tube. Richmond. Bus connection from station. Rail from London/Waterloo to Hampton Court, (32 mins). River Boat from Westminster Pier, (3 1/2 hrs).

Burlington Bertie's Accommodation Choice: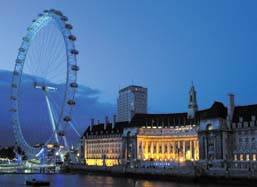 Westminster Bridge Road, SE1 2PB.
This is 5-star comfort in elegantly opulent architectural splendour with an unrivalled Thames-side view overlooking London Eye, (book your tickets online, Westminster Bridge, Big Ben and the Houses of Parliament. Enjoy air-conditioned en-suite rooms and make sure you book a room with a Thames view. Relax after sightseeing in the hotel's indoor pool while your partner enjoys a treatment in the spa, before making the pleasant five minute riverside walk to a concert at the Royal Festival Hall and dinner afterwards at the excellent Skylon or the Oxo Tower Restaurant & Brasserie. Boat trips upriver to the Hampton Court Palace or downriver to Tower of London, Docklands and Greenwich start from the Millennium Pier just opposite the hotel.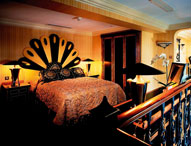 Thistle Royal Horseguards Hotel
2 Whitehall Court, Whitehall, SW1A 2EJ.
Excellent en-suite rooms with Thames view accommodation in this beautifully refurbished Victorian hotel overlooking the most beautiful stretch of the Thames at Westminster. Various special bargain offers make this a good 4 - Star accommodation option for the summer visitor. Well located for the West End, Buckingham Palace, and riverboat travel from nearby Millenium Pier to London's major Royal sites; Hampton Court Palace, Kew Palace, the Tower of London and Greenwich Palace.


Want to receive our new Out & About Newsletter by email? Just type your email address below and click the submit button.

My membership of the Royal Horticultural Society provides many benefits, not least of which is the pleasure of seeing such shows as this, the Chelsea Flower Show and a host of other Society sponsored events in London and elsewhere, in the quiet peace of Members Only Days, before the crowds jostle and the blooms wilt.

On this occasion however, my Lady Alexia and I elected to splash out and toddle off with our chums Archie and Fiona to the Charity Gala Preview which proved to be a hugely enjoyable midsummer's eve of champagne, music and entertainment with spectacular firework finale. London is enjoying a rare heatwave with temperatures reaching 90F/30C by day and cooling by just 10 degrees in the evening. Despite the warmness of the evening, Alexia succeeded in looking elegantly cool in the near-diaphanous creation she bought bought in Bond Street at the summer sales on Saturday, while I wrestled with the champagne cork from our Fortnum & Mason hamper in the private picnic enclosure by the Long Water.

Fortnum's have been providing ready-made and bespoke picnic hampers since the Naughty Nineties days when Bertie, Prince of Wales and his Marlborough set first patronised the store over a century ago to stock up for their visits to the Henley and Cowes Royal Regattas or weekend houseparties. They have held a Royal Warrant ever since. The store offers a choice of four selections this year. Alexia chose the 'The Kensington' so we picniced in style on Fortnum's Champagne and Sevruga caviar, Pate de foie gras with Cumberland sauce, seared Alaskan halibut with charred artichokes and basil, a pot of Stilton cheese, Summer red fruit salad, F&M chocs and a bottle of Chablis.

On this occasion we were chauffered to Hampton Court Palace in Archie's car. In the normal course of events however, I like to journey at least a part of the Hampton Court journey by Thames boat. We tend to forget that before the advent of steam railway and automobile changed the face and pace of London, the Thames waterway was the city's main artery and, in the days of footpads and highwaymen, the safest way to travel. The great Palladian and Georgian houses that line the Thames from Hampton Court to Westminster in arcadian splendour were sited as much for their waterway travel facility as for the view of gliding swans; Ham House, Marble Hill House, Syon House, Kew Palace, Chiswick House and Fulham Palace, all provided work for the ferrymen. The Riverbus has begun to make a comeback now after a century of decline and there are regular pleasure services from Westminster Pier upriver to Hampton Court and commuter services downriver to the Tower of London and Greenwich Palace.

The river journey to and from Hampton Court is a day's delight in itself, (a commendable day of dalliance to which I shall return on another occasion), that would afford little time to enjoy the Flower Show.Take to the river one way therefore and return by rail. The morning boat from Westminster, arrives lunchtime at Hampton Court and affords a sight of all the houses I mentioned earlier together with much more. There are trains every half hour Waterloo - Hampton Court. Enjoy your day! Alternatively take the train up to the Show and on your return journey boat from Hampton Court Palace to Richmond, (last boat 4.45pm), and train from there.

Once you acquire a taste for travel on the river, I expect you will want sample one of the great Thames dining cruises available from Thames River Cruises - and this is the perfect time of year to enjoy a warm summer evening of wining, dining and dancing on the Thames with your partner.

Selected Offtolondon Links
Hampton Court Palace
Group Tours of London

Outside Links
RHS Hampton Court Palace Flower Show and Gala Evening
Fortnum & Mason. Hampers etc.
Thames River Boats, Westminster - Hampton Court
Thames River Cruises




Top Tips to enhance your visit.
1. Join Historic Royal Palaces. Membership gains you unlimited free entrance to Hampton Court Palace, Kensington Palace, Tower of London, Kew Palace, (NEW), and Whitehall Palace Banqueting Hall for one year. Alternatively buy Offtolondon's Three Palace Royal Pass for Hampton Court and Kensington Palaces and Tower of London.
2. Buy a London Travelcard for 1, 3 or 7 days, (from £6.30 Adult and £2 child per day). while your Travelcard is valid 24 hours on the central London Transport system. The system is cheap, easy and safe. Consider buying a top-uppable London Transport Oyster Card. It saves you money and cuts out the hassle of queuing.
3. Give yourself a full day to properly enjoy Hampton Court. You need at least two, and preferably three, hours to see the Palace before enjoying the extensive gardens.
4. If you can, travel to Hampton Court the historic way - on the river. Take 10am River Boat from Westminster Pier, (check sailings). You will enjoy the most picturesque 3 1/2 hour ride past historic and picturesque Chiswick Village, the Royal Botanical Gardens at Kew, Royal Richmond, Ham House and lots more.
5. Take a picnic and lunch on your journey upriver. When you disembark you will have 4 hours to explore Hampton Court Palace and the gardens, or 3 hours if returning by the 5pm riverboat.
6. If you don't have time for 3 1/2 hours on a riverboat, take the 32 minute rail journey London/Waterloo - Hampton Court Station. Alternatively, travel one way by boat and one way by train.
7. Use the free audio tour available in a number of languages or join one of the free costumed guided tours of the Royal apartments to fully enjoy the Palace experience. They start every 15 minutes.
8. Do not ignore the magnificent Palace grounds and Tudor Gardens. See these in the sedate comfort of a horse drawn carriage.
9. Read about the Palace and its history before your visit and check out the online illustrated map. You will enjoy your visit more and save yourself valuable time getting orientated.
10. Comfortable and sturdy walking shoes, a shoulder bag and a collapsible umbrella are essential accessories. The bag will hold your umbrella, camera, a snack and all literature and souvenirs you collect during the day.
For up-to-date visitor information about London's Royal Palaces and monthly diary of events, see Out and About in London
.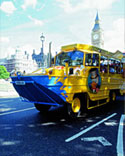 75 minutes - Departing from Chicheley St. Waterloo (behind the London Eye), these yellow amphibious vehicles drive past famous London landmarks such as Big Ben, the Houses of Parliament and Trafalgar Square before a dramatic launch into the River Thames from a slipway at Vauxhall for the waterborne part of the 75 minute tour of london. The excitement of seeing London in this novel way is enhanced by an entertaining, action packed commentary by character guides providing an alternative view of London's history, plus fascinating facts and figures about the vehicles themselves. Tours run daily throughtout the year - last tour is subject to dusk. London Ducktours are closed 24th Dec, 25th Dec, 26th Dec, 31st Dec & 1st Jan. The only weather conditions that will stop trading are extremely high winds.
Starting from £17 adults, £12 children.
Click to buy tickets