Ham House


London's Royal Palaces & Attractions
with Burlington Bertie .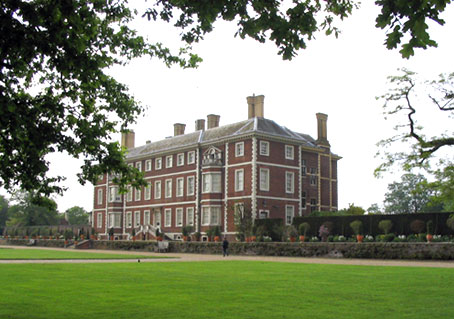 Begun in 1610 during the reign of James I, Ham House was enlarged and completed in 1675 during the reign of his grandson Charles II for the Duke and Duchess of Lauderdale, who also laid out the formal gardens. Few such English gardens survived the later vogue for landscaping ushered in by Capability Brown in the following century.

Venue: Ham Street, Ham, Richmond-upon-Thames, TW10 7RS
Access: House: 1-5 daily late Mar - Nov except Thur & Fri. Garden: Daily all year except Thur & Fri 11-6 or dusk if earlier. Closed 25/26 Dec, 1 Jan. Times may vary. School visits, functions, weddings all year round by arrangement.
Getting There: On S. bank of Thames, W of A307, between Richmond and Kingston; Ham Gate exit of Richmond Park, readily accessible from M3, M4 and M25.
Further Information: The house is available for weddings, corporate functions, etc. Contact Administrative Assistant, tel. 020 8940 1950; email: hamhouse@nationaltrust.org.uk
Tickets:12 Feb - 30 October 2011. £9.90, child £5.50, family £20.90. Group concessions. Garden only: £3.30, child £2.20, family £8.85. Admission to garden includes outhouses and introductory video. Free parking 400m (not NT). Guided tours of house and gardens available by arrangement. Wheelchair accessible and available.
Shop: Excellent National Trust shop stocking NT range of quality gifts and gourmet foods as well as relevent souvenirs.

Top Tips

The National Trust run a varied and interesting programme of Restoration theatre, recitals, ghost, and garden tours during the summer and special events leading up to Christmas. Check the NT website for details.

Don't forget to browse in the excellent National Trust shop at Ham House. The NT are renowned for the quality of their gifts and gourmet comestibles.

Under the 'ravenous covetousness' of its chatelaine, the beautiful, fecund and scheming Elizabeth Murray , Lady Tollemache, later Countess of Dysart and Duchess of Lauderdale, Ham 's luxurious rooms became a center of Restoration court social life and intrigue during the reign of that merry monarch Charles II.

The house with its sumptuous furnishing and decor has been maintained as it was in those dissolute baroque times when the Duchess wielded political and social influence at the centre of the Stuart court. The Duchess may still be scheming. Many have seen her ghost walking the corridors with her dog.

Ham House is one of London's architectural and garden glories of the Stuart era and is all too often missed by visitors deterred by the short journey from London's West End and city; an unfortunate omission. Its interior, so rich in 17th and 18th furniture, fine art and textiles; and the gardens, now restored to their 1671 formal plan and planting, are essential viewing for those interested in the fashions, court lifestyle and gardens of Stuart Restoration England.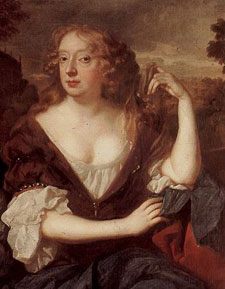 The Duchess of Lauderdale, the famous Court beauty of Stuart Restoration England.

The life of Ham House's chatelaine reads like a Dumas novel. While Oliver Cromwell was a regular guest at Ham and perhaps her lover, Elizabeth, spied and acted for the exiled king and his supporters as an active member and courier of the secret Royalist Society, the Sealed Knot. A grateful Charles II awarded her a colossal annual pension on his restoration to the throne and later awarded her second husband a dukedom.

As well as special tours of the house and 'below stairs' the NT also hosts touring theatre groups during the summer for open air matinee and evening performances. Check website for details and buy tickets online.

© 2016 offtolondon.com All rights reserved. Contact Us