London Highlights for February, 2010

by Burlington Bertie

What's on in London during February, 2010. Highlights from London's ticketed events; Heritage & Pageantry, Performing Arts, Fairs and Fine Art Exhibitions, London Fashion Week and sporting events. Compiled by Burlington Bertie, OfftoLondon's Man About Town.

Royal Opera House: Così fan tutte
Date: February 2 - 17, 7:00pm -10:30pm. 2010.
Venue: Royal Opera House, Covent Garden, WC2. Tel: 020 7304 4000
Tickets: £8 - £195. Book online.
London Transport: Nearest Tube: Covent Garden.
Description: Così fan tutte. Classical opera meets contemporary

style in this ever-popular staging of Mozart's operatic gem that brings its look - and its relevance- right up-to-date. Jonathan Miller's production for The Royal Opera also focuses on the timeless themes of a drama that sees two men test the loyalties of their girlfriends to the breaking point...sung in Italian with English subtitles. Part comedy - part tragedy. The music in turn is poignant and stoic, heartfelt and romantic.

London Fashion week Experience
Date: 25 - 28 Feb. 2010.
Venue: Somerset House, Strand, London, WC2R ILA
Further info and Tickets: from £12.50 - £37.50. Check site for more information.
London Transport: Nearest Tube: Temple. By rail: Charing Cross and Waterloo.
Description: Back to just one venue and set over four floors, from the Embankment Galleries to the first floor Portico Rooms and Navy Board Rooms, Somerset House will again form a stunning backdrop to over 100 designers and feature areas.

Royal Heritage & Pageantry


Tower of London
Venue: London, EC3N 4AB. Tel: 0870 756 6060.
Date: Daily, 10am-4.30pm, (winter opening times).
Tickets: £16.50, (concessions and online discount) until end Feb, 2009. Prices may change.
London Transport: Nearest Tube: Tower Hill. DLR: Tower Gateway. Bus routes: RV1 from Covent Garden, 15, 42,78,100. All sightseeing buses. Riverboat: Regular service from Westminster, Charing Cross, Greenwich Piers.
Description: London's top tourist attraction, and the custodians of the Tower are as expert at putting on a family show today as they were at chopping off heads in earlier days of gore. The most famous attractions are the Crown Jewels, the 'Beefeater' yeomen in their ceremonial Tudor dress, and the celebrated ravens.

Hampton Court Palace
Venue: Hampton Court Palace, East Molesey, KT8, 9AU. Tel: + 44 (0)844 482 7799.
Date: Daily, 10am-4.30pm until end February, (winter opening times).
Tickets: £13.30, (concessions and online discount) until end Feb, 2009. Prices may change.
London Transport: Nearest Tube: Richmond.
Description: Must see sights include Henry VIII's Great Hall and Tudor kitchens, the Maze and the celebrated Gardens. In depth description
Wheelchair Accessibility: Yes. The ground floor of the Palace is wheelchair accessible and there are limited facilities for viewing the upper floors with the use of an elevator. Adapted Toilets: Yes. See Palace Disabled Access for full details and help.

Kensington Palace
Venue: Kensington Gardens, W8 4PX. Tel: 0870 751 5170.
Date: Daily, 10am-5pm, (winter opening times).
Tickets: £12.30, (concessions and online discount) until end February, 2009. Prices may change.
London Transport: Nearest Tube: High Street, Kensington.
Description:. As well as the fascinating exhibition of Court Ceremonial dress which gives us a good idea of the splendour of the British Court, (compare this with the V&A Museum Exhibition The Magnificence of the Tsars), there is a great deal worth seeing, from the Cupola Room, where Queen Victoria was baptised, to the exquisite trompe d'oeuil ceiling executed by Palladian architect William Kent for George II, (1722). While the original State Rooms have been turned into a museum, this is still a working palace and Royal Residence, housing working members of the Royal Family. Princess Diana lived here after her divorce.
Wheelchair Accessibility: Yes.

Clarence House
Venue: St. James's Palace, SW1A 1BS, (entry from the Mall). Tel: 020 7766 7303.
Access: Summer opening. 10am-3pm, 5 August - 27 September 2009.
Tickets: £8, (concessions), Take advantage of special online discounts and advance booking.
London Transport: Nearest Tube: Green Park.
Description: Built by John Nash for the Duke of Clarence who became King William IV from 1830 until 1837 and used it as his palace, it was later the home of The Queen, then Princess Elizabeth and The Duke of Edinburgh following their marriage in 1947, and thereafter the London home of Queen Elizabeth The Queen Mother from 1953 until 2002. It is now the official London residence of Charles Prince of Wales and The Duchess of Cornwall.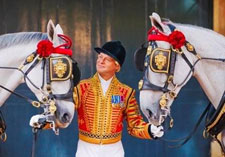 Royal Mews, © Royal Collection.

The Royal Mews
Venue: Buckingham Palace, Westminster, SW1A 1AA, London. Entrance in Buckingham Palace Road.
Access: Summer opening. 11am-4pm, 28 March - 31 October, 2009.
Tickets: £7.50, (concessions), Take advantage of special online discounts and advance booking.
London Transport: Nearest Tube: Victoria Station.
Description: The Mews houses the Queen's horses in what are undoubtedly one of the finest working stables in existence. Also on view are the Monarch's State Coach and other official vehicles

Kew Palace
Venue: Kew Gardens.
Access: Summer opening. 10 April.
Tickets: £5, (concessions). London Transport: Nearest Tube: Kew Gardens.
Description: The country palace of George III, (d.1820) and his Queen Charlotte, Kew Palace has recently been meticulously refurbished under Royal patronage and is a masterpiece of Georgian taste, decor and furnishings.

Palace of Westminster
Access: Open to overseas visitors during the Parliamentary summer recess in August and September, 2009. Exact dates to be announced. Guided tours daily, Monday to Saturday inclusive.
Venue: Westminster, London SW1A 1AA.
Tickets: Online only.
London Transport: Nearest Tube: Westminster.
Description: This is an unrivalled opportunity to see the Victorian Neo-Gothic magnificence of the Palace of Westminster with its debating Chambers of the 'House of Commons' and 'House of Lords'. Fascinating guided tour.

Theatre, Dance and Music


Cirque du Soleil - Varekai
Venue: Royal Albert Hall, Kensington Gore, SW7 2A
Date: 5 Jan. - 14 February, 2010
Tickets: From £21 - £75.00 Online booking or at the Box Office. Limited parking offered. See venue website for details.
London Transport: Nearest Tube: Knightsbridge, Kensington High Street.
Description: A dazzling show seen by millions of people worldwide that contains all those unique Cirque du Soleil elements; astonishing acrobatics, awe inspiring aerial acts, unique lighting, fabulous music and elaborate set design. A memorable show at this historic rotunda hall, opened 1871 by Queen Victoria.
Wheelchair accessibility: Yes. Adapted Toilets: Yes.

Sadlers Wells: Havana Rakatan
Date: 4 Feb. - 6 Mar. 2010
Venue: Peacock Theatre, Portugal Street, WC2. Holborn.
Tickets: £15 - £40 Online booking, in person at Box Office, or Tel: +44 (0)844 412 4300.
London Transport: Nearest Tubes: Holborn; Temple.
Description: Experience the authentic heart and soul of Havana - right here in London. One of Sadler's Wells' most successful productions, Havana Rakatan, returns to the Peacock Theatre by enormous popular demand for a red hot fourth season. Originally the dream of Cuban choreographer, Nilda Guerra, the show has now toured around the world where it has been enjoyed by thousands. Salsa, mambo, jazz, bolero, son, cha-cha-cha, and rumba, all come alive in a dazzling dance display of Cuban passion that is guaranteed to get heads bobbing and feet tapping. See also What's On.

Royal Opera House: February Programme
Date: Thoughout the month, 2009.
Venue: Royal Opera House, Covent Garden, WC2. Tel: 020 7304 4000
Tickets: £6-£15. Book online.
London Transport: Nearest Tube: Covent Garden.
Description: A month of varied Ballet and Dance, Opera and lectures. Ballet Highlights: Dalston Songs, Insight Evening - New Watkins/Rushes/Infra. In Conversation with Mara Galeazzi, Laura Morera and Ricardo Cervera. See website for more details.
Wheelchair accessible: YES. Wheelchair toilet accessible: YES

Encore online
Venues: 37 West End and City theatres
Date: Ongoing.
Tickets: Book online with Offtolondon for all seats. Book ahead to avoid disappointment. Description: Your online guide to London's vibrant winter season theatre programme of plays, musicals, pantos and variety.

Festivals and Fairs


London Stitch & Creative Crafts Show
Date: 11 - 13 February, 2010; 10 am-5pm Thurs, Fri, and Sat
Venue: ExCel, London. E16 1XL.
London Transport: Check ExCel Online for road, rail and river access details.
Tickets: Buy online for advance discounted tickets, (£6.50), or £9.50 at the door. Concessions.
Description: Over one hundred leading exhibitors display their latest products to see, try and buy. This show covers all aspects of quality stitchcraft including cross stitch, sewing, card making, embroidery, knitting, patchwork, quilting, scrapbooking, ribboncraft, papercraft, stamping, beading, painting, dressmaking, tapestry, decoupage, crochet and many more popular stitch and creative crafts. A great programme of workshops is offered as well as talks from experts. Pick up insider tips and advice, participate in unique make and take workshops, watch exciting demonstrations, enter fantastic competitions and enjoy viewing impressive displays from prestigious craft guilds and societies. Watch this video from the Create and Craft Club
Burlington Bertie's Accommodation Choice: Custom House Hotel, 283 Victoria Dock Road, Custom House, E16 3BY, offers nearby 3-Star comfort right opposite ExCel and the DLR station. London city Airport is just 2 km away. Park at the hotel for a small fee. Hotel facilities include three restaurants. Excellent convenience accommodation for ExCel fairs and exhibitions. Early booking recommended.

The Ally Pally Motorcycle Show
Date: 26 - 28 Feb. 2010, times vary each day. See website for more details.
Venue: Alexandra Palace, Wood Green, N22 7AY.
London Transport: Wood Green.
Tickets: Adult £12. (Concessions). Buy online., or £15 at the door.
Description: Back where it belongs! Andrew Greenwood's much loved Motorcycle show returns to Alexandra Palace.

Great Exhibitions


The Conversation Piece: Scenes of Fashionable Life
Venue: Queen's Gallery, Buckingham Palace, Westminster, SW1A 1AA, London. Entrance in Buckingham Palace Road.
Date: Until 14 Feb. 2010. 10am-5.30pm daily.
Tickets: Book Online, (timed and dated ticket entry), or at door. Take advantage of special online discounts.
London Transport: Nearest Tubes. Green Park, Hyde Park Corner (Piccadilly Line), Victoria Rail Terminal, (Victoria, Circle and District Lines).
Description Superbly appointed gallery at the Palace dedicated to changing exhibitions of items from the Royal Collection, the wide-ranging collection of art and treasures held in trust by The Queen for the Nation. This new exhibition will explore the tradition of the "Conversation Piece", group portraits of high-society sitters in strikingly informal situations. With its roots in 17th century Dutch painting, the genre is best known through the work of the English artists, William Hogarth and George Stubbs in the 18th century and Sir Edwin Landseer in the 19th century. The greatest exponent of the Conversation Piece was Johan Zoffany; the exhibition will include a remarkable series of works produced by the artist for his royal patron George III. The Conversation Piece depicts sitters going about their daily lives and provides a fascinating insight into the fashions, interiors and manners of the age.
Wheelchair accessibility: Yes. Adapted Toilets: Yes.

The Real Van Gogh - The Artist and His Letters
Venue: Royal Academy, Burlington House, Piccadilly, W.1.
Date: Now to 18 April, 2010: Times vary from 10am - 10pm. Check site . Ongoing.
Tickets: £12, (Concessions). Book Online or pay at the door. Various.
London transport: Nearest Tube: Piccadilly, Green Park.
Description: The Royal Academy of Arts presents a landmark exhibition of the work of Vincent Van Gogh (1853 - 1890). The focus of the exhibition is the artist's remarkable correspondence. Over 35 original letters rarely exhibited in public due to their fragility, are on display; together with around 65 paintings and 30 drawings that express the principal themes to be found with the correspondence. This is the first Vangogh exhibition in London for 40 years and a unique opportunity to gain an insight into the complex mind of Vincent Van Gogh.
Wheelchair accessibility: Yes. Adapted Toilets: Yes.

Decode: Digital Design Sensations
Venue Victoria & Albert Museum, Cromwell Road, SW7 2RL. Tel: 020 7942 2000
Date: Until 21 Feb. 2010.
Tickets £5, (Concessions). Timed entry. Book online.
London Transport Nearest Tube. South Kensington.
Description: Decode: Digital Design Sensations showcases the latest developement in digital and interactive design, from small, screen-based graphics, to large-scale interactive installations. The exhibition includes works by established international artists and designers such as Daniel Brown, Golan Levin, Daniel Rozin, Troika and Karsten Schmidt. The exhibition features both existing works and new commissions created especially for the exhibition. .
Wheelchair Accessibility: Yes. Adapted Toilets: Yes.

Sherlock Holmes Museum
Venue 221b Baker Street, NW1 6XE. Tel: 020 7935 8866.
Tickets Adult £6, Child £4. Daily 9:30a.m. - 6:00p.m. Discount Group admissions for 10 + persons. Advance booking telephone: 020 7738 1269, Online or email: info@sherlock-holmes.co.uk
London Transport Nearest Tube. Baker Street. Nos 13 and 139 buses run between Baker Street and Trafalgar Square. The trams and horse drawn hansom cabs of Holmes's day are regrettably a thing of the past.
Description Permanent Exhibition. Sherlock Holmes and Doctor Watson lived at 221b Baker Street, (built 1815), between 1881-1904, according to Holmes's biographer Sir Arthur Conan Doyle. The famous 1st floor study, where the world's most illustrious detective played the violin while pondering and solving those mystifying cases before the use of fingerprints or DNA made detection so much easier, is still faithfully maintained as it was kept in those late Victorian and Edwardian days of gaslight, horse drawn Hansom cabs and London fogs. Nothing has changed. The rooms are exactly as described by Conan Doyle. Sherlock Holmes's possessions are in their usual places: his deerstalker, magnifying glass, calabash pipe, violin, chemistry equipment, notebook, Persian slippers and disguises, soda water gazogene on the sideboard. Dr Watson's hand-written notes made at the time of the famous case of the Hounds of the Baskervilles may be perused and visitors will be interested to admire a waxwork in the likeness of the infamous Moriarty. Strongly recommended to all admirers of Holmes.
Wheelchair Accessibility: No.

Trenches
Venue: Imperial War Museum, Lambeth Road, SE1 6HZ. Tel: 0207 416 5320.
Date: Until 31 Oct. 2010. Open daily from 10am - 6pm. Check website for more information
London Transport: Nearest Tube: Lambeth North; Elephant and Castle; Waterloo, (wheelchair accessible); Southwark, (wheelchair accessible). Carparks: Union Carparks/53 Southwark Street.
Tickets: £4.95 (Concessions). Book online. The rest of the museum is FREE.
Description: Temporary Exhibition. Find out about life in the terrible trenches during WWI in this unmissable family exhibition. Kids of all ages can test their survival skills in an interactive gallery which explores the dire details of life in the blood and mud of the Western Front. Find out how soldiers coped with foul food, legions of lice, gruesome gas, sickness and sores. Peer into no man's land with a periscope, experience the terrible toilets, smell the stenches and splat the rats. Will you survive the Terrible Trenches?
Wheelchair Accessibility: Yes. Adapted Toilets: Yes, on all floors bar the 3rd and 4th. Accessible cafe on ground floor. The Museum has a number of manual, folding frame wheelchairs that can be borrowed for the duration of your visit. Check for full details.

Leighton House Museum and Art Gallery
Venue: 12 Holland Park Road, W14 8LZ.
Date: Closed for refurbishment until 3 April, 2010. See video below.
Tickets: £3, (Concessions). Pay at door.
London Transport: Nearest Tube: Kensington; High Street, Kensington. Carparking: Olympia Hylton NCP.
Description: Permanent Exhibition. Victorian opulence in art and architecture shown at its best and most spectacular, (or worst and most decadent if your taste is for modern minimalist). The former studio-house of the great Victorian artist Frederic, Lord Leighton (1830-1896), who designed and decorated it between 1864 and 1879, the house is one of the most extraordinary buildings of the nineteenth century. Filled with golden mosaics, gilded walls, elaborate paintwork, domed ceilings, trickling fountains, cool marble and peacock blue tiles. Leighton House also became home to the owner's extensive collection of Victorian paintings, 81 of which are exhibited here together with a fine collection of ceramics and lustreware. Over 1000 Islamic tiles adorn the Arab Hall, reflecting the influence the East had on Lord Leighton following his travels. It forms the centrepiece and focal point of the house.  The Arab Hall, Dining Hall or Studio are available to hire for receptions and functions.
Wheelchair accessibility:  No.

.

  British Museum: Warriors of the Plains
Date: Until 5 April, 2010. 10am-5pm daily.
Venue: British Museum, Great Russell Street, WC1B 3DG. Tel: 020 7323 8299.
Tickets: £8 (Concessions). Buy online, (strongly recommended); Box Office 020 7323 8181, or queue at the door.
London transport: Nearest Tube. Tottenham Court Road; Russell Square.
Description: The exhibition focuses on the material culture of Native North American Indians of the Plains between 1800 and the present, and the importance of the objects in a social and ceremonial context. Men of these tribes were expected to join in a 'warrior society' - a social political and ritual group that engaged in warfare and organized ceremonial life. The societies played a prominent role in battles, offering members the opportunity to gain honours through individual acts of bravery, such as stealing horses, capturing women, and taking scalps during war raids. The exhibition explores the world of the Plains Indians through examples of feather headdresses, called 'War Bonnets', shields, moccasins, painted hides, scalps, pipes, tomahawks, and traditional and contemporary costumes.<
Wheelchair Accessibility: Yes. Adapted Toilets: Yes.
See also Shophound Alexia's FREE London.

London Walks & London Eye


Jack the Ripper Walk
Venue: Aldgate, Whitechapel, Spitalfields. EC. Tel: 020 8530 8443
Date: Daily. 7pm-9pm. Closed 23-27, 30/31 December, 2008. Check website for 2008 dates.
Tickets: £6.50. Online Booking
London Transport: Aldgate East, (District, Hammersmith and City Lines).
Description: Guided Exploration of the Whitechapel and Spitalfields alleys and pubs where serial killer Jack the Ripper murdered at least five and possibly many more prostitutes in a reign of terror during 1888. Richard Jones, author of the much acclaimed DVD Jack the Ripper will lead you on the bloody trail of London's most infamous murderer.

London Ghost Walks
Venue: Departs from Bank or Blackfriars Underground station.. EC. Tel: 020 8530 8443
Date: Tues/Fri/Sats. 7pm-9pm. Check website for 2009 date confirmation.
Tickets: £7. Online Booking
London Transport: Aldgate East, (District, Hammersmith and City Lines).
Description: Alleyways and Shadows; Ghosts, Ghouls and Graveyards; the titles of these walks, painstakingly researched by author and historian Richard Jones, perfectly conjure the haunting atmosphere of these deliciously spooky tours that venture beyond the busy main roads and twist their eerie way through forgotten medieval and Victorian London. Let Richard Jones lead you to places where the disembodied voices from London's eerie past may just whisper in your ear, as their icy fingers lightly stroke the back of your neck.

The Shakespeare City Walk
Venue: Starts from Blackfriars Tube Station, Exit 8. (Circle and District Line).
Date: Mondays and Fridays, 11am. Ends 7 December, 2007. Tel: 020 7625 5155 before date for confirmation. Recommences 3 January, 2008.
Tickets: £6.(Concessions). Book online or pay guide at start.
London Transport: Nearest Tube. Blackfriars.
Description: Thespian Declan McHugh leads you on a 90 minute walk through the City of London, uncovering often little-known monuments and locations with connections to Shakespeare's life, his friends, his loves and his work, while declaiming the Bard's poetry and prose in true Woolfitt style.

Jack The Ripper's Sinister London
Venue: Selected departure points by coach.
Date: Fridays, Sundays. from 6.40pm
Tickets: From $50.13 per person. Pay online.
Description:Tread in the footsteps of the infamous Jack The Ripper down the dark, narrow, gas-lit alleyways immortalized in such films as "From Hell". Led by one of the renowned London Blue Badge Guides, you will visit four murder sights. Your "Ripperologist" will run through some of the suspects who sparked a Victorian Whodunit that will leave you as gripped as its victims. Approx. 4 hours.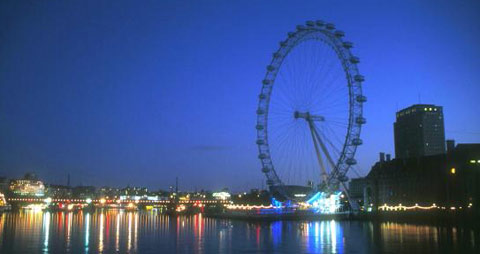 London Eye. Millenium Wheel
Date: Daily.
Venue: Westminster Bridge Road, (Riverside Building County Hall), SE1 7PB. Tel: 0870 990 8883
Tickets: £15. (Concessions). Book online.
London Transport: Nearest Tube: Westminster.
Description: Opened at the beginning of 2000 to celebrate the Millennium, this huge 450-foot British Airways Ferris wheel on the South Bank of the Thames overlooking Westminster gives a fabulous bird's eye view of Royal and Civic London, with spectacular views stretching for 25 miles on a clear day to include views of Windsor Castle. Up to 25 people can fit in each of the wheel's "capsules." The wheel turns surprisingly slowly, taking 30 minutes to go round, so you will have plenty of time to spot landmarks, take photos, propose to your beloved, get married and celebrate the occasion with champagne! Combine your London Eye experience with a Thames River cruise. Online booking discount, (champagne supplied)!


Permanent collections in many galleries and museums are entry free. Some individually mounted temporary exhibitions within specified rooms may carry a ticket charge however, (bookable online or at the door). Check Shophound Alexia's comprehensive February Free London Diary for details.

Choose your Hotel OfftoLondon provides expert advice and secure booking facilities for your overnight, 'City Break' or long term London accommodation requirements; from de-luxe 5-star hotels to comfortable backpacker's hostels.

Burlington Bertie's Highlights Memo
Book online NOW for RHS Chelsea Flower Show, Public Days 25 - 29 May, 2010 to ensure your tickets.
Burlington Bertie's Top Tips

With the US $ at a five year high against the £ and Euro, this is a perfect time for dollar holders to make the most of Europe. Add spice to your London visit with a "Weekender" trip to Paris and Rome.

Day rail trips via Eurostar from London St. Pancras to Paris for a morning's shopping, afternoon visit to the Louvre and evening meal on the Seine are now a popular excursion option. Offtolondon's associated companies, travel specialists Offtoparis and Offtorome will take care of all your travel and accommodation requirements and show you the sites.

A Night 'On the town'
While in Festive London, treat your partner to a great evening out 'On The Town' with OfftoLondon's superbly priced theatre and dinner packages.

Spare a day of your stay in London to take advantage of Offtolondon's discounted whole day visit by luxury coach to Windsor Castle, Stonehenge and Regency Bath for just $92.

Choose your Hotel
Use OfftoLondon's hassle-free and secure booking facilities to obtain the best internet prices for your overnight, 'City Break', or longer term accommodation requirements; from de-luxe 5-star hotels to comfortable hostels.

Book your tickets online
Book all your tickets and London Travel Passes with Offtolondon.com to ensure best seats and best prices at the events, exhibitions and shows of your choice without the hassle of price bargaining and queuing on the day.

London Transport Oyster Card
The Central London congestion charge zone for visitors driving in London now covers all main areas of attraction. It makes sense to travel by the safe London Transport bus or Tube. Buy a multi-journey Oyster Card before you arrive, (you can top this up at will), and you will save money, time and hassle.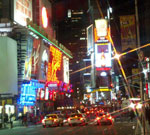 New York City Breaks
Christmas shopping in the Big Apple is an exciting option. Soak up style on Fifth Avenue at Bergdorf Goodman or Sachs Fifth Avenue. Buy your digital cameras and gadgetry for fabulous prices at specialist Adorama on West 18th Street. Take in a Broadway Show, dine superbly and see all the landmark sites.
New York! New York! Its a Wonderful Town!
Check it all out at A Traveller's Guide to New York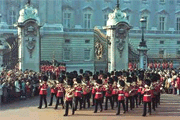 London in One Day Sightseeing Tour
8.5 - 9 hours - Drive to Westminster, past Downing Street, home of the Prime Minister, and on to the Houses of Parliament and Big Ben. Stop for a visit inside Westminster Abbey, site of many royal coronations. Visit Poets' Corner and the tombs of many well-known scientists and monarchs. Also see the Chapel of Henry VII.
Stop near Buckingham Palace to see the colourful ceremony of the Changing of the Guard before driving through busy streets and past peaceful parks to Piccadilly, home of London's Theatreland. Pass Trafalgar Square with its impressive Nelson's Column and fountains, before reaching a traditional London pub for lunch.
The afternoon starts with a cruise on the River Thames, during which a Thames Waterman will point out the places of interest along the way. Disembark to visit the Tower of London where you will meet the Beefeaters clad in Tudor uniforms, hear the legend of the ravens and some spine chilling tales from the Tower's 900 year history. You will also see the Crown Jewels, magnificently displayed in the new Jewel House.
Click for more information