Valentines, Roses & Perfumed Lingerie

Chocolate Gifts for Valentine's Day, Mother's Day and Easter
by Shophound Alexia


russels has for long been the undisputed chocolate capital of Europe, with more chocolatiers per square mile than anywhere else in the world! But London and Paris cannot now be far behind. I am about to set out on a Three City Willy Wonka Eurostar quest in search of my own 'Chocograil'; the perfect Champagne Truffle!

London is, of course, my journey's starting point - and I shall end there. I shall not be surprised to prove that, while Belgium has the most chocolate factories and the French blithely assume that they are the best chocolate makers simply because they are French, London now has unbeatable, award winning, chocolatiers.

This is a busy time for London's growing band of specialist chocolate makers. Britain consumes more chocolate per head than any other country and our chocolatiers will probably sell more delectable chocolate truffles, pralines and eggs between now and the end of March than the rest of the year put together. They will be hard put to satisfy the demands and ever more chocsavvy London clientele who will be gifting loved ones on Valentine's Day, (14 February); Mother's Day, (2 March); and Easter Sunday, which falls on 23 March this year.

Here are my favourite London chocolate specialists together with their seasonal offerings that caught my fancy. Unless otherwise stated, all sell online, but a you may have to collect at their shop. A number also sell at Harrods, Harvey Nichols, Fortnum and Mason, Liberty, Selfridge's and elsewhere, but a personal visit to their shop, where you can sample the goodies, is infinitely more rewarding!

Mayfair and Piccadilly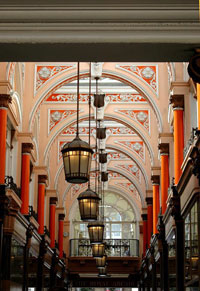 Charbonnel et Walker
The Royal Arcade, 20 Old Bond Street, Mayfair, W1S 4BT. Tel: 020 7491 0939.
London Transport: Nearest Tube: Green Park.
Concessions at Harrods, (Knightsbridge); Selfridges, (Oxford Street).
Holders of The Queen's Royal Warrant. We can thank the sweet toothed King Edward VII for this firm's presence in London. While on one of his libidinous incognito jaunts to Paris in the 1870s, when still Prince of Wales, his roving eye lighted upon the winsome charms of Madame Charbonnel while sampling her toothsome truffles. Not wishing to forgo such sweetness, he persuaded her to relocate to London where he set her up in partnership with a Mrs Walker, (were her wares also winsome?), in Bond Street, just a short walk from his Marlborough House residence in St. James's. The firm have gone from strength to strength ever since.
Their Valentine selection of dark and milk chocolates packed in attractive red heart-shaped boxes is offered in four different sizes from £10 - £60. The speciality Rose and Violet Creams and Violet Fondants are elegantly packed from £10, while their classic 'Boite Blanche', (White Box), presentation comes in a variety of sizes up to a whopping 4lb box for £150. But you can worm your way into my heart for just £10 with a box of their Bucks Fizz Truffles with their Marc de Champagne and Orange centres! Spend £40 here and you will receive a free box of Champagne Truffles for own delectation!
I liked the £48 Charbonnel et Walker Sparkling Celebration Hampers as a Mother's Day gift. They contain either a 3/4 bottle of Champagne with a box of Pink Champagne Truffles, a box of Pink Champagne Butter Hearts and a Pink Champagne Bar, or a 3/4 bottle of port, with a box of Port & Cranberry Truffles and a plain assortment box.
Bond Street's Royal Arcade is a favourite haunt of mine. As well as Charbonnel et Walker on the corner at No.1, it is also home to perfumier Linda Pilkington of Ormonde Jayne at No.12. Her new Perfum d'Or Naturel scents are a dazzling addition to her range. The matrix is made of natural sugars mixed with perfume and gold. Try Orris Noir, the black Iris of the Orient; your pot of gold at the end of the rainbow. This sensational perfume is for wearing after dark for the full incandescent effect on the dˇcolletage, shoulders and wrists, to shimmer beneath the candlelight as you slink your way into someone's heart! You can be really wicked, (this perfume is not for shrinking violets), and send your suiter or that man in your life an online hint about pleasing you with a gift of this heady fragrance.
Prestat
14 Prince's Arcade, St. James's, SW1Y 6DS.
London Transport:Nearest Tube: Piccadilly Circus; Green Park.
Royal Warrant holders as purveyers of chocolates to The Queen and to the late Queen Mother. This historic family-run firm dates back to 1902 when the original founder Antoine brought his skills in making chocolate truffles from France to London's West End, to the delight of King Edward VII's set and a long list of theatre illuminati such as the great Sara Bernhardt.
Their pink heart-shaped boxes of assortments are good value at £13.50 and £27.50. However, their Romantic Gesture offer will surely be the top favourite with ardent swains and their inamoratas. This is a package of twelve hand-tied red roses in a glass vase together with a heart-shaped presentation box of delicious choc assortment and a bottle of vintage Champagne; surely the perfect way to a lady's heart such as mine, and an elegantly romantic expression of love and affection at Valentine's Day, Easter or any other special occasion, come to that! It would certainly twang my heat strings! Order Online before 3pm, (2pm Saturday), for free delivery on the same day in the London and South-East England. Alternatively, order before 5pm for next day delivery elsewhere in mainland UK. Check out this offer, (from £54.99 - £99.99) on Prestat's website or, better still, call into the shop and discuss your floral requirements with the staff. Limited ranges of Prestat chocolates are also available in the food halls of Harrods, Liberty, Selfridges, Whole Foods Market, John Lewis and at Waitrose.
La Maison du Chocolat
45-46 Piccadilly, W1J ODS. Tel: 020 287 8500.
London Transport: Nearest Tube. Piccadilly Circus; Green Park.
Paris's favourite chocolatier, Swiss born Robert Linxe, opened his first shop in 1977. He now has a chocolate factory making for seven shops in central Paris, one in Cannes, two in London, two in New York and two in Tokio.
His Valentine's Day selections presented in a red book-shaped box start at £4.50. I particularly liked his Marrons Glacˇs, (glazed chestnuts), elegantly presented in gold box, (available October- March only). He also offers boxed Truffles in an interesting variety of flavours; apricot, caramel and coffee. The shop has a concession in Harrods food Hall.
Knightsbridge and Chelsea
Rococo
5 Motcomb Street, Belgravia, SW1X 8JU; Tel: 020 7245 0993.
London Transport: Nearest Tube: Knightsbridge.
321 King's Road, Chelsea, SW3 5EP. Tel: 020 7352 5857.
London Transport: Nearest Tube: Sloane Square.
This is the lovechild of chocoholic Chantal Coady, gold medallist artisan chocolatiere and author of The Chocolate Companion, (1995); Real Chocolate, (2003); and The Connoisseur's Guide to Chocolate, (2007). Chantal, a staunch campaigner for 'Real Chocolate' and one of the original founders of the Chocolate Society in 1981, moved on to open her first shop selling her own artisan chocolates in 1983. She treats chocolate as a sultry, sexy speciality, bringing a touch of decadent sensuality to our taste buds. Try her Truffle Collection, (from £12.90), and you will see what I mean! Her celebration Hampers list, (from £27.50 - £70), includes one with bottle of Premier Cru Champagne.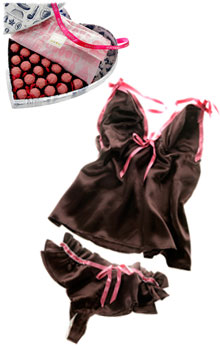 Chantal's sensual Valentine offer of a chocolate coloured, pink bowed silk lingerie set, tissue-wrapped and nestling hidden in a heart-shaped box of pink Champagne Truffles, presses all my right buttons, (£125). Her hand painted heart boxes filled with truffles also have great charm and the boxes will remain on a loved one's boudoir table long after the memory of the last cream truffle has faded. They come attractively packed and beribboned for £25.
I now regularly visit Rococo's new shop in Belgravia, off Sloane Street, to buy her award-winning organic drinking chocolate, to which I have become addicted. I mix it with coffee and powdered ginger and add a slice of orange peel, and honey to sweeten. Delicious! Try her artisan spiced chocolate flakes flavoured with with nutmeg, cinnamon and cardamom, (from £8.25 for 8.8 oz).
If you want to give your mother-in-law a bang on Mother's Day, Chantal's Chocolate Bomb might do the trick nicely! Light fuse, stand back and watch it explode, showering sweets, chocolates and almonds.
L'Artisan du Chocolat
89 Lower Sloane Street, Pimlico, SW1W 8DA. Tel: 020 7824 8365.
London Transport: Nearest Tube: Sloane Square.
Borough Market, Southwark, (Saturdays only). Nearest Tube: London Bridge.
I discovered the award winning, Brussels trained chocolatier Gerard Coleman and his delicious creations on one of my Saturday morning visits to the Borough Market, where he has a stall. His very smart shop is closer to home in Lower Sloane Street, Pimlico. I spent a richly instructive and pleasant hour in his shop recently, discussing chocolate and sampling, before coming away with a boxed assortment of Champagne Truffles and Gerard's signature liquid salted caramels.
His £100 Artisan Gift Pyramid and his £50 Rosewood boxed assortment make impressive gifts. The three tiered pyramid with well over 100 couture chocolates set in gold, includes truffles, liquid salted caramels, pearls, rochers, peels, nougats, gingers and more. It would make a fabulous centrepiece on my boudoir table or, (were I prepared to share), in the centre of the dining table at my next dinner party. Treat yourself to something as well! A small box comes for as little as £3.50.
Demarquette
285 Fulham Road, Chelsea, SW10 9PZ. Tel: 020 7351 5467.
London Transport: Nearest Tube: South Kensington.
Award-winning British chocolatier Marc Demarquette learned his art in Paris from a number of master chocolatiers before setting up shop in London. He now supplies Fortnum and Mason with a collection of 16 differently flavoured bespoke chocolates as well as hand making chocolates for sale in his shop.
For Valentine's Day, Marc is producing hand painted luxury hand-made chocolate Hearts using his unique blend of white, milk and dark chocolate couverture. Other gifts for your Valentine include simple plain, individually hand-painted or even 24 karat gold leafed hearts, each tied in a heart box with dried rose petals and filled with an assortment of ganache and praline chocolates. His hand-painted chocolate using Japanese Sakˇ sounds interesting and is just one of many flavours ranging from the usual to the exotic. I look forward to booking a place at one of his special Tastings.
City of London
Paul A Young Fine Chocolates
20 Royal Exchange, Threadneedle Street, EC3V 3LP.
London Transport: Nearest Tube: Bank.
Paul Young, award winning artisan chocolatier TV chef, has recently opened up a shop in the City where he is producing a variety of weird and wonderful chocolates which he sells in purple boxes. They are handmade in limited quantities each day so you need to get there early if you want to ensure you come away with a box of his exquisite award winning dark truffles. I mentioned 'weird and wonderfu'l - how about a Marmite Guinness Ganache...good for a Paddy's Day present, I suppose!
Charbonnel et Walker
Promenade Level, Cabot Place West, Canary Wharf, E14 4QT. Tel: 020 7512 9168.
London Transport: Nearest Tube: Canary Wharf.
See my comments above in the Piccadilly section for details
Related Links
Academy of Chocolate, UK
Seventypercent.com
Valrhona, France
Chocolaterie de l'Opera, France
Amadei, Italy
Schaffenberger, San Francisco
If you have a question, contact us and we will do our best to provide answers.

© offtolondon.com All rights reserved.