Venue: Natural History Museum, Cromwell Road, SW7.
Dates: 20 - 24 February, 2008.
Tickets Shopping: Book online or call 0870 890 0097. Tickets are sold on a timed and strictly limited basis to ensure a modicum of decorum in the rush - so hurry!
Wed. 20 Feb, Grazia Preview Evening. 5pm-9pm, £15.50;
Thurs. 21 Feb,11am-2pm/1pm-4pm/5pm-9pm.£10.
Fri. 22 Feb, 11am-2pm/2pm-6pm. £10.
Sat. 23 Feb, 10am-1pm/1pm-3pm/3pm-6pm. £10.
Sun. 24 Feb, 10am-1pm/1pm-3pm/3pm-5pm. £10.
Tickets Catwalk: Hourly Shows each day. £5.
Book online or buy at event. Tickets for the catwalk shows are sold on a timed and strictly limited basis.
London Transport: Nearest Tube: South Kensington; Gloucester Road
London Fashion Weekend 2008
with
Shophound Alexia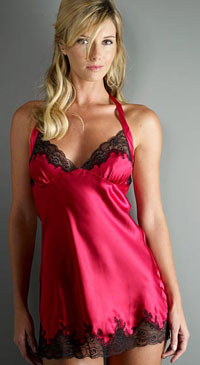 Photo credits: La Senza. Jennifer Red.

Grazia, the magazine sponsors of London's annual Fashion Week attended by the world's press and trade buyers, sign off again this year with their now immensely successful London Fashion Weekend. This retail fashion and beauty follow-up to the Fashion Week takes place on the lawns of the Natural History Museum. It is an exclusive shopping experience that was once something of a fashion insider's secret but is now a wildly popular ticketed retail event. This year we shall have the added bonus of catwalk shows each day, together with a running commentary on new trends to inspire us in our fashion forays for the autumn season ahead.

This is a great opportunity to see and buy what the world's fashion editors will be burbling about in the glossies later in the year. Collections from over 140 London Fashion Week designers of clothes, lingerie and accessories such as Ben de Lisi, Betty Jackson, Paul & Joe, Beatrix Ong, John Smedley, Karl Donoghue, Juicy Couture, Daks, Charlotte Vasberg, Tabitha, Anne-Louise Roswald, Gharani Strok, Janet Reger, La Senza, and others go on sale at greatly reduced prices. This is the sort of event that has us fashionista bargain hunters drooling in anticipation as we make our way to South Kensington, credit cards at the ready.

Whilst there, we can pamper ourselves with a make-over and pick up some trendy style and beauty advice. Experts from Elizabeth Arden, London Fashion Week hair stylists Toni & Guy, Revlon and St. Tropez are on hand to help with make-up, hair styling, manicure and nailcare, and tanning tips. When we have bought a little number that caught our eye in the catwalk show, we can make our way to the Campari Lounge for a relaxing aperitif or the Chambord Bar for a rejuvenating glass of champagne. We shall have earned it!

Vintage is hot fashion for the individualist and inspiration for the style creator. I shall see both on 4 March at Christies, the auctioneers in South Kensington on 4 March for their bi-annual Twentieth Century Fashion Auction. Prized lots include a late 1940s Hermès coat, 1960s graphic Pucci pieces and some trend-setting Ossie Clark pieces from the 1970s. Fashion connoisseurs will also be interested in 1950s printed coats from Pierre Balmain, 1980s ballgowns by Elizabeth Emanuel and Vera Wang's bespoke 1990s evening wear, as well as vintage accessories, handbags, luggage and jewellery. Estimated prices range from £200 to £2000.

Internal Links
Valentines, Roses and Perfumed Lingerie Hot for Chocolate!
London Shopping Shophound Alexia's round-up of West End department stores and specialty shops.
Lingerie shopping for Valentine's Day Where and what to buy for a night of romance.
Off to Paris Weekend breaks via Eurostar. Day and Discovery tours, Shows and hotels. Book online

If you have a question, contact us and we will do our best to provide answers.

© offtolondon.com All rights reserved.