OUT & ABOUT HOME
| London's Royal Palaces & Attractions.

Clarence House

with Burlington Bertie .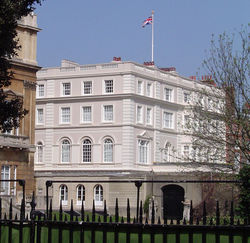 Clarence House. Photo credit: Wikipedia

Venue: St. James's Palace, SW1A 1BS, (entry from the Mall). Tel: 020 7766 7303.
Access: Ground floor suite. Opening hours, 5 August - 28 September, 2008. Daily 10am-5.30 pm, (last admission 4.30pm). As Clarence House is a working royal residence, opening arrangements may be subject to change at short notice. Wheelchair accessable. No public toilet facilities.
Tickets: Adult. £7.50, (Concessions). Prebook online, telephone or email only. Tickets are strictly time/date sensitive and not available at the door.
Getting There: Nearest Tube. Nearest Tube: Green Park, (Piccadilly and Victoria Lines).

Clarence House is the official London residence of Charles, Prince of Wales and his wife Camilla, Duchess of Cornwall and a part of the St. James's Palace complex.

A fine Regency house by John Nash, it was built in 1825-8 for the aging Prince William, Duke of Clarence, (George IV's jovial younger brother), who had found St.James's Palace too cramped following his belated dynastic marriage to Princess Adelaide of Saxe Meiningen in 1818 after siring 10 Fitzwilliam children by Mrs Jordan. He retained the house upon his succession to the throne in 1828, preferring it and the amenities of St.James's Palace to the still unfinished Buckingham Palace. We are perhaps fortunate that Queen Victoria was able to make Buckingham Palace the Sovereign's official London residence when she succeeded him in 1837. William IV had described it as "a most ill contrived house", unsuccessfully proposing first, that it be converted into an army barracks, and later that it be adopted as the new Parliament House when the old one burnt down in 1834.

Although Victoria never lived there, Clarence House continued an almost uninterrupted Royal history following the King's death without legitimate heir. Her sons, Prince Alfred, Duke of Edinburgh (1844-1900) and Prince Arthur, Duke of Connaught (1850-1942), lived there. Princess Elizabeth moved there with Prince Phillip following her marriage in 1947, living there until her accession in 1952. Diana Spencer stayed there prior to her Royal Wedding in St. Paul's Cathedral in 1981.

The house has frequently been remodelled by successive generations of Royals and was extensively refurbished and redecorated after the war when it suffered bomb damage, and again prior to its new incarnation as the Prince of Wales's official London residence.

Burlington Bertie's Verdict:

Clarence house is of interest to visitors as the London home of the late Queen Elizabeth, The Queen Mother. She moved there with Princess Margaret after vacating Buckingham Palace following the death of her husband King George VI in 1952. The Queen Mother, maintained a long tradition of appearing outside Clarence House to celebrate her birthday each 4 August with the hundreds of well-wishers. The ground floor suite of five rooms where The Prince of Wales and The Duchess of Cornwall undertake official engagements and receive guests from around the world are open for a 45 minute guided tour. The refurbished rooms are decorated with items from The Queen Mother's superb collection of works of art and furniture; a collection strong in twentieth-century British art, with important works by John Piper, Graham Sutherland, WS Sickert and Augustus John. Some fine Fabergˇ, English porcelain and silver from her collection is also on display.

There are no public facilities available and latecomers for their timed ticket entry cannot be admitted. Visitors will, however, gain little insight into the interesting history of the house and its original residents, the now largely forgotten but, in their time, immensely popular, (judging from the number of pubs named after them), King William IV and his consort, Queen Adelaide.

© offtolondon.com All rights reserved.