Royal Hospital Chelsea


Royal Palaces & Attractions
with Burlington Bertie .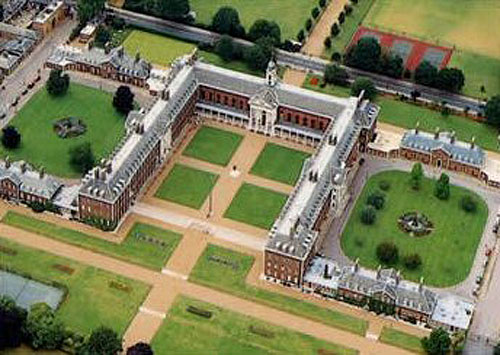 Tel: 020 7881 5244 or 5463
Free Access subject to special events: Buildings: Mon-Sat, 10am to 12 noon and 2pm to 4pm. Suns 2pm to 4pm;
Grounds: Monday-Saturday 1-30 April 10.00 am -7.30 pm
1 May -31 August 10.00 am -8.30 pm
1-30 September 10.00 am -7.00 pm
1-31 October 10.00 am-5.00pm
1 November-31 March 10.00am -4:30pm
Sunday - The Grounds open at 2.00pm
Wheelchair accessible
Tickets: FREE. Wheelchair accessible.
London Transport: Nearest Tube, Sloane Square.

The Royal Hospital Chelsea was founded by King Charles ll in 1682 as a hostel for regular army veterans who had become unfit for duty either through age, long years of enlisted service or combat. The concept of a hostel for heroes was probably inspired by the Hotel Des Invalides in Paris, founded by Le Roi Soleil, French King Louis XlV in 1670. Charles had heard much about this from the Duke of Monmouth, his eldest and favourite illegitimate son by his mistress Lucy Walters. Myth also has it that Nell Gwyn, who later supplanted Lucy in the monarch's extramarital affections, used her charms to persuade the King to fund a similar project.

There was no Government money available for this so the cost was met privately by the King with the help of Sir Stephen Fox, his military Paymaster General, who mortgaged his military commission to buy the necessary land outside London in the then outlying village of Chelsea. Sir Christopher Wren who, as King's Surveyor, was engaged in re-building St. Paul's Cathedral and city churches gutted in the 1666 Fire of London, was instructed to design and build the proposed Royal Hospital there. His scheme, completed in 1691 is an architectural design of great charm, comprising a Great Hall and chapel bordered by two residential wings built in brick with stone trimmings and a grand portico. Its elegant, if somewhat austere, design helped to establish what came to be considered as an indigenous Classical style, becoming the prototype for educational and institutional buildings in England, Canada and what were then the British colonial settlements in North America.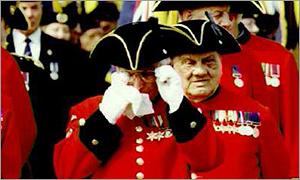 Today some 400 In-Pensioners live at the Chelsea Hospital. They are drawn from veterans, (Out-Pensioners), now of both sexes, of good character, aged at least sixty-five. On admission, veterans surrender their army pension in return for board and lodging, medical care and clothing, which includes their distinctive scarlet coats and tricorn hats styled on 18th century army uniforms. Daily routine is still run on military lines with a Governor and Lieutenant Governor, assisted by an Adjutant, Medical Officers, Army Chaplain, Quartermaster and the six 'Captains of Invalids' who command the six Companies of In-Pensioners. They parade before matins each Sunday and on Founders Day. The Pensioners make a colourful addition to Chelsea's King's Road.
The Royal Hospital grounds are home to the Royal Horticultural Society's annual May spectacular, the Chelsea Flower Show; gardening highlight of London's social season since 1913, when it was opened by Queen Mary. It has been patronized ever since by green-fingered members of the Royal Family. The RHS Flower Show is not the best time to see the Hospital and its grounds. They are open to the public free of charge thoughout the rest of the year. Call 020 7881 5244 and book yourself a guided tour led by a red coated Pensioner. My colleague Shophound alexia found this a delightful experience, and her red-coated, tricorn hatted guide, a veteran of the Korean War, obviously enjoyed himself posing with her for a photograph!
Related Links
Royal Hospital, Chelsea.
RHS Chelsea Flower Show


© 2016 offtolondon.com All rights reserved. Contact Us