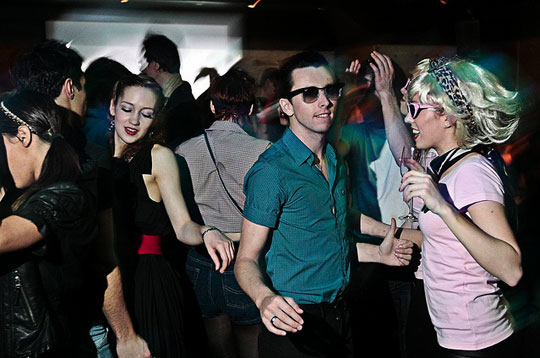 London Club Guide

Five Clubs to Spot a Celebrity in London

With football stars, legendary musicians, and knighted actors, London has a reputation as a city buzzing with celebrities. But before you start fantasizing over impressing Chris Martin or Gwyneth Paltrow with your dancing skills, remember that you are in the original land of nobility. Stars in London are used to getting the ultimate royal treatment far from the prying eyes of the peasantry, which is why we here at Party Earth are here to help. Because if you want your chance at a London celebrity sighting you better know where to go and be ready to look the part. So brush off that snazzy sports coat or make a shopping stop at Regent Street, because here are five exclusive clubs in London where you'll have the best chance of finding your favorite celebrity.

McQueen
Named after the king of cool himself, McQueen is an ultra-sleek nightclub and lounge in the Shoreditch neighborhood of London. Purple and blue hues pervade under the dim gold lighting while deep black leather banquettes and sofas balance the rooms. Three separate areas provide the power players and swank fashionistas with a place to eat, drink, and dance, but the masculine coolness of the venue is topped off with what goes on in the basement. Its Thursday night burlesque shows and late-night DJs are famous for inspiring the sort of antics that would have made the legend himself proud. McQueen, with its crafted cocktails, risqué environment, and trendy clientele, will be a likely place to spot a celebrity dressed to impress. You might even test out the inherited moves of Jade Jagger who's been known to dance here from time to time - luckily you can do so with impunity as the rest of the crowds will be distracted by the cabaret.

The Cuckoo Club
Deserving of its own Lifestyles of the Rich and Famous episode, The Cuckoo Club is where the city's finest throw on their Louboutins and little black dresses for a night of glamour. Competing with clubs in LA for its constant celebrity sightings, the Cuckoo Club is a prime suspect for spotting stars looking to hit the dance floor. Make a reservation and arrive early to this lavish spot because the lines are guaranteed to be stiff. And keep your eye out for British and American royalty - both Prince Harry and Eva Longoria have been spotted here.

Shoreditch House
You might not look twice at this featureless four-story building, but within its upper three floors is an exquisite members-only club known for its celebrities, athletes, and affluent corporate-types that relax and socialize in its tranquil environment. By far, the highlight of the Shoreditch House is its rooftop. Perched on the roof are a restaurant/bar, a crystal blue pool, and even a Lazy Lawn - a garden area with lounge chairs and beds perfect for a sunny day tan while sipping on world-class cocktails. But if you aren't a member, how do you get in? Well, tough luck Chuck. Just kidding, there is actually an adjacent hotel next door, and guests are welcome to use the club. So book yourself a room or be prepared to dish out a pretty penny if you want to muster up the courage to talk to Shoreditch House's famous patrons like Mischa Barton, David Beckham, or Emma Watson.

Ministry of Sound
Known around the world as one of London's top clubs, Ministry of Sound is the center of the trance and EDM universe. Some of the biggest DJs and electronic acts in the world have started out here. And with multiple DJ booths, colorful visuals, and an enormous sound system, Ministry of Sound has secured its reputation as London's hottest club for the biggest names in electronic music like Tisto, Erick Morillo, and David Guetta. Serious audiophiles will want to share in the multisensory experience that is The Box - Ministry of Sound's soundproofed room with one of the best systems in the country. If you can take a break from dancing, celebrity sightings are routine here and the chart-topping DJ Calvin Harris is a known regular.

Mahiki
Mahiki will be the best gamble for those looking to simply get hammered with some celebrities and have a rowdy good time. The Polynesia-inspired club has two things going for it. First off, you don't have to be Prince Harry to get in - although he's been known to stop by. Secondly, the place is known for turning into an animated blur of debauchery. The downstairs dance floor is alive on any day of the week and the ripe talent mixed with the South Pacific flair will have you dreaming about your own From Here to Eternity reenactment. The upstairs lounge, with its tropical dcor, serves up fiery displays of entertainment - oh, and your cocktails will probably be on fire too. Everyone from David Hasselhoff to Rihanna has turned up here, so if celebrity sightings are your thing, be on the lookout at Mahiki.

For more articles and reviews, go to Party Earth.

© 2012 offtolondon.com All rights reserved.