SPOTLIGHT: 19 June, 2007

This Little Piggy Went to Market!

with Shophound Alexia .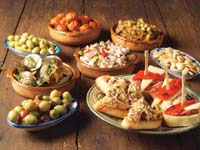 The Barkers Building, 63-97 Kensington high Street, W8 5SE7. Tel: Tel: 020 368 4500
Opening Hours: 8am-10pm Weekdays. 11am-6pm Sundays.
London Transport: Nearest Tube. Kensington High Street.
Whole Foods Market Recipes The firm run an extensive and varied recipe service. Recommended.

Burlington Bertie's Accommodation Choice: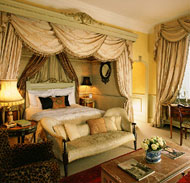 189-190 Queen's Gate, London, SW7 5EX.
The Gore is one of London's hotel gems. Dating from 1892 and still offering Edwardian elegance, hospitality and a certain quirky individuality, it gains Burlington Bertie's accolade for 'Courtesy, Comfort and Cuisine'. I love the richly furnished bedrooms with their antiques, (the Dame Nellie Melba Room gets my top vote); the lively Bistro restaurant and the famous Bar 190, much patronised by local residents who are likely to be from the worlds of Entertainment, fashion or publishing.
The Gore is a perfect base for visiting the Barkers Building, browsing for antiques in Kensington Church Street, enjoying the Princess Diana Exhibition at Kensington Palace or a Prom concert at the Royal Albert Hall.


Find Another Hotel


ood shopping just got a whole lot more exciting!

One of the pleasures of our recent self-catering vacation in Canada was shopping at Toronto's 'Whole Foods Market' off Bloor Street. I was delighted to discover, therefore, that this immensely popular, environmentally friendly, American supermarket chain has crossed the Atlantic and now opened up in London's West End. They have taken over and renovated the famous 1920s Art Deco Barker's Building in High Street Kensington, a short walk down from Kensington Palace.

Judging from the crowds of shoppers I saw there last week, their advent promises to have a major impact on the London supermarket grocery scene, not to mention High Street Kensington and the Royal Borough of Kensington and Chelsea. They are offering us enticingly presented, fresh, wholesome, tasty, where possible organically grown, food that is guaranteed free from artificial preservatives, colours, flavours, sweeteners and hydrogenated fats.

My mother remembers Knightsbridge and Belgravia when Brompton Road, Sloane Street, and Elizabeth Street had their fishmonger, greengrocer, family butcher with sawdust on the floor, baker and dairy. These premises are all now High Fashion salons or jewellery boutiques. With their demise in London's neighborhood High Streets, our food shopping lost much of its pleasure when we took our shopping basket to the nearest conveniently one-stop but uninviting supermarket. But the American group have brought back some of that pleasure in what is to be their flagship European store at the stylish and historic Barkers Building.

Their artfully arranged fresh organic and conventional produce counters, (some 300 types of fruit and vegetables), prepared foods, cheeses cut from the wheel, properly hung butcher-trimmed meat and poultry sourced from British farms, and a fabulous seafood display of locally caught fish and shellfish, provide an atmosphere reminiscent of past times. And the tempting continental style 'street food' bars serving Japanese sushi, Spanish tapas, Normandy crepes, Italian ice cream, English oysters, hot grills and greens, are an unexpected added aromatic delight. I shall return!

London Farmers Market Links
Partridge's Food Market, Chelsea Duke of York Square, King's Road. Chelsea. Saturdays.
Pimlico Road Farmers' Market Orange Square, SW1. Saturday mornings.
Borough Market London Bridge, Southwark. Thursday-Saturday.






© 2007 offtolondon.com All rights reserved. Contact Us