SPOTLIGHT: 16 February, 2007
The National Wedding Show

with Shophound Alexia .



Venue: Olympia grand, Olympia Exhibition Centre, W14.
Date: 23/24 February, 10am-6pm; 25 February, 10am-5pm.
Tickets: From £12. Online discount, (recommended).
London Transport: Nearest Tube: Olympia.

Burlington Bertie's Accommodation Choice: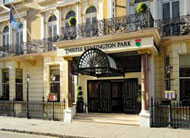 22 Basil Street, SW3 1AT
Thistle Kensington Park offers 3-star comfort in the quiet De Vere Gardens, close to Olympia. It is just minutes away from Kensington Palace, Knightsbridge and Harrods, the West End theatres and shops. There are many interesting international and ethnic restaurants nearby and the hotel itself has a restaurant, lounge and bar which serves drinks, light refreshments and meals. All air conditioned bedrooms are equipped with high speed internet access. Rates include full English Breakfast.



Find Another Hotel


id Valentine's Day go according to plan? Then drag your 'Intended' off to Olympia this coming weekend for the National Wedding Show! This must be Britain's biggest Wedding department store; a Bridal Spa featuring some 300 exhibitors offering the complete package including designer bridalwear, groomswear, occasionwear, accessories, photography, flowers, honeymoon destinations, venues, cakes champagne, gift lists and much more under one roof. This is very much a hands-on exhibition where you can enjoy free makeovers, pampering, fashion shows and sample the champagne before you tie the knot.

On the catwalk, (shows four times daily), you will see this year's classical bridal fashions highlighting Lace Dream (a neutral palette with lace detail), Pearl Bride (neutral again, with pearl and beading detail), Understated Excellence (simple lines with minimal detail) and Sparkling Nights (a slinky look featuring diamante and silver touches). For the modernists there is Metallic Haze (gold and silver with a metallic finish) and Bold & Beautiful (bright shades or flashes of colour). There are lots of freebies and special promotional offers to be picked up. Tops among these are a wedding in Coconut Bay, St. Lucia, and a honeymoon trip to Paris.





© 2007 offtolondon.com All rights reserved. Contact Us