SPOTLIGHT: 18 April, 2007
Tiptoe through the Tulips

with Shophound Alexia .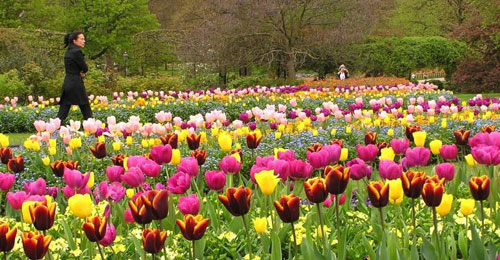 shall walk in Kensington Gardens this week, enjoying London's spring sunshine and unseasonably warm temperatures. The paths are now bordered by a breathtaking annual display of rich and gloriously mixed colour as thousands of blooms come into full flower. It's tulip time!

Burlington Bertie's Accommodation Choice: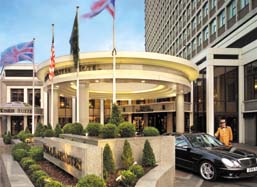 Lancaster Terrace, Bayswater, W2 2TY.
4-Star comfort in this immaculate modern hotel with truly breathtaking views over Hyde Park and Kensington Gardens from the en-suite rooms, make this a perfect place to enjoy London in springtime. The Royal Parks are now at their most beautiful and London's West End shops, theatres and restaurants are nearby. Enjoy Saturday hunting for antiques and collectibles in the famed Portobello Road Market just a few minutes walk away, then relax over a drink in the Lounge Bar before sampling the award winning Thai cuisine, or dining in the super-chic Island Restaurant overlooking Queen Victoria's Italian Gardens.



Find Another Hotel

I love tulips. I love the way they develop, flower and fade. The tulip is surely the most feminine of flowers. It is first prim, pert and proper in its youthful bud before it begins to open up and develop its full colour and hidden form. Then it comes to full rounded bloom, clothed in gorgeous satin-textured colours and tones to flaunt its sensual beauty in the spring sunshine, like those Edwardian courtesans who trotted down Rotten Row in the 1890s between Kensington Gardens and Hyde Park Corner, riding side-saddle on their high- stepping steeds. In maturity, the bloom begins to look a little blowsy and worse for wear as petals sag, droop and fall.

Tulip time has been a feature of Kensington Gardens since Mary Stuart, Queen consort to William of Orange, planted the first Dutch tulip bulbs here 300 years ago. When invited by Parliament to take the English throne upon the abdication of James II, the new King William III and his Queen chose Hampton Court and Kensington House as their London residences. Sir Christopher Wren to extended and transformed them into elegant symmetrical palaces with formal gardens and fountains in the Continental manner. Both enjoyed creating gardens, William busying himself with the fountains while Mary planted the flowers, shrubs and trees.

Later monarchs extended and embellished Kensington Gardens piecemeal. Queen Anne, last of the Stuarts, added the charming Orangery, where we now take afternoon tea, adopting the western section of Hyde Park between what is now Victoria Gate in the north and Alexandra Gate in the south. Hanoverian George II opened the gardens up to the public. Caroline, his Queen consort, commissioned the Round Pond and the Serpentine lake to border King William's originally private carriage way La Route du Roior, as London's cockneys have always pronounced it, "Rotten Row". Prince Albert commissioned the exquisite Italian Gardens with marble temple and fountains for Queen Victoria at the northern end in 1860, shortly before he died. Victoria erected her Albert Memorial to his beloved memory at the southern end. In Edwardian times, J. M. Barrie, author of Peter Pan, funded a children's playground, now transformed into the Princess Diana Memorial Playground. George Frampton's famous bronze of Peter Pan, erected nearby in secret overnight for May Morning in 1912, has been adored by children from 7 to 70 ever since.

The formal symmetry of William and Mary's garden was restyled by successive Kings and Queens as the Versailles look fell out of favour and more informal landscaping and planting came into vogue. But Mary's love affair with the Tulip lived on in Kensington Gardens. Join me there as I wander the paths, enjoying the magnificent and quite mesmerising display of serried ranks of thousands of blooms in every colour of the rainbow.

Equally spectacular displays can be seen at this time in St. James's Park, Kew Gardens and at the annual Tulip Festival, Pashley Manor Gardens, Ticehurst, East sussex; a delightful day's outing from London.





© 2007 offtolondon.com All rights reserved. Contact Us