SPOTLIGHT: 15 March, 2007
Swatch Alternative
Fashion week

with Shophound Alexia .



Nick Ingham @ SmilePlease.net. 


ondon's East End has changed since a rundown church in Spitalfields looked down over the smoke grimed alleys around Whitechapel and Brick Lane, where Jack the Ripper stalked his prey 120 years ago. Damaged in the Blitz, Nicholas Hawksmoor's Baroque masterpiece has been restored to its original glory and is now an artistic cultural centre as well as a flourishing church of God. The dread dereliction of lost souls that provided The Ripper with his hapless victims is gone and Spitalfields is now a teeming multi-cultural community dividing London's City from the East End; vibrantly alive with artists, bars, clubs, restaurants, ethnic shops and stallholders.

Having lost its centuries old fruit and vegetable market and Victorian slums, Spitalfields has reinvented itself as a vibrant market centre for delicatessen, collectibles, antiques, art and fashion that draws 25,000 visitors every week. In addition it hosts a flourishing summer arts festival, (about which more later), and the exciting annual Alternative Fashion Week, which runs next week from 19th to 23rd March at the Trader's Market in Brushfield Street.

This is an exciting opportunity for textile and fashion graduates and their colleges, young unknowns, independent designers seeking to establish a label, together with creative design talent from the worlds of theatre, circus, burlesque, carnival and fetish, to strut their stuff and flaunt their talent. The result is a thrilling international mix of creativity. As in previous years, I look forward to seeing original and innovative collections ranging from the sublime to the sensational; an exotic mix of the artistic and outrageous, European, African and Oriental, from the 80 or more designers who have been selected from the hundreds of applicants from as far afield as India.

Spitalfields Traders Market, Crispin Place, Brushfield St, London E1
Access: 12 noon - 3pm daily.
Tickets: FREE.
London Transport: Nearest Tube. Liverpool Street Station, (Central, Hammersmith & City, Circle and Metropolitan lines).

Burlington Bertie's Accommodation Choice: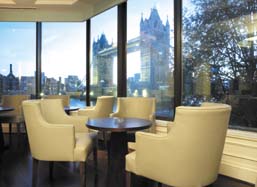 St. Katherine's Way, E1W 1LD
Located on the north bank of the River Thames next to the famous Tower Bridge and the Tower of London, the Tower Hotel, (a partner of the Cumberland hotel, Marble Arch), offers stunning Thames-side views and modern comfort just a short walk from Spitalfields, the East End and the City. Two restaurants, lounge, coffee bar and bar serve a wide variety of drinks, light refreshments and meals as an alternative to the many colourful ethnic restaurants and bars in the area.


Find Another Hotel

The 1.15pm catwalk shows are open to the public and feature 12 different designers or college groups each day. Original and recycled textiles are a major feature this year in the displays of womenswear, menswear, headwear, footwear, workwear, leisurewear, leatherwear, lingerie, latex, fetish and fantasywear. Modelling this exotic selection are new faces on our catwalks from Alternative Arts Training Course and Pulse, Earth, Sapphires, US, Liveface, MOT MODELS, Zebra, Shout and Beau-Belles Model Agencies.

Here are the week's catwalk line-ups:

19 MARCH

Ilius Ahmed, Chelsea College of Art & Design, Laylah Grace Clough & Jenny Coulman, Phoebe English, Nicola Garratt, Diane Giraud, Pippa Homan, Stevi Jelbart & Emma King, Lucia Liu, Liverpool John Moores University, Krofl Mateja, Victoria Mcbryde, Petra Mcnulty, Tom Mower, Ichiro Suzuki, People Tree, Lilia Yip.

20 MARCH Rachel Antonio, Cat Carroll, Annaliese Cassidy, City & Islington College, Akemi Doi, Nicola Dye, Anna Felton & Emily Squires, Fatz Kassim, Jo Lee, Helle Helt Molgaard, Newham College, Jessica Odoi, Pearl Academy of Fashion, Priestnall School, David Sparey, Danijela Stojanovic.

21 MARCH A-Team Arts, Gwenllian Ash, Joanna Blake, Nichole de Carle, Emmeline Child, Colchester School of Art & Design, Hackney Community College, Barbara Ann Houghton, Ross Jenkins, Emma Kempton, Ian Labeija, Melanie Palmer, Susana Diaz-Parrillo, Dawn Priestley & Steven Attenborough, Sophie Reeve, Sophie Soni, Therese Ward.

22 MARCH Barnet College, Lucy Bennett, Eleanor Callaghan, Nico Didonna, Sebrina Fairbairn, Hackney Community College, Roseanna Hyatt, Fam Irvoll, Middlesex University, Emese Nagy, Oxford & Cherwell Valley College, Jatin Patel, Rinell Ponceleon de James, Natalie Pond, Rolana Redway, Anna Toumaala, Sarah Pui Mun Wong.

23 MARCH Alex Barrett & Kerrie Scott, Derby University, Angela Coup & Carol Robinson, Sabine Fouchier, Jasper Garvida, Karin Helen Grontvedt, Saia Ikavalko, Laura A. Jones, Kensington & Chelsea College, Chrissie Nicholson, Rachel Plant, Rachel Pritchard, Camilla Ruiz Ramirez, Ricardo Ramos, TRAID, Waltham Forest College.

The catwalk shows are closely followed by the fashion press and industry, and shop buyers hoping to spot and pick tomorrow's Lagerfeld or Chanel, so if you want your free seat, arrive early. A fashion market with stalls selling an exotic range of clothes, textiles and accessories will prove diverting after the catwalk show.

Related Links
Jack the Ripper's Sinister London Tread in the footsteps of the infamous Jack The Ripper down the dark, narrow, gas-lit alleyways immortalized in such films as "From Hell". Led by one of the renowned London Blue Badge Guides, you will visit four murder sights. Your "Ripperologist" will run through some of the suspects who sparked a Victorian Whodunit that'll leave you as gripped as its victims.





© 2007 offtolondon.com All rights reserved. Contact Us