SPOTLIGHT: 13 August, 2007

The Selfridges Wonder Bar

Pour your own wine at this new shopper's pit stop
with Shophound Alexia .


am always waxing lyrical about the pleasures of lunching beneath the Tiffany Blue skylight of Harvey Nichols super 5th Floor Restaurant. This is the perfect place to pause between a busy morning's Knightsbridge shopping, and a relaxed afternoon browsing perhaps among the antiques and collectibles stalls at Antiquarius in Chelsea's King's Road.



Selfridges

400 Oxford Street, W1A 2LR.
Opening Hours: 9.30am-9pm, Mon-Sat. 11.30am-6.15pm, Sun.
London Transport Nearest tube. Marble Arch, Bond Street.

Burlington Bertie's Accommodation Choice.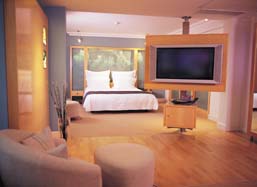 Marble Arch, W1A 4RF
Synonymous with Marble Arch which it overlooks, the recently refurbished Cumberland is a 4Star designer style hotel with the focus on contemporary style, design, comfort and personal service. Bedrooms and suites have their own unique style differing from each other in both design and personalised works of art. Two bars and signature Brasserie Restaurant offer a contemporary dining and hospitality, while the hotel's fitness centre provides excellent work-out facilities for the energetic. Mayfair's Michelin starred restaurants and West End's Theatreland are on your doorstep.



Find Another Hotel

Harvey Nichols have set the New Millenium standard for in-store restaurants in London and others have been keen to emulate their flair. Selfridges now complements its excellent Food Hall, restaurants and cafes with an exciting new venture; the Wonder Bar.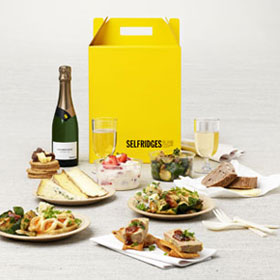 This week my friend Georgina and I visited Selfridges to buy some of Bill McCarrick's award winning Sir Hans Sloane Chocolates and check out the Selfridges Picnic Boxes for our Saturday evening Heritage Picnic Concert at Marble Hill House, Tickenham. It was then that we discovered their ground-breaking new wine bar. The next time we shop in Oxford Street, (not for the faint hearted during the Christmas rush and Sales weeks), we shall certainly make our lunchtime pit stop at this palatially fronted Store's new Wonder Bar. Its great attraction is a self-service enomatic 'juke box' from which you can choose from no less than 52 different wines and vintages, (reasonably priced from £3.50 per glass). Add to this a superb smorgasbord of charcuterie, crustacea and cheese to complement the chosen tipple you have poured, and you have what I am sure will be a popular lunchtime venue for the W1 shopper and Mayfair office worker.
On our visit, I poured myself a glass of Pinot Grigio and chose the crustacean platter selection of Spiny Lobster, Dorset Crab, Scottish Langustines,and potted Morecambe Bay Shrimps, (£19.95), to accompany it. Georgina, (the skinny bitch who never has to watch her calories), poured herself a glass of Bordeaux Claret and then tucked into a Continental Cheese Board of French Brie, Buffalo Mozzeralla, Spanish Manchego and Italian Gorgonzola which came with celery, pears and an interesting Quinze paste, (£9.50).
Having fortified the body after a morning's shopping in Oxford Street, we were in the mood for a more leisurely saunter through Mayfair to the Fine Art Society's premises and gallery in New Bond Street to see their contemporary exhibition Monochromed 2: White Out.
The Heritage Picnic Concerts at Marble Hill House, the stately 18th century Palladian villa set in 66 acres of spectacular Thames riverside parkland, take place every weekend during August. Selfridges card holders can buy tickets at a special 10% discount, available by calling 0870 890 0146 and quoting "Selfridges". We booked the 12 August Four Seasons and Fireworks Spectacular. For our picnic we chose the Selfridges Picnic Box for two Gourmet Treasure costing £115. It includes a mouthwatering selection of :-
Slices of paté de foie gras with homemade ruby port jelly and melba toast
Royal fillets of London Cure smoked Scottish salmon encroûte with a sweet mustard & dill sauce served with a new potato & landcress salad and char-grilled courgette & roasted garlic salad.
Eton mess with English strawberries, whipped cream, crushed meringue and a drizzle of Marsala.
A selection of classic British cheeses with organic oatcakes, butter and home made fig chutney.
A half bottle of Selfridges Brut Champagne.
Related Links
Harvey Nichols, Knightsbridge What's On at this great West End Store.
Selfridges Picnic Boxes Describes the many and varied Selfridges restaurants, cafes and bars.
Sir Hans Sloane Chocolate & Champagne House of London. If you can't make it to Selfridge's, order online.
Fine Art Society A superb repository of fine and decorative art and artifacts from 17th - 21st century, and contemporary art gallery. Current exhibition until 24 August.
Marble Hill House
© 2007 offtolondon.com All rights reserved. Contact Us