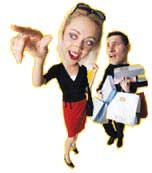 An OfftoLondon Christmas Shopping Feature:


Stir Up a Dickensian Christmas Pudding

with SHOPHOUND ALEXIA.

Charles Dickens, author of the perennially seasonal favourite fable A Christmas Carol lived for a time in Doughty Street, near London's British Museum in Bloomsbury. He wrote both Oliver Twist and Nicholas Nickleby there in 1839. The house is now a museum to his memory, filled with his furniture and memorabilia. At this time of year his house sparkles with a large decorated Christmas tree, popularized by Queen Victoria and Prince Albert in 1841 and later enthusiastically described by him in the magazine Household Words.

For 2006, the house will be fully decorated for a traditional Victorian Christmas from 29 November. There will be a reading of A Christmas Carol on 14 December, (booking essential), and you can meet members of the Dickens family in person at an Open House evening on 16 December.

Culinary preparations for Christmas began early in the Doughty Street kitchen of Charles Dickens; on a November Sunday after church to be exact. The Christmas Plum Pudding is traditionally made on 'Stir Up' Sunday, immortalised in the Prayer Book's Collect for the Sunday before Advent which begins with the culinary invocation :
"Stir up we beseech Thee O Lord..."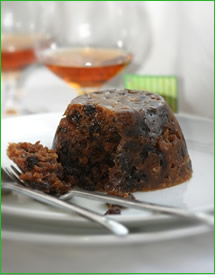 Photo: Famous Christmas Pudding Co.

The iconic English 'Plum Pudding' has been around for three hundred years or more. But it was not until the mid-19th century that it took on its particular Christmas appeal. To do so it had to metamorphose from an unappetising slop to a solidly dark, spicy, aromatic cannonball-shaped pudding filled with dried fruits and laced with cider, sherry, brandy or rum. The triumphal entry of the Christmas Plum Pudding, topped with a sprig of holly and alight with the flickering blue flames of burning brandy, is now the traditional highlight of the English Christmas dinner, thanks in large part to the description of this moment by Charles Dickens in A Christmas Carol; a moment of drama, of reverential joy and shared memories of family Christmases Past.

In the days of Queen Victoria's far-flung Empire, the Christmas pudding followed the Flag, travelling the oceans to be duly served up as a reminder of home in faraway Dominions or "the steamy Jungles of Darkest Africa", (to quote the purple prose of an 1896 London magazine article on the subject), where a hot steaming Pudding must have been as incongruous as an iced lolly in an igloo. But it was a symbol of home, as traditionally English as a 'Stirrup Cup' with the Beaufort Hunt on a frosty December morning in Gloucestershire.

Few have much stomach for rich Plum Pudding after liberal quantities of Christmas turkey accompanied with all the traditional trimmings. But the hallowed family ceremony of 'Presenting the Pudding' is still the highlight of our family Christmas dinner. I shall make my grand entry with the flaming Pudding to appreciative "ooohs" and "aaahs", just as Dickens described Mrs Cratchet's entry in A Christmas Carol.

While The Queen enjoys a homemade Christmas pudding, (made to a secret Royal Household recipe), at the annual Royal Family get-together at Sandringham each year, she traditionally buys some 1400 ready-made ones for gifts to staff at Buckingham Palace, Windsor Castle, Sandringham and Balmoral. They will be repackaged in silver foil tied with a blue bow and Christmas Greetings tag from The Queen and Prince Phillip.

Purveyers such as the longstanding Royal Warrant holders Fortnum and Mason of Piccadilly, Prince Charles's own Duchy Originals, National Trust, Tesco and others bid keenly for The Queen's $20,000 bulk Pudding order. But the offered pudding must first pass a blind tasting test by the Master of the Royal Household and, it is said, the appreciative lips of Her Majesty herself.

If you wish to stir up your own Christmas plum pudding, try Britannia.com's traditional recipe It takes time to make and requires pre-cooking for some hours before further steaming or micro-waving on Christmas Day. However it matures and keeps so well that it is worth making two for the effort of one. As The Queen has discovered, a Plum Pudding makes an excellent Christmas present, along with homemade conserves, cookies and chutneys.

London's top West End stores all pride themselves on the quality of their Plum Puddings. This week I checked them out for the best buy, while looking for Christmas stocking fillers and hostess gifts. The Department Stores I visited below all sell online, though there is nothing to beat the pleasure of personally browsing among the colourful and toothsomely exotic gourmet goodies on display! The West End branches of the supermarkets I list below have online ordering and local home delivery. Check the relevent website for details.

Department Store Foodhalls


Fortnum and Mason of Piccadilly181 Piccadilly, W1A 1ER, Tel: 020 7734 8040. Nearest Tube: Piccadilly. Royal Warrant holders for Fine Foods for well over a century. Famous Foodhall offering well known favourites such as teas, relishes, chutneys and preserves. Excellent for charcuterie, patisseries and confectionery, (try their hand made English chocolates), and lots of other exciting festive fare. F&M Christmas puddings from £6.50 to £38.75. and lots of other festive fare. Some may find the spicey F&M recipe a trifle too gingery. The famous F&M wicker Christmas hampers are on the lower ground floor with the wines. The restaurant is a good place to pause for tea.

Harrods of Knightsbridge. 87-135 Brompton Road, SW1X 7XL, Tel: 020 7730 1234. Nearest Tube: Knightsbridge. Excellent Food Halls. Superb meat, fish and seafood counters, charcuterie and gourmet food hall. Large range of Christmas hampers and goodies including the exclusive and very flavourful vintage Harrods Christmas Pudding which weighs in at 900 g. and costs £32.50, ($62).

Harvey Nichols of Knightsbridge. 109-125 Knightsbridge, SW1X 7RJ, Tel: 020 7235 5000. Expensive Foodhall, but the Harvey Nichols atmosphere tends to be rarified and exclusive. There are some excellent own label gourmet sauces and foods however and the 900 g. Harvey Nichols Christmas Pudding is well priced at £9.95. The gourmet restaurant is a joyful pit stop during the rigours of Christmas shopping.

Selfridges of Oxford Street 400 Oxford Street, W1A 1AB, Tel: 08708 377 377. Nearest tube: Marble Arch. This reasonably priced and comprehensive department store food hall is well worth visiting if you can cope with the crowds packing Oxford Street to see the festive illuminations. There is an excellent selection of Italian, Indian, Chinese and Japanese foodstuffs and impressive wine department. New this season: luxury food hampers from £36 to £800! Selfridges 900g. Christmas Pudding costs £11.99. I love the tapas menu and ambience in Iguazu, the ground floor Brazilian restaurant. It's great for a pick-me-up cocktail and light lunch before braving the Oxford Street crowds.

Supermarkets


Sainsbury's 158 Cromwell Road, Kensington, SW7. 453. 020 7373 8313. Nearest tube: Gloucester Road. This long established chain has a wide variety of Christmas Puddings and sizes. I recommend Sainsbury's 'Taste the Difference', a rich fruity pudding laced with cognac - 907g. @ £7.99 (a well-priced Special Offer); and a pleasingly soft Duchy Originals pudding - 454g @ £5.99.

Tesco 18-28 Warwick Way, SW1V 1RX. Tel: 0845 6779693. Nearest tube: Pimlico. One of many West End Tesco branches. Tesco's "Finest" Pudding looks spectacular with its topping of almonds and cherries but lacks finesse of flavour. 907g. for £7.99 at this branch, (£9.99 online).

Waitrose, Belgravia 27 Motcomb Street, W1X 8GG. Tel: 020 7235 4958. Nearest tube: Knightsbridge. They have a wide range of Christmas Pudding sizes and ingredients. Yet again for the third year running, the Waitrose Christmas Pudding gains my vote for the best of the Supermarket bunch. Their 900g. pudding laced with Remy Martin cognac costs £9.95. Delicious!

Charles Dickens probably enjoyed a glass of Madeira with his Christmas Pudding. This sweet, mahogany-hued, richly aromatic wine from the Atlantic island of that name was a great favourite in Victorian and Edwardian times and is enjoying a renewed popularity. It is a robust wine that can hold its own with the Christmas Pudding's rich flavours and aroma. I always buy a bottle of Madeira for this occasion.





© 2006 offtolondon.com All rights reserved.
Contact Us