SPOTLIGHT: 10 March, 2007
Spring on Rotten Row

with Shophound Alexia .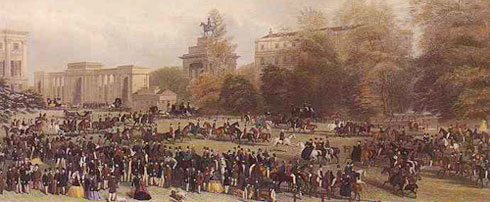 Rotten Row, in Hyde Park, has been the most famous equestrian venue in England for 300 years.


ondon is my delight at Easter.The Spring Holiday is a signal for a mass exodus out of town that leaves us with an uncluttered, traffic-free West End; the perfect backdrop for a Happy Easter, whether you are resident or visitor!

Now we can throw off our wintered look to face the world with a smile on our face and a tune on our lips. With a new jauntiness in our step we take to the Royal Parks to ride, walk the dog, feed the ducks, tryst our beloveds, make new conquests, and enjoy the scents and colours of London's burgeoning spring.

Venue: 63 Bathurst Mews, W2 2SB
Tel: 020 7723 7813
Access: 2007. 7.15am-5pm, Monday-Friday; 9.am-5pm, Saturday/Sunday.
Riding Charges: From £49 per hour.
Getting There: See website.

Hyde Park & Kensington Stables cater for the needs of all riders regardless of ability including beginners and more experienced riders. Private individual and group lesson s are also available. The minimum age for riders is 5 years of age. Weekends are busy and advance booking is recommended. Kensington stables provide a range of lessons for complete beginners to experienced riders, ranging from private one-on-one tuition to group lessons including jumping and dressage. Junior riders can join in with gymkhanas and day camps and take A.B.R.S and B.H.S tests and exams. They also sell a range of riding clothes and accessories.

Burlington Bertie's Accommodation Choice: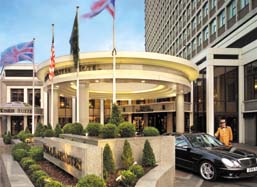 Lancaster Terrace, Bayswater, W2 2TY.
4-Star comfort in this immaculate modern hotel with truly breathtaking views over Hyde Park and Kensington Gardens from the en-suite rooms, just five minute's walk from the riding stables. Relax after a bracing canter in the Park over a drink in the Lounge Bar before sampling the award winning Thai cuisine, or dining in the super-chic Island Restaurant overlooking Queen Victoria's Italian Gardens.



Find Another Hotel

Hyde Park and the more formal Kensington Gardens overlooked by Kensington Palace, together with St. James's Park and Green Park, are the green lungs of London's West End. They provide residents and visitors with gracious walkways that meander through meticulously maintained vistas of floral banks and shrubberies, past impressive bronzes and marbles commemorating people and past glories, and peaceful stretches of water which double as the Queen's London Swanneries. These graceful royal birds are nesting now and will be hatching broods of up to six fluffy cygnets.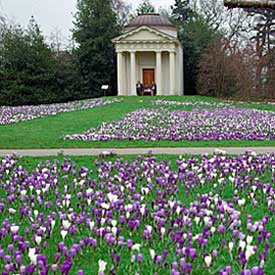 Hyde Park is a perfect pivotal point from which to enjoy Easter in London. It is at its most beautiful now, its lawns at Hyde Park Corner, where the sandy Rotten Row bridleway meets Park Lane, are now richly caparisoned in purple and gold from the carpet of crocuses and banks of daffodils that scent the air with their subtle narcissus fragrance.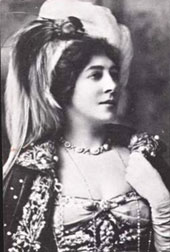 Lillie Langtry

Royalty, nobility, their ladies and courtesans, liked to see and be seen here throughout the 19th century, parading on horseback or in open carriage in their fashionable finery each morning and afternoon. The bewitching Lillie Langtry first burst upon the London scene here, catching a princely eye, later to be triumphantly paraded on the Row as a prize trophy by her royal paramour, the future Edward VII. There are some five miles of bridleways in Hyde Park's 750 acres, of which Rotten Row, (an English corruption of "route de roi", is the most famous. It remains a popular venue for horse riding today, though the kings and their courtesans have departed.

In fact Hyde Park provides the finest equestrian exercise in any capital city of the world. If you are in town over Easter, (and I strongly recommend it as an option), venture into the Park on a sunny morning from the Alexandra, Prince of Wales, Edinburgh or Albert Gates lining the southern aspect of Hyde Park and watch the horses canter by on Rotten Row. Raise your hat to that lady in smart Bernard Weatherall jacket, jodphurs and Lobb boots as she passes. If it's me in the saddle, I shall rein my horse in to acknowledge your courtesy and pass the time of day with you!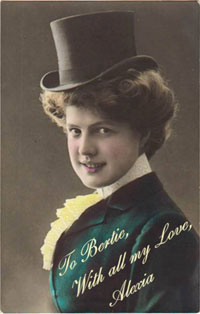 Two stables hire out horses for riding in Hyde Park. Both are owned by Richard Briggs OBE and are British Horse Society Approved Riding Centres. The Hyde Park Stables and the Kensington Stables are tucked away in two of the many picturesque mews streets hidden behind the leafy squares that sprang up around Hyde Park when Regency London expanded west of Park Lane. These little streets were originally built to house the elegant landaus, horses and their grooms that served the toffs living in the Grecian porticoed residences in the squares. Few stables remain, other than these and the Queen's stables in the Royal Mews behind Buckingham Palace. All have been converted into expensive 'bijou residences' housing a sleek automobile behind the stable doors rather than Noddie and nosebag.
Equestrian wear on Rotten Row is more casual since Lillie's time, when veiled silk top hat and corseted riding habit were de rigueur for Victorian ladies, modestly riding side-saddle with a chaperone escort. But the growing appreciation of televised equestrian sporting events with their immaculately attired riders has revitalised the fortunes of London's equestrian outfitters in Savile Row, Jermyn Street and St. James's, so I may not be the only uplifting vision of unchaperoned pulchritude you will see cantering down Rotten Row on Easter morning hoping to catch a Princely Eye!
© 2007 offtolondon.com All rights reserved. Contact Us