OUT & ABOUT HOME
| 'The Overture' - Royal Festival Hall's Marathon Gala Reopening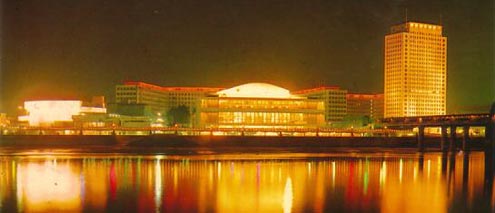 SPOTLIGHT: 2 June, 2007
'The Overture' - Royal Festival Hall's Marathon Gala Reopening

with Shophound Alexia .



Want to receive our new Out & About Newsletter by email? Just type your email address below and click the submit button.

Burlington Bertie's Accommodation Choice: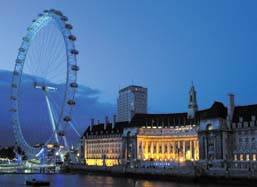 Westminster Bridge Road, SE1 2PB
This is 5-star comfort in elegantly opulant architectural splendour with an unrivalled Thames-side view overlooking Westminster Bridge, Big Ben and the Houses of Parliament opposite. Enjoy air-conditioned en-suite rooms and make sure you book a room with Thames view. Relax after sightseeing in the hotel's indoor pool while your partner enjoys a treatment in the spa, before taking cocktails in the Rotunda Lounge and dinner in the award-winning restaurant overlooking the Thames. All the Royal Festival Hall festivities are just a pleasant five minute riverside walk down river. Boat trips upriver to the 15th Hampton Court Palace Summer Festival or downriver to the 11th Greenwich and Docklands Festival, (see Out & About in London June for details) start from the Millennium Pier just opposite the hotel.


Find Another Hotel


ighteen thousand performers of music, dance and visual arts, both professional and amateur, will be converging on the new-look Royal Festival Hall for 'The Overture', its 2-day marathon gala reopening after a two year facelift. The celebration will last 48 hours from dusk on Friday June 8, until dusk on Sunday June 10. 'The Overture' aims to be one of the biggest celebrations in the history of RFH, ever. Throughout the weekend it will pack every corner of the Southbank Centre, from foyer, auditorium, riverfront and river with a multitude of varied programs and performances.

Casting off at sundown on Friday is The Singing River. It features a 300-strong choir traveling down the Thames by pontoon to perform a specially composed choral work by Orlando Gough on the Festival Pier; a latterday Handel's Water Music that premiered here 290 years ago for King George I. Inside the Hall a glittering line-up of surprise guests will be performing half-hour gigs. you can obtain entry for this from the Southbank Centre. They are giving away 24,000 free 'Lucky Dip' tickets.

Over Saturday and Sunday you can hear the London Sinfonietta performing Terry Riley's 1964 In C; swing to big band music played by the London Philharmonic Orchestra and Scott Stroman; choreographer Lea Anderson recreating her 1998 work Flag for 230 performers; beatboxer Shlomo leading a beatbox choir and all 4,000 six-year-olds from Lambeth's primary schools singing four specially-commissioned works.

As a grand finale on Sunday night the Philharmonia Orchestra, conducted by Paul Daniel, leads 2,000 amateur singers in a thunderous performance of Beethoven's Ninth Symphony, newly translated by Southbank Centre artist-in-residence Billy Bragg.

Add to this heady mix a Baroque Hour; Saint Etienne's Turntable Café; top ball room dancers; 27 Indonesian Gamelan ensembles; tai chi; a silent disco and Bragg's Big Busk, an interactive sing-along of traditional cockney and London songs. Get in there and sing your heart out with them! It's a right old knees-up! Unmissable! Memorable! And what a star studded line-up to welcome back London's much loved Royal Festival Hall! And its all FREE!

Related Links
The Overture Gala opening events at Royal Festival Hall.





© 2007 offtolondon.com All rights reserved. Contact Us