SPOTLIGHT: 12 June, 2007
Palaces, Pageantry, Paintings and Porcelain


with Shophound Alexia & Burlington Bertie.



Want to receive our new Out & About Newsletter by email? Just type your email address below and click the submit button.

Venue:Stockspring Antiques, 114 Kensington Church St, W8 4BH. Tel: 0207 727 7995.
Dates: 7 - 15 June, 10am-5.30pm. 16 June, 10am - 1pm. 2007.
Access: Free. Illustrated catalogue of Vauxhall Porcelain: £30.
London Transport: Nearest Tube. Kensington High Street.

Burlington Bertie's Accommodation Choice: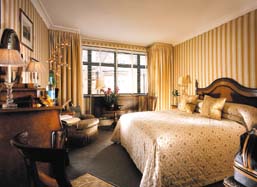 22 Basil Street, SW3 1AT
Five Star luxury with ensuite bedrooms, Suites, Serviced Apartments, Bar and Two starred Michelin Restaurant of note. One of London's top luxury boutique hotels situated off Upper Sloane Street in Knightsbridge, this family owned hotel exudes quiet Edwardian elegance. Along with its smaller sister L'Hotel at 28 Basil Street, the Capital Hotel attracts a discerning and devoted clientele. The 2 starred Michelin Restaurant offers superlative food and 'own vineyard' wines, with a popularly priced 3 course luncheon menu. Relax over afternoon tea in the hotel's comfortable sitting room after visiting the Antiques Fairs or browsing in the Church Street antiques shops.



Find Another Hotel


f you like pageantry, music, fine art or antiques, London is surely the place for you to be right now!

On Saturday we shall be flocking to Buckingham Palace and lining the Mall to enjoy Trooping the Colour, Royal London's most spectacular annual set piece of military pageantry presented before Her Majesty by the Massed Bands and Troops of The Queen's Household Division; the Grenadier, Coldstream, Scots, Irish and Welsh Guards, the Household Cavalry and the Royal Horse Artillery.

London's summer season of classical, operatic, ethnic and pop music festivals is in full swing day and night along the banks of the Thames from King Henry VIII's Hampton Court Palace in west to Greenwich and Docklands in the east, (not forgetting the Southbank Centre in the middle).

The two centuries old annual Royal Academy Summer Exhibition opened this week at Burlington House; a showcase of some 9,000 works of art for sale by unknown and emerging artists exhibiting alongside such august greats as David Hockney and Peter Blake. Down in London's East End, Free Range, Europe's largest graduate art and design sales show is now in full swing at the old Truman Brewery. It will draw thousands during the Greenwich and Docklands Festival. Buy a painting here! You will be supporting an impoverished young artist who may be tomorrow's Hockney or Blake!

For the antiques collector, all roads lead to London this month! 400 specialist dealers are showing at the annual Olympia Summer Antiques & Fine Art Fair in Hammersmith until 17 June. In the West End, the prestigious annual Grosvenor House Antiques Fair opens 14 June. It will draw international dealers from London, Paris, Florence, Munich and New York to this elegant West End hotel venue in Park Lane, where they will hope to sell some £500 million of English furniture, Fine Art, Ceramics, Crystal, Chinoiserie, Jewellery, manuscripts and rare books to their sometimes elegant but always moneyed clientele.

Down the road at the Hyde Park Hotel in Piccadilly, leading Ceramics dealers from around the world hold their long established annual Fair from 14 -17 June; a great opportunity to see fine and rare pottery and porcelain from the great European factories like Sevres, Meissen, Worcester, Wedgwood and Chelsea.

Take time off from these Fairs to see a very special gem of an exhibition at Stockspring Antiques in Kensington Church Street. Specialist Ceramics dealers Stockspring have loaned their showrooms to the English Ceramic Circle for their 80th Anniversary exhibition "The Ceramics of Vauxhall". This is the first ever definitive exhibition of work from the most enigmatic of England's early pioneer porcelain factories which we now call Vauxhall. The hitherto unknown 18th Century Thames-side factory was discovered in the 1980's when porcelain sherds were unearthed on an Albert Embankment building site opposite Tate Britain.

A substantial group of pieces on loan from the private collections of ECC members and museums are displayed in this exhibition, together with some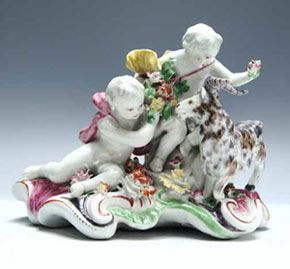 Vauxhall porcelain sherds excavated from the site when it was discovered 25 years ago. We found this a visually stunning exhibition, as well as an informative exposť of this hitherto unknown factory. The illustrated exhibition catalogue is informative and worth the money.
Vauxhall Porcelain, which was produced between 1751 and 1763, never carried a factory mark. Until the factory's chance discovery, the ware had been erroneously attributed to William Ball's Liverpool factory of that period. Fine potting, animated, fluid brushwork and vibrant enamels distinguish the pieces on display, which frequently show a witty and exuberant sense of form. The factory was unique for its time in using a multi-coloured printing process, although the majority of the wares were decorated in blue and white.
The Vauxhall factory was just one of a number of once famous but now defunct porcelain factories lining the Thames that pioneered English porcelain manufacture during the Georgian era. The most notable of these was Chelsea, which flourished between 1744 and 1782, and Bow at Stratford which produced oriental styled ware between 1747 and 1776. Museum of London archaeological excavations during 1989 in Dockland Limehouse's once rundown Narrow Street, identified another hitherto unknown pioneer factory. This produced a glassy type of porcelain between 1745 and 1748. Previously attributed to the factory of William Reid, (Liverpool 1755-1761), it is now known as Limehouse Porcelain.
Related Links
Pageantry, Theatre and Music Festivals in london, June Full details, getting there, tickets, etc.
Fine Art and Antiques Festivals and Exhibitions Full details, getting there, tickets, etc.
Stockspring antiques Specialists in 18th and 19th century English Porcelain and Pottery.
Cathcarts Antiques English 18th Century Porcelain factories listing.
Our thanks to ECC Member Felicity Marno, joint curators of the Ceramics of Vauxhall Exhibition for her helpful and informative assistance and photographs.
© 2007 offtolondon.com All rights reserved. Contact Us