SPOTLIGHT: 8 March, 2007
Celebrating Mother's Day in London

with Shophound Alexia .


umsday is Sunday 18 March here in England.

Mummy makes it abundantly clear what she looks forward to on her own Special Day. This has become an annual family tradition that we change at our peril. Mumsday now begins the day before, extending over the weekend to include Saturday night out with theatre and fine dining, and English Afternoon Tea with Champagne on Sunday. Depending on the weather and mood, we may add an optional Saturday extra, like a visit to Portobello Road to browse among the antique shops and stalls. A Sunday afternoon trawl through Harrods, Harvey Nichols or Fortnum and Mason before Tea has become part of the Mumsday ritual.

Burlington Bertie's Accommodation Choice: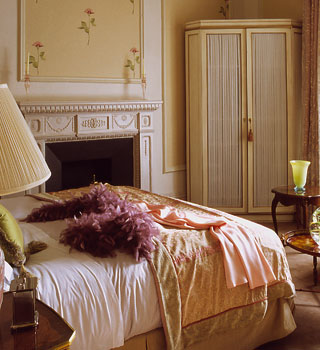 75 Sloane Street, SW1X.
Tel: 020 7235 7141
The bygone elegance of the Edwardian era is fostered and maintained throughout in this delightful townhouse hotel. Stay with someone delightfully special in Lillie Langtry's original bedroom (shown above), or the sumptuously decorated Oscar Wilde Room, where he was arrested, (but wouldn't be nowadays). Dine in the relaxed formality of the Langtry Restaurant after cocktails in the oak paneled bar. The hotel boasts a fitness center and tennis court facilities, should you wish to loosen up after a day's shopping in Knightsbridge.



Find Another Hotel

A belated phone call to some of Mummy's favourite haunts of her younger days, (the Ritz, Claridges, Dorchester, Lanesborough), to book a table for tea on Mother's Day proved fruitless - all sittings were, as might be expected, fully booked - so I booked us in at The Cadogan in Sloane Street. This wonderful old 5-star rated Edwardian hotel has been a favourite with many illustrious names over the past century. Edward VII would meet his paramour Lillie Langtry (above) here when he was Prince of Wales - and Teatime was wooing time. Was Lillie the first to coin the phrase "Coffee, Tea, or Me?" Lillie's friend and mentor Oscar Wilde was arrested here. In a later age, both Queen Mary and the Queen Mother took tea here.

Mother's Day Tea is served from 3pm - 5.30pm in the quiet comfort of The Cadogan's stylish, wood-paneled Drawing Room. Full English Afternoon Tea with Champagne: £29.50.





© 2007 offtolondon.com All rights reserved. Contact Us