SPOTLIGHT: 7 March, 2007
A Crocus Carpet at Kew Gardens

with Shophound Alexia .


he Vernal Equinox is nearly upon us, and it's 'Spring in Park Lane'! Crocuses and daffodils are making a colourful showing in Hyde Park; a reminder that this is the perfect time to visit the Royal Botanic Gardens at Kew, the UNESCO World Heritage Site on the Thames between Westminster and Hampton Court Palace.

Royal Botanic Gardens
Kew, Richmond, Surrey.
Access: 2007. Until 31 March: 9.30am-5.30pm. 1 Apr-2 Sep: 9.30am-6pm. Times vary thereafter. See website for details.
Tickets: 2007. Until 31 March: £9.50. (Concessions). Thereafter: £12.25. (Concessions).
London Transport: Nearest Tube. Kew Gardens Station, (District Line). Riverboat. Westminster Millienium Pier - Kew from 1 April 2007. (Recommended). Tel: 020 7930 4721 (Westminster Pier) for sailing times determined by tides.

Burlington Bertie's Accommodation Choice: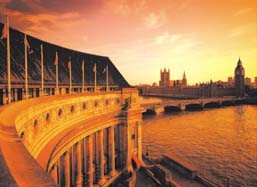 This is 5-star comfort in elegantly opulant architectural splendour with an unrivalled Thames-side view overlooking Westminster Bridge, Big Ben and the Houses of Parliament opposite. Enjoy air-conditioned en-suite rooms and make sure you book a room with Thames view. Relax after sightseeing in the hotel's indoor pool while your partner enjoys a treatment in the spa, before taking cocktails in the Rotunda Lounge and dinner in the award-winning restaurant overlooking the Thames. Your boat trip upriver to Kew and Hampton Court Palace starts from the Millennium Pier opposite the hotel.



Find Another Hotel

The spring crocuses are a breathtaking sight at Kew right now. Over two million bulbs are in bloom; a vast carpet of white and purple between Victorias' Gate, King William's Temple, (1837), and the Temple of Bellona, (1760).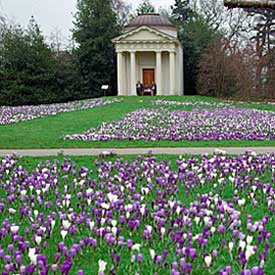 The purple and white of the crocuses is complemented by fields of gold. There are a million daffodils in flower there now. Along the Broad Walk some 110,000 Narcissi, have formed swathes of yellow while in the Woodland Garden, thousands more nod their golden heads at the foot of the Temple of Aeolus, (a charming neo-Classical rotunda designed by Sir William Chambers in the 1760s). They will be at their best this week. In all, some five million spring bulbs flower here between now and the end of April.

The historic Royal Botanic Gardens are an important and attractive part of the Royal London Experience, with close ties to the Hanoverian dynasty. As well as London's most exquisite gardens and hothouses dating back to the 18th century, Kew contains a number of museums including the newly opened Kew Palace, (built 1631); the perfectly restored Georgian home of Hanoverian King George III, (1738-1820), and Charlotte, his Queen Consort.





© 2007 offtolondon.com All rights reserved. Contact Us