SPOTLIGHT: 8 June, 2007
June Fashion Sales in London's West End

with Shophound Alexia .


hophound is just back from brief holiday, but not too late to fill you in on London's latest Summer Sales right now. Check them out, pick your spot and get on over there!

Smart women are sales savvy, be they rich diva Dame, City careerist, Vogue cover supermodel or elegant housewife. It's the oldest form of one-up-womanship since the first Bazaar stalls opened up beneath those famed Hanging Gardens of Babylon; a matter of feminine pride to admire an elegant piece with the pricey fashion on the catwalk and pick it up later as a Sales bargain.

Shophound readers will have noticed that I have a soft spot for the sensual luxury of Janet Reger lingerie. I made a beeline for their Private Showroom Sale now on till 11 June at their Knightsbridge showrooms. With up to 80% off items from their 2006 couture collections and added some BOGOF sweeteners to tempt you, this is a Sale not to be missed. A gorgeous oyster-coloured Basque originally priced at £250 and marked down to £50 was my just reward for being the early bird! I also liked the silk underwired bra and matching knickers set marked down from £130 to £35. New stock is brought out each day so get on down to that Janet Reger Sale and luxuriate!

Burlington Bertie's Accommodation Choice: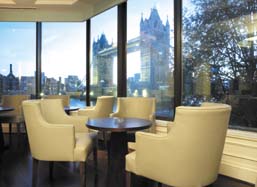 St. Katherine's Way, E1W 1LD
Located on the north bank of the River Thames next to the famous Tower Bridge and the Tower of London, the Tower Hotel, (a partner of the Cumberland hotel, Marble Arch), offers stunning Thames-side views and modern comfort just a short walk from Spitalfields, the East End and the City. Two restaurants, lounge, coffee bar and bar serve a wide variety of drinks, light refreshments and meals as an alternative to the many colourful ethnic restaurants and bars in the area.


Find Another Hotel

On Sunday, 10 june I shall be down at Chelsea Town Hall for the summer Frock Me show. This is not a Sale as such but London's premier Vintage Fashion Fair, with all those smart young ladies you know, (or would like to know), flocking to buy from the 50 or so stalls, transforming yesteryear's elegance into tomorrow's fashion.

I shall be back in Knightsbridge on Monday 11 June to suss out the Betty Jackson Sale. She has up to 70% off current season's stock and Press samples. Some good and oh-so elegant bargains to be had here for summer wear....at next month's RHS Hampton Court Flower Show Gala Night perhaps?

Sales Details

Janet Reger
138 Brompton Road, London, SW3 1HY. Tel: 020 7584 9368.
Sale Date: Ends 11 june, 2007. Daily 10am-6pm, except Sunday.
London Transport: Nearest Tube: Knightsbridge.

Frock Me
Chelsea Town Hall, King's Road, SW3 5EZ. Tel: 020 7254 4054.
Date: 10 june, 2007.11a.m. to 5:30p.m.
London Transport: Nearest Tube. Sloane Square.

Betty Jackson
311 Brompton Road, SW3 2DY. Tel: 020 7589 7884.
Date:11 June, 12:30 - 6:30p.m., 12 June, 10:30a.m.- 6:30p.m., 13 June, 10:30a.m.- 7p.m. 2007.
London Transport: Nearest Tube: Knightsbridge.





© 2007 offtolondon.com All rights reserved. Contact Us