French Restaurant & Gourmet Festival

with Shophound Alexia & Burlington Bertie.

Offtolondon's Burlington Bertie and Shophound Alexia spotlight the gastronomic delights of October's forthcoming French Restaurant and Gourmet Festival (6 to 20 October) and recommend some weekend Farmer's Markets for the best French cheeses.

Burlington Bertie's Accommodation Choice: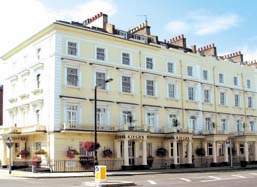 68-76 Belgrave Road, Victoria, SW1V 2BP
This recently renovated 4star hotel offers unbeatable budget prices in fashionable and quiet Regency Pimlico near Victoria. It is ideally situated for the West End, Theatreland and Christmas shopping. Pimlico itself is a charming London village with interesting traditional and gastro pubs and restaurants, boutique and thrift shops selling everything from vintage fashion and jewellery to second-hand books and collectibles. Chelsea is just a short walk away. Enjoy a hearty English cooked breakfast buffet in the hotel's Brasserie to start your day and relax before bed in the popular Dada Bar. Truly great value with special Money Saver and Free Night offers. Prices range from £49.50. Strongly recommended.

Find Another Hotel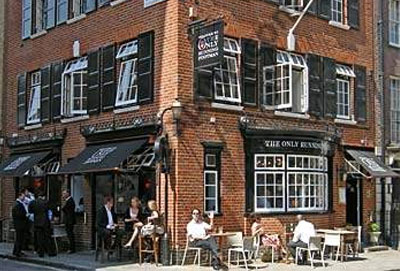 here was a time when fine dining in London required a reservation at one of a favoured few West End restaurants offering classic and regional French or Italian cuisine and wines. Such historic old favourites as The Ivy, Le Caprice, L'Escargot in Soho and Bertorelli in Fitzrovia spring immediately to mind. Long may they prosper.

Dining out in London has changed for the better since those days. The West End, City and a newly fashionable Southbank now offer a remarkably diverse selection or fusion of traditional and regional cuisines from every European country, Africa, the Middle East, India and the Orient, the Pacific Rim and the New World.

In addition, the welcome arrival of a number of London 'Gastro Pubs', such as The Only Running Footman in Mayfair, the Ebury in Pimlico or the charming 16th century coaching inn The Queen's Head and Artichoke in Regent's Park, have provided a much needed innovative boost to the once dismal pub grub fare of cold greasy sausages or warmed up shepherd's pie and given an impetus to the preparation and presentation of traditional English dishes.

No self-respecting restaurant can now afford to offer a wine list that does not include quality New World and Australian wines as well as those from France, Italy and Germany. Most pubs now offer a wide selection of wines as well as beers. In consequence, London dining has become a joy to the gourmet's palate and a disaster to the waistlines of Shophound Alexia and Burlington Bertie!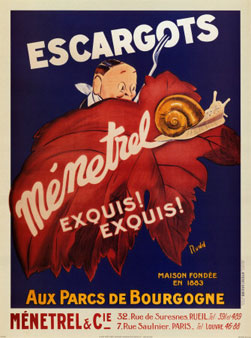 October's 'French Restaurant Week & Gourmet Festival' provides us with a timely reminder of our culinary debt to France. Some 55 restaurants across London will be aiming to prove that French cuisine is second to none when at its Michelin Star best. The advertised 'Week' actually runs for 14 days from 6 to 20 October, but you will need at least a full fortnight to do adequate justice to France's gastronomic delights ranging from delicate Crêpes from Normandy to lusty Provençal dishes or robust Toulouse Cassoulets. Most Festival restaurants are offering either a free Festival aperitif on arrival or a discount on your bill.
We are particularly fond of French cheeses and smoked Corsican ham, an addiction dating from one of our visits to Nice. Une Normande á Londres is one of the Festival's featured suppliers of such goodies and their remarkable selection of French regional cheeses and cured meats can be seen every week at London markets such as favorite Borough Market in Southwark, (Fridays and Saturdays); the Chelsea Market in Duke of York Square, (Saturday mornings); and Portobello Market, (Fridays and Saturdays).
Shophound Alexia is already training hard for this upcoming gastronomic marathon with a strict diet and a daily canter down Hyde Park's Rotten Row on Nobby from the Hyde Park Stables, while I am perambulating at a more leisurely pace each morning around the lake in St. James's Park.
Check the links below for a full list of participating French restaurants and markets
Related Links
French Restaurant Week Participating restaurants and offers.
L'Escargot Soho's historic French restaurant.
Bertorelli Fitzrovia's classic Italian restaurant.
Une Normande à Londres Cheeses, and Farmers Markets.
Hyde Park Stables Horse and pony riding in Hyde Park.