SPOTLIGHT: 12 February, 2007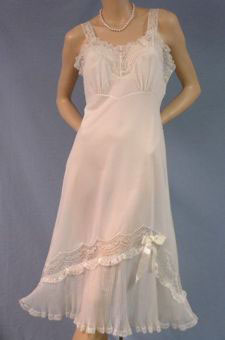 1950's Bridal††Slip
Frock Me!

with Shophound Alexia .


rock Me!, London's Vintage Fashion Fair, which takes place five times in the year at Chelsea Town Hall, has moved its exhibition dates from Saturdays to Sundays for 2007; a clever move by Matthew Adams of Adams Antiques Fairs who tells me he has been running vintage fashion fairs for over a decade. The move will ensure this popular event even greater support from those of us who delight in seeking out creme-de-la-creme cast-offs to bring back that Jean Harlow,Veronica Lake or Audrey Hepburn style, or wish to cut away from today's fashion dictates to take on the persona of a budding second-hand Rose or bombshell vintage vixen.

The first Frock Me! of 2007 is this Sunday 18 February, at Chelsea Town Hall in the King's Road. Parking is free on Sundays; a big bonus, given the prohibitive expense of weekday parking in Central London.

Around 50 exhibitors, including shoe designer Kitty Cooper, Harlequin Vintage and overseas specialists Tara Munro of the fancy Hand-me-down shop Oo La La in Paris, and Blue Linen Cupboard, (antique French linens), offer an unrivalled

Burlington Bertie's Accommodation Choice: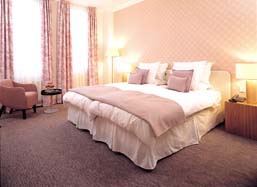 This is a luxuriously chic haven of peace situated in a quiet residential Chelsea street. A distinctly bohemian flavour will appeal to the hip, eccentric or downright decadent cosmopolitan whether draped in Frock Me! vintage dress or Brideshead Revisited flannels. Described by regular visitors with satisfaction as 'trendy', 'up-to-the-minute', 'aspirational' and 'cozy' this boutique hotel is a stylish little gem. The bar is open 24/7 to residents.



Find Another Hotel

collection of vintage clothing and accessories from Edwardian elegance, through the early silver screen days of the Flapper twenties, the Art Deco thirties and on to the designer labels of the early eighties; the ultimate, diamond studded 'thrift shop' of past fashions and burlesque in day and evening wear, hats, shoes, gloves and period bling jewellery.

Barbra Streisand made news when she vamped it up in the 1960's in cheap charity hand-me-downs from musty junk shops. Today, thanks to Christa Weil's books It's Vintage, Darling! and Secondhand Chic, and TV icons like Sarah Jessica Parker in Sex and the City, such clothes are sought after by fashionistas, stylists, models, fashion students, celebrities, collectors and costume designers, not to mention Barbra Streisand. If you can't find it on Sunday at Frock Me!, try Cornucopia, the vintage boutique in Pimlico, Rellik in Notting Hill, Butler & Wilson or Steinberg & Tolkien in Chelsea, or strike lucky at the Red Cross Charity Shop in Ebury Street, Belgravia. And mark 10.30am, 29 July, 85 Old Brompton Street in your diary. It's Christies bi-annual 20th Century Wardrobe Sale at their South Kensington salerooms. Rub shoulders with Nicole Kidman or Eddie Izzard perhaps, but don't expect to pay old thrift shop prices!

Frock Me!
Dates: 18 Feb, 15 April, 10 June, 7 Oct, 9 dec, 2007. 11am-5.30pm.
Venue: Chelsea Town Hall, SW3 5EZ. Tel: 020 7524 4054
London Transport:, Nearest Tube. Sloane Square, South Kensington
Admission: £3. Students £1.50.

Outside Links
Adams Antiques Fairs
The Vintage Society.

.





© 2007 offtolondon.com All rights reserved. Contact Us