SPOTLIGHT: 12 February, 2007
London Fashion Week

with Shophound Alexia .


potlight's focus is on South Kensington and Knightsbridge this week. The glamorous World of Fashion vies with fossilized dinosaur excreta for our attention at the Natural History Museum; venue for both the glittering London Fashion Week, and Dino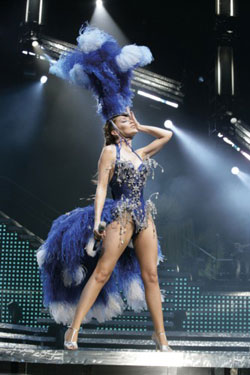 V & A Kylie exhibition. Photo credit: Kylie Minogue 2004 Performing Arts Assoc. Melbourne

Jaws, the immensely popular Dinosaur exhibition. After discovering what Dino Rex dined upon millions of years ago, boys of all ages will doubtless leave us girls to enjoy watching the Fashion Week Collections from the World's top designers, while they pop round the corner to the Science Museum in Exhibition Road. Its hands-on exhibition The Science of Spying opened to the acclaim of every budding 007 last Saturday.
Across the road in the Victoria and Albert Museum, Kylie Minogue's dedicated fans are packing in to see those celebrated golden hotpants, sequined John Galliano corsets and other sizzlingly hot numbers from the wardrobe of Australia's most famously exportable fashion icon, who packed Wembley Arena for her London concert performance in January.

Meanwhile further up Brompton Road, Harrods has unlaced its exclusive stays to rock around the clock with an exhibition of famous guitars including the first electric guitar, (the 1931 "Frying Pan"), and instruments used by Jimmy Hendrix, Keith Richards and Rory Gallagher together with 50 new guitars customized by musicians and designers including Bono, the Royal Academician and Pop Artist Sir Peter Blake, and Jennifer Lopez.

Knightsbridge has arguably supplanted Bond Street and Mayfair as the West End's centre of High Fashion. Shophound Alexia's favourite department store Harvey Nichols has been joined by the showrooms of top fashion names Armani, Chanel, Dior, Yves St. Laurent, Ferragamo, Gucci, Jimmy Choo, Luis Vuitton, Prada and Versace in Upper Sloane Street, while Shophound's favourite couturier Maria Grachvogel has her flagship store in Lower Sloane Street opposite Tiffany.

Burlington Bertie's Accommodation Choice: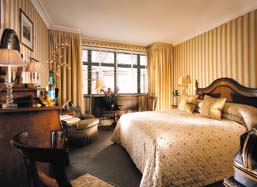 One of London's top luxury boutique hotels situated off Upper Sloane Street in Knightsbridge, this family owned hotel exudes quiet elegance and understated luxury. Along with its smaller sister L'Hotel at 28 Basil Street, it attracts a discerning and devoted clientele to its unpretentious entrance. The hotel's starred Michelin Restaurant offers superlative food and 'own vineyard' wines, with a popularly priced 3-course gourmet luncheon menu. The hotel's comfortable sitting room is a popular teatime rendezvous for smart Belgravia shoppers who wish to relax after visiting the Sloane Street salons of Chanel, Dior or Maria Grachvogel.



Find Another Hotel

Join the world's Fashion Editors as they preview the latest style and colour trends displayed on the London Fashion Week catwalk at the Natural History Museum. You can watch the shows screened throughout the day at the excellent Harvey Nichols Fifth Floor Cafe. Harvey Nicks stocks Designer labels Alexander McQueen, Gucci, Dries van Noten, Marc Jacobs, Miu Miu, Paul Smith, Prada, Stella McCartney and Versace, together with a super lingerie collection from Calvin Klein and Agent Provocateur, so these screenings over a Cafe Latte will give you a good idea of what you will be buying there later in the year.

And talking of super lingerie, if you haven't reminded that man in your life what bra and hip size you are, time is moving on and Valentine's Day is upon us. If he can't get to Harvey Nicks before 14 February, he can log on to the Agent Provocateur website. Maybe the online pictures will inspire him not only to order something deliciously provocative for you to wear, but also book a romantic Weekend for two in Paris, where you can show it off! Oo! la! la!

Outside Links
Dino Jaws Natural History Museum Dinosaur Exhibition, Opening times, Tickets, etc.
The Science of Spying Science Museum Spying Exhibition, Opening times, Tickets, etc.
Kylie-The Exhibition Victoria & Albert Kylie Minogue Exhibition, Opening Times, Tickets, etc.
Born to Rock Harrods rocks!
London Fashion Week at Harvey Nichols Opening times, Fifth Floor Cafe, (book online).
Agent Provocateur Lingerie Collection Nikita, Chantelle, Lara and other sensual creations. E-vouchers, AP Club. Online orders.

OfftoLondon Links
London Shopping Shophound Alexia's round-up of West End department stores and specialty shops.
Lingerie shopping for Valentine's Day Where and what to buy for a night of romance.
Off to Paris Weekend breaks via Eurostar. Day and Discovery tours, Shows and hotels. Book online





© 2007 offtolondon.com All rights reserved. Contact Us