SPOTLIGHT: 3 April, 2007
Easter Chocolates and Perfumed Luxury

with Shophound Alexia .


e chocoholics love London at Easter. Every department store, supermarket and newsagent is full of chocolate eggs, of which no less than 80 million are sold in Britain at Eastertide. Seekers after chocoperfection are a dedicated lot and we are fortunate in having a number of superb chocolatiers in London's West End from whom to choose our weekly shot of cocoa bliss.

Whether by design, symbiosis or coincidence, the three top chocolatiers in London are conveniently located within ten minutes walk of each other in Piccadilly and Mayfair. Royal Warrant holders Prestat have their premises at 14 Princes Arcade, Piccadilly, while at 45/46 Piccadilly the Parisian firm La Maison du Chocolat has its London branch. My own favourite chocolatiers are the long established Royal Warrant holders Charbonnel et Walker at No 1 Royal Arcade, 28 Old Bond Street.

Charbonnel et Walker
1 Royal Arcade, 28 Old Bond Street W1X 4BT. Tel: 020 7491 0939.
Concessions in Harrods of Knightsbridge and at Selfridges in Oxford Street. Also available in Harvey Nichols, Knightsbridge. USA concession outlets at Saks Fifth Avenue, New York; Macy's stores; Neiman Marcus stores. If you are unable to visit their beautiful shop in Bond Street's exquisite Neo-Gothic Royal Arcade, (1879), you can buy their luxury chocolates packed in silk lined boxes online.

Ormonde Jayne
12 Royal Arcade, 28 Old Bond Street, W1X 4SL. Tel: 020 7499 1100
Open weekdays 10am-6pm.
An exclusive range of hand-made perfumes, fragrances, scented bath oils, scented candles and gift boxes for the elegant lady and her squire. Online sales.

Burlington Bertie's Accommodation Choice: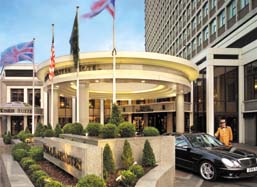 Lancaster Terrace, Bayswater, W2 2TY.
4-Star comfort in this immaculate modern hotel with truly breathtaking views over Hyde Park and Kensington Gardens from the en-suite rooms, make this a perfect place to enjoy London in springtime. The Royal Parks are now at their most beautiful and London's West End shops, theatres and restaurants are nearby. Enjoy Saturday hunting for antiques and collectibles in the famed Portobello Road Market just a few minutes walk away, then relax over a drink in the Lounge Bar before sampling the award winning Thai cuisine, or dining in the super-chic Island Restaurant overlooking Queen Victoria's Italian Gardens.



Find Another Hotel

I regularly make the trip to Charbonnel et Walker's deliciously aromatic premises in this elegant Victorian shopping arcade to buy their velvety textured chocolates. While there, I always pop into see Linda Pilkington, the creator of Ormonde Jayne's perfumes and fragrant products a few doors down at No.12. Relaxing in a bath scented with her Frangipani bathing oil while decadently pampering myself with a hand-made chocolate or two is the perfect euphoric start to an evening at the theatre or special dinner party.

It is certainly no coincidence that all three chocolatiers come from Paris. The appreciation of fine chocolate was surely one of the reason's for the fabled Parisian joie de vivre in the 'Naughty Nineties', when chocophoria added a certain sensual soupcon to La vie Parisienne. It is thanks to the fabled sweet tooth and roving eye of Bertie, Prince of Wales, (who was no slouch in either aspect of life's enjoyment), that the traditional French methods of making fine chocolate were exported to London. On a visit to the Maison Boissier chocolate house during one of his frequent solo flits to Paris, (when he liked to travel incognito as Baron Renfrew), his eye apparently lighted upon the winsome Madame Charbonnel and her toothsome truffles.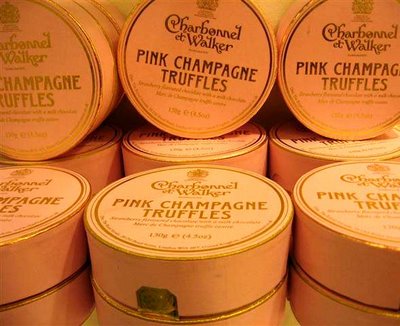 Truffles and dalliance evidently made fine bedfellows and it was perhaps natural that the future King Edward VII should persuade Madame Charbonnel to bring her charms and expertise to London. In 1878, he set her up as a chocolatier in Bond Street in partnership with Mrs Walker, just a short walk away from his London residence at Marlborough House. Her truffles were soon the talk of the Town.
I can't vouch for la Charbonnel's beauty, but the Prince certainly had as sophisticated a taste in choice chocolate as he did in his choice of feminine pulchritude! Filled with essence of wild strawberries, cream and Marc de Champagne, the Charbonnel et Walker Pink Champagne Truffles are to die for.
A deliciously decadent addition to the range, since Madame Charbonnel titillated the taste buds of Bertie Prince of Wales and his Marlborough House set, is a dark chocolate truffle filled with port and cranberry. A gift of these little beauties packed in the signature Charbonnel et Walker silk-lined presentation box would be a heartwarming start to Easter. And a present of Ormonde Jayne's remarkably haunting Orris Noir perfume in its mandarin and ebony gift box would make my heart beat faster! Linda has my address...
© 2007 offtolondon.com All rights reserved. Contact Us